|
IN THE LAB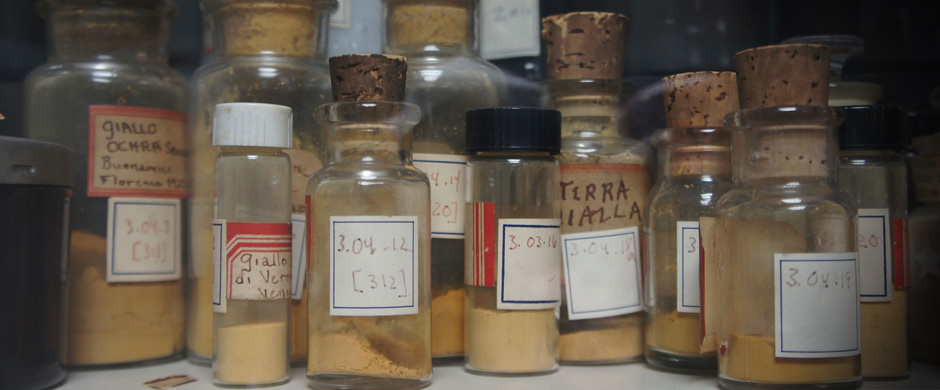 Newsgrams
The Conservation Center's Newsgrams offer single-subject reporting on topics concerning the academics, students, and alumni.



Newsgram 50
The Class of 2025




Newsgram 49
Conservation Center Recipients of the American Academy in Rome Prize




Newsgram 48
The Class of 2024
Meet the seven students who waded through an unprecedented start to graduate school.




Newsgram 47
From Neon Lights to Augmented Reality-Current Research in Time-based Media Art Conservation
Highlights from student research in conservation and art history at the Institute of Fine Arts.




Newsgram 46
The Kress Program in Paintings Conservation: A Rembrandt Revealed
In the past year a number of important paintings have come to the Center, including a painting from the Allentown Art Museum attributed to Rembrandt. Technical examination conducted at the Center helped support the attribution to Rembrandt himself, rather than a follower.




Newsgram 45
The Dedalus Foundation Fellowship: A Twenty Year Anniversary
In October 2019, the Conservation Center celebrated its twenty year partnership with the Dedalus Foundation, by organizing a symposium, The Conservation of Modern and Contemporary Art, which highlighted the work accomplished by select past Dedalus Fellows.




Newsgram 44
The Class of 2023
The Conservation Center is pleased to introduce the class of 2023.




Newsgram 43
Recent Student and Alumni Achievements




Newsgram 42
The Class of 2022
The Conservation Center is pleased to introduce its most recent students, the class of 2022.




Newsgram 41
In Memoriam: Ralph Minasian (1927-2017)
On the occasion of and a service in remembrance of the life of Ralph Minasian, and the opening of Armenia! at the Metropolitan Museum of Art, as delivered by Dr. Norbert S. Baer, Hagop Kevorkian Professor of Conservation





Newsgram 40
The Class of 2021


The Conservation Center introduces its newest incoming class, the class of 2021.





Newsgram 39
Alumni Spotlight: J. William Shank '82


Will Shank's personal and professional journey from SFMOMA's Chief Conservator to champion of public mural conservation.



Newsgram 38


Handing Over The Chair

Margaret (Peggy) Holben Ellis '79, will become Chair of the Conservation Center, taking over from Dr. Hannelore (Hanne) Roemich, who has served in this position since September 2014.



Newsgram 37


Recent Advances in Glass and Ceramics Conservation, ICOM-CC in Wrocław Poland


Three conservation students report on their participation in this international conference.



Newsgram 36


The Woman Behind The Manuscript


A revealing interview with Dianne Modestini, Research Professor, Kress Program in Paintings Conservation.



Newsgram 35


The Praska Visiting Professorship

Broadening Perspectives in Conservation

A look at four years of the very successful visiting professorship program that brings internationally-renowned professionals to the Conservation Center.


Newsgram 34


Collecting For Study

A glimpse at the history of the Conservation Center's curious Study Collection, recollections from those who have worked with it and thoughts on its present state and future use. 


Newsgram 33


The Leon Levy Visiting Fellowship in Archaeological Conservation: A look at one of the Conservation Center's most prestigious international education programs

Six years ago, the Leon Levy Foundation generously funded a program at the Institute to help train international students in conservation. Today, we catch up with each of them to see the impact this training has made on their own cultural heritage preservation. 


Newsgram 32


Villa La Pietra: Twenty Years Since That First Visit

Today, Villa La Pietra, New York University's campus in Florence, is a vibrant nexus of undergraduate students, provocative international conferences, literary readings, edgy concerts, raucous plays, and clever pop-up exhibitions. Twenty years ago, it was a very different place.



Newsgram 31


A Time For Transition

After 12 years as Chairman of the Conservation Center, Michele Marincola '90 steps down to pursue full-time teaching and research. Hannelore Roemich will begin a two-year term as Chairman in Fall 2014.



Newsgram 30


Recent Advances to the Literature on the History of Conservation

Daniel Biddle, Conservation Center Library Supervisor, discusses the recent acquisitions of important new titles addressing several centuries of conservation history.



Newsgram 29


In Memoriam: Antoinette King 1933-2014




The Conservation Center remembers the life and influence of long-time adjunct faculty member, former Conservator of Prints and Drawings and Director of Conservation at the Museum of Modern Art, Antoinette King.



Newsgram 28


Material & Method in Modern Art




Desi Peters interviews our second Judith Praska Distinguished Visiting Professor, Carol Mancusi-Ungaro


In spring 2013, Carol taught the course, Material & Method in Modern Art, for art history and conservation majors. Here, she is interviewed by Desirae Peters, a conservation student from that class.


Newsgram 27


In Their Own Words




The Class of 2017


The Conservation Center would like to introduce you to the Class of 2017.


Newsgram 26


Preserving Newport's Gilded Age


Linsly Boyer '12 Creates An Outdoor Sculpture Maintenance Program in RI
Recognizing a need for regular maintenance of outdoor sculpture, Linsly Boyer helps The Preservation Society of Newport County to develop a pilot program to safeguard its outdoor art.


Newsgram 25


Norman Muller '72


A dialogue with paintings conservation student Rita Berg
Mr. Muller, paintings conservator at the Princeton Art Museum, recently corresponded with Rita Berg about his current investigation into the development of early panel paintings.


Newsgram 24
Joint Meeting of the AIC Photograph Materials Group and
the ICOM-CC Photograph Materials Working Group
Wellington, New Zealand, February 11-15, 2013
On February 11th, third-year conservation student Maggie Wessling and recent alumna Katie Sanderson '11 traveled to Wellington, New Zealand, to participate in the second joint winter meeting of the working groups of the AIC and the ICOM-CC.


Newsgram 23


Re-Evaluating a Master


The technical examination and treatment of Venus and Adonis by Paolo Veronese
This fall, the Center was home to a large Venus and Adonis by the sixteenth-century painter Paolo Veronese. Katie Patton '12 discusses her treatment and examination of the work as a Mario Modestini Fellow and a Samuel H. Kress Fellow.


Newsgram 22


Cooking Up Photos: Egg Whites in the Re-creation of a 19th-Century Process


Making Albumen Photographs at Chicago Albumen Works, Housatonic, MA
Second-year student, Maggie Wessling, and the staff of the private photograph conservation firm The Better Image® traveled to Housatonic, Massachusetts, to participate in a workshop creating albumen photographs at the Chicago Albumen Works.


Newsgram 21


Conservation in the Wake of Natural Disaster




Conservation Center Students Volunteer in Hurricane Sandy Relief Efforts


Artists' studios, archives, art storage facilities, galleries and conservation firms in low-lying areas have been adversely affected by the surge of contaminated brackish water from the storm, and we have been mobilizing to assist in the stabilization and recovery of works of art and archives.


Newsgram 20


Fourth-Year Conservation Internships 2012-2013


The fall semester is well underway and our fourth-year conservation students are settled comfortably into their final-year Internships. This year, we have five students on Internship and we're eager to catch up with them and see how they are doing.


Newsgram 19


Art With A Plug?


Christine Frohnert, Judith Praska Distinguished Visiting Professor, discusses her curiously-named course and her interest in electronic art with Professor Hannelore Roemich
The Center welcomes conservator Christine Frohnert as the Judith Praska Distinguished Visiting Professor in Conservation. The Praska Professorship is awarded each semester to a prominent conservator or scientist who can help enhance our conservation program with new areas for research and teaching.


Newsgram 18


ANAGPIC 2012


Each year, the North American graduate programs in conservation convene for a three-day student conference. The event, consisting of area lab tours, a reception and banquet, student presentations and professional talks, rotates hosting duties among the partner programs. This year, NYU played master of ceremonies from April 12 – 14, 2012.


Newsgram 17


Reanimating the Menagerie




Conservation of the North American Mammal Habitat Dioramas at the American Museum of Natural History


Julia Sybalsky, a fourth-year objects student, discusses the complications and challenges of restoring the AMNH's Hall of North American Mammals dioramas to their original splendor.


Newsgram 16


The Conservation Center Welcomes the Class of 2016


For a second year in a row, the Conservation Center received a record-breaking number of student applications. In the end, we were privileged to select from a group of first-rate students whose backgrounds, talents and academic achievements rivaled only their enthusiasm for conservation.


Newsgram 15


The Legacy of a Teacher




The Conservation Center Celebrates the Retirement of Tony Frantz '75


In the midst of a joyous Holiday Season, the Conservation Center, with conflicting sentiments, recognized the retirement of a dearly loved colleague. On December 12, 2012 the Center hosted a gathering for a highly respected alumnus, teacher, mentor and friend, Tony (A.K.A. James H.) Frantz.
Newsgram 14


Leonardo from London to New York




Two Conferences on Recent Technical and Historical Discoveries


Leonardo da Vinci was in the news often this past year—there was the newly uncovered, contemporary copy of the Mona Lisa, the highly anticipated exhibition 'Leonardo da Vinci: Painter at the Court of Milan' at the National Gallery, London, and the recent discovery of the Salvator Mundi.


Newsgram 13


Students and Program Receive Generous Support




Recent Fundraising at the Conservation Center


Fundraising efforts continue to be crucial to the ongoing and future success of the program. We have been able to grow and enhance our training, education and research capabilities through the partnership and steadfast support of a number of institutions, major donors and small donations while maintaining a level of excellence as an international leader in graduate-level conservation training.


Newsgram 12
Dianne Modestini Discusses the Treatment of Leonardo da Vinci's

Salvator Mundi

with Jean Dommermuth '96
In the spring of 2005, art historian and art dealer Robert Simon brought a painting in need of conservation treatment to Dianne Modestini's Manhattan apartment. It wasn't long after that a masterpiece was unveiled.


Newsgram 11


Archaeological Excavations Attract Conservation Students of All Specialties-and Offer Diverse Opportunities


Among the many decisions that conservation students face in the fall is the annual conundrum of the archaeological dig: Should one go on an excavation in the summer? If so, which one?
Newsgram 10


Alumni News from ICOM-CC in Lisbon, Portugal




Lisa Pilosi '88 Elected Chair of the ICOM-CC Directory Board


During the week of September 19, 2011, ICOM-CC (International Council of Museums – Committee for Conservation), held its 16th Triennial Conference in Lisbon, Portugal. Lisa Pilosi '88, Conservator at The Metropolitan Museum of Art, was elected Chair of the ICOM-CC Directory Board.
Newsgram 9


STITAH: Summer Teachers Institute for Technical Art History




"One of the most rewarding and helpful experiences I have had in my study of art history to date…A very rich, intense and stimulating program…"

Overwhelmingly positive responses effectively express the success achieved by the inaugural year of the Summer Teachers Institute for Technical Art History.
Newsgram 8


A Summer in Europe




The Samuel H. Kress Foundation Summer Internships in Paintings Conservation


The Samuel H. Kress Program in Paintings Conservation provides unique opportunities for students to train in the care and treatment of Old Master paintings. Our students now benefit from an even more intensive interaction with conservation professionals and works of art—summer internship opportunities in Europe.
Newsgram 7


Conservation at Villa La Pietra




Summer Projects at NYU's Study Abroad Campus in Florence, Italy


Villa La Pietra, an Italian Renaissance estate bequeathed to NYU by Sir Harold Acton in 1994, contains an enormous and eclectic collection. This assemblage, and the surrounding gardens, affords conservation students ample opportunities to pursue practical training outside the classroom environment.
Newsgram 6


The Leon Levy Fellowship Program in Archaeological Conservation




Partnership and Training Opportunities at the Conservation Center


The generosity of the Leon Levy Foundation allowed us to launch a Visiting Fellowship Program in spring 2009 and provide much-needed fellowship support to highly-gifted matriculated students pursuing a specialization in archaeological conservation.
Newsgram 5


The Conservation Center Introduces the Incoming Class of 2011


Every applicant to a conservation program knows all too well about the long hours spent priming their application for a placement in a graduate program. We welcome you to the newest incoming class.
Newsgram 4


Reflectance Transformation Imaging Training at the Conservation Center


Imaging techniques are on the rise within the field of conservation. Now, conservators can see beyond what was visible only a few short years ago thanks to Reflectance Transformation Imaging.
Newsgram 3


The Conservation Center Announces Fourth-Year Internships




Students Earn Top Placements in Conservation Laboratories


Practical training plays a vital role in conservation education. Internships during the fourth year places students in the working laboratories of some of the world's most prestigious institutions.
Newsgram 2


The Interface Between Field Archaeology and Conservation




A Cross-Disciplinary Conference in the UAE Hosted by the Conservation Center and the NYU Abu Dhabi Institute


A distinguished group of faculty, researchers and museum professionals gathered in Abu Dhabi from February 7 – 9, 2011 to discuss present and future issues in conservation and field archaeology. For participating students, horizons broadened and provocative questions reinforced a commitment to advocate for material culture.
Newsgram 1


The Conservation Center Observes its 50th Anniversary




A Celebratory Year Continues


In 2010, the Conservation Center celebrated a milestone: 50 years of conservation education in the United States. The event brought alumni and friends from as far away as Canada, Switzerland, and Japan.