|
IN THE LAB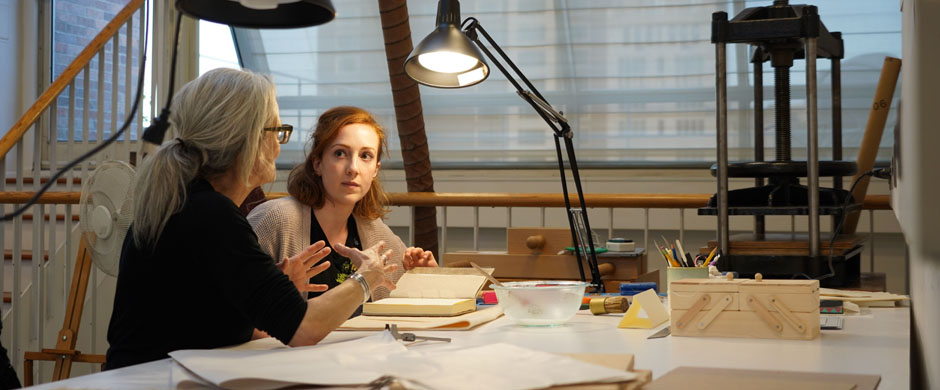 Mellon Library and Archive Conservation
Students in the Mellon-funded Library and Archive program may focus their studies on book and manuscript conservation, on works of art on paper, photographs, or other paper-based materials found in special collections, libraries, and archives. Once admitted, students then follow a targeted degree path that begins from day one and is slightly altered from our general program curriculum. This allows the student to focus on developing the necessary skills particular to a library and archive conservator as early as possible in their graduate education.
Advanced treatment coursework begins in the second year with The Conservation Treatment of Prints and Drawings I, where students are trained in a wide variety of paper conservation treatments. They will then select from a variety of electives in book and paper conservation. They may also consider the offerings in our paintings or objects specializations to help round out their education and interests. This collaborative program involves a number of partner institutions, including the Columbia University Libraries, The Morgan Library & Museum, NYU Libraries, and the conservation graduate training programs at Buffalo State and the University of Delaware.
Students in this track have a wealth of practical training opportunities in collections around the country and internationally through the Mellon-funded Directed-Work Placement, as well as winter intersessions and summer workshops in historic bookbinding, paleography, book illustration processes, the identification and care of audiovisual material, digitization and preservation management issues, and descriptive bibliography.
It should be noted that we are no longer accepting applications for the Mellon Library and Archive program. However, we will still be educating and training students interested in this specialization, as we always had, but it will look slightly different than the funded program thanks to the Mellon Foundation. Any questions can be directed to Kevin Martin, Academic Advisor, at conservation.program@nyu.edu.
The development of the library and archive curriculum is generously supported by the Andrew W. Mellon Foundation.
Mellon Library & Archive Conservation Program Outline
Dual M.S. in the Conservation of Historic and Artistic Works and M.A. in the History of Art and Archaeology
This is only a generalization of the four-year program. Individual student registrations may vary according to specialization.

22 courses are taken over three years: 15 in conservation and 7 in art history.
First Year
Fall Semester
Technology & Structure of Works of Art I
Material Science of Works of Art I
Foundations I in Art History
Art History Elective (Lecture) 
Spring Semester
Technology & Structure of Works of Art II
Material Science of Works of Art II
Principles of Conservation
Art History Elective (Seminar)
Summer 1
Internship(s), participation in an IFA-sponsored or co-sponsored archaeological dig, conservation projects at Villa La Pietra, Florence, Italy
Second Year
Fall Semester
Instrumental Analysis I
Advanced Conservation or Art History Elective
Advanced Conservat
Advanced Conservation or Art History Elective
Spring Semester
Instrumental Analysis II
Preventive Conservation
Advanced Conservation or Art History Elective
Advanced Conservation or Art History Elective
Summer 2
Internship(s), participation in an IFA-sponsored or co-sponsored archaeological dig, conservation projects at Villa La Pietra, Florence, Italy
Third Year
Fall Semester
Advanced Conservation or Art History Elective
Advanced Conservation or Art History Elective
Advanced Conservation or Art History Elective
Spring Semester
Advanced Conservation or Art History Elective
Advanced Conservation or Art History Elective
Directed Research Towards the MA Thesis
Summer 3
Internship(s), participation in an IFA-sponsored or co-sponsored archaeological dig, conservation projects at Villa La Pietra, Florence, Italy
Fourth Year
Fall Semester
Spring Semester
Capstone Placement (continued)