|
IN THE LAB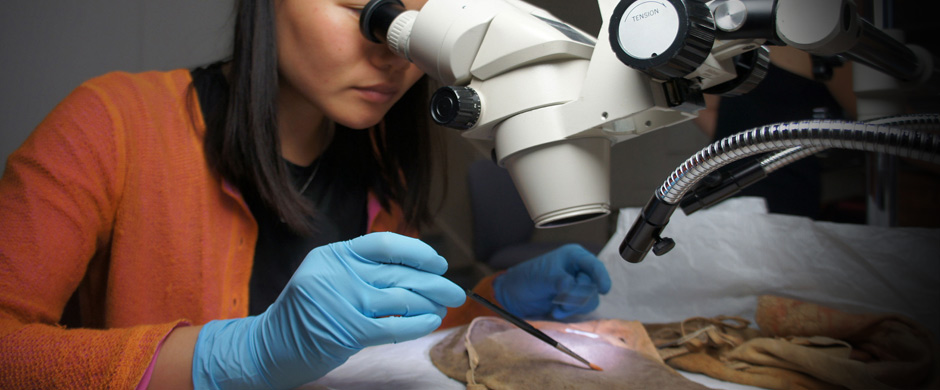 The Conservation Center

The Conservation Center of the Institute of Fine Arts, New York University has a long history as the oldest degree-granting art conservation program in North America. NYU is alone among the American conservation graduate programs in that we confer two degrees to our students: an MS in the Conservation of Historic and Artistic Works (replacing the Advanced Certificate) and an MA in the History of Art and Archaeology. 
Our students receive a gexerous funding package, consisting of a tuition-free education, comprehensive health care coverage, and living stipends to offset expenses while a full-time graduate student. In addition, we provide our students with starter toolkits; membership in AIC; fully-funded conservation experiences at Villa La Pietra in Florence, Italy, and archaeological excavations in Turkey, Greece, Sicily, and Egypt; as well as a variety of practical skill-building workshops. 
We enjoy ready access to the Institute's art historical resources, as well as the extraordinary collections of New York City, including The Metropolitan Museum of Art , MoMA , the Whitney Museum, the Guggenheim Museum, the American Museum of Natural History, the Brooklyn Museum of Art, the Morgan Library & Museum, and nearby galleries, private collections, auction houses, historic properties, and private conservation studios. Our location in one of the art capitals of the world also makes it easy to draw upon the many conservators and conservation scientists in the area.
If you are thinking about applying to our program, I encourage you to send an email to our Academic Advisor at conservation.program@nyu.edu. He'd be happy to speak with you.
Enjoy the website and I hope to meet you in New York!
Michele D. Marincola (she/hers)
Chair of the Conservation Center of the Institute of Fine Arts
Sherman Fairchild Distinguished Professor of Conservation