|
ON DISPLAY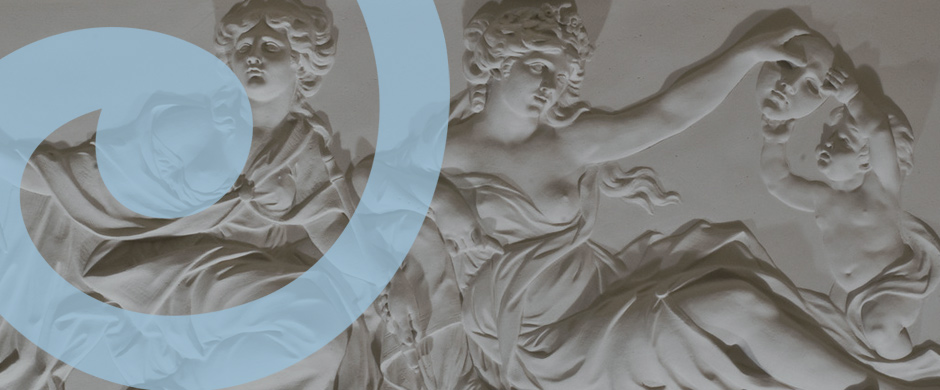 The Great Hall Exhibitions Archive
There are two Great Hall Exhibitions per year showcasing prominent contemporary artists. Taking place in the fall and spring semesters, the expansive great hall of the Duke House, a historic landmark building, provides an impressive setting for displaying seminal contemporary art in the center of the Institute's academic home and community.
Fall 2018:
Graphic Objects: Elaine Lustig Cohen's Sculptural Works
October 19, 2018 through February 24, 2019
The Institute of Fine Arts presents Graphic Objects: Elaine Lustig Cohen's Sculptural Works, a solo exhibition featuring works by artist and graphic designer Elaine Lustig Cohen. Opening October 19, 2018 and on view through February 24, 2019, the installation generates a vibrant dialogue with the neoclassical interior of the Duke House, reflecting the artist's personal and professional engagement with the history of art and design.
The exhibition illuminates Lustig Cohen's ventures beyond the picture plane, presenting a selection of reliefs and box-like sculptures. While the reliefs rupture the flatness of the artist's distinctive graphic designs, the boxes transpose them onto freestanding forms. Three colorful panels with hanging reliefs, taken directly from the artists studio, enhance the visual effect of the exhibition.
Less familiar than her graphic designs and public commissions, the sculptural works on view reveal Lustig Cohen's interdisciplinary approach to art making. These objects transcend the boundaries between fine art and graphic design, form, and function. At the same time, the sculptures encapsulate the artist's playful mobilization of geometric abstraction on three-dimensional forms.
This exhibition runs in conjunction with Masterpieces and Curiosities: Elaine Lustig Cohen at the Jewish Museum, open until August 11, 2019. The Institute is grateful to curatorial advisors Prem Krishnamurthy and Cole Akers for their collaboration on this project. All works on view have been kindly lent by the Estate of Elaine Lustig Cohen due to the generosity of Tamar Cohen.
Elaine Lustig Cohen (1927–2016) was widely celebrated in her life as a graphic designer, artist, art dealer, and archivist. Her multifaceted accomplishments encompass pioneering design projects that extended the aesthetic vocabulary of European modernism into an American context, including commissions with clients such as the Whitney Museum of American Art and the Jewish Museum, and architects Eero Saarinen, Philip Johnson, and Richard Meier; to exhibitions as an artist at Bard College, Exit Art, Cooper Hewitt National Design Museum, Mary Boone Gallery (first solo show by a female artist); to founding the influential Upper East Side bookstore Ex Libris, specialized in avant-garde publications and ephemera. She enjoyed a renewed interest in her practice in later years, including receiving the 2011 AIGA Medal for her life's work in design, as well as mounting exhibitions at LACMA, Los Angeles (2016); The Glass House, New Canaan (2015), P!, New York (2014), and Stanley Picker Gallery at Kingston University London (2017).
The exhibition was made possible through the generous support of Valeria Napoleone XX. It was curated by Francesca Ferrari, Kolleen Ku, Emily Shoyer, and Chao Chi Chiu.
Events
Video
Contact the Institute
Building Hours
Contact Information