|
ON DISPLAY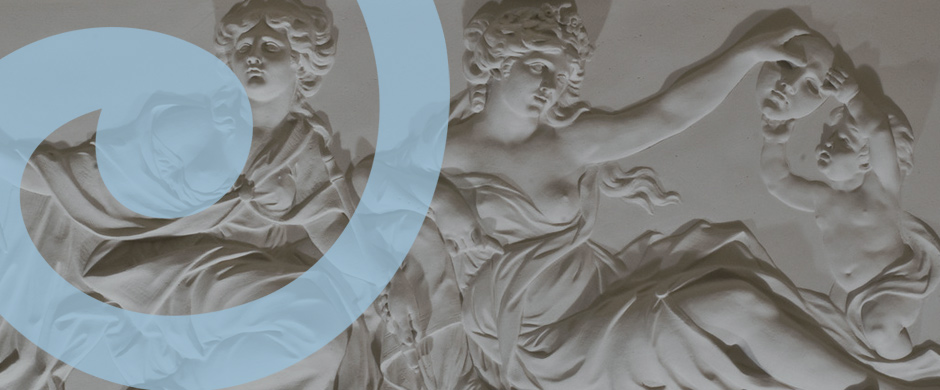 The Great Hall Exhibitions Archive
There are two Great Hall Exhibitions per year showcasing prominent contemporary artists. Taking place in the fall and spring semesters, the expansive great hall of the Duke House, a historic landmark building, provides an impressive setting for displaying seminal contemporary art in the center of the Institute's academic home and community.
Fall 2017:
Judith Hopf
October 19 - Mid-January 2018

The Institute of Fine Arts Great Hall Exhibition Series is pleased to present the work of Berlin-based artist Judith Hopf, on view fall of 2017. The exhibition proudly continues a commitment to presenting work by mid-career female artists at the Institute's James B. Duke House. Set within the building's beaux-arts interior, Hopf's films and sculptures of brick create a rich aesthetic and promote conceptual interaction with the historic venue.
Hopf imbues her work with a sense of humor and irony that finds expression through a variety of media. Her adoption of brick to create sculptures of isolated parts of the human anatomy, as in Brick-Foot (2016), allow for the humble material to assume greater artistic and expressive value. Set within the ornate architectural design of the Duke House, the contradiction of artistic form and utilitarian material is only enhanced.
In conjunction with Hopf's sculptural work will be the Flying Cinema (2016), which will feature her short film, Some End of Things: Conception of Youth (2011). The film retains Hopf's unique humor that also hints at a greater sense of irony and sadness fostering a dialogue with the social and political history of film and architecture. During the run of the exhibition, the Institute will offer a series of related programming.
Judith Hopf (b. 1969, Karlsruhe, Germany) lives and works in Berlin. She is currently a professor of fine art at the Städelschule, Frankfurt. Hopf has in recent years had solo exhibitions at the Hammer Museum, Los Angeles (2017); Museion, Bolzano, Italy (2016); Neue Galerie, Kassel, Germany (2015) and has had film screenings including at the Berlinische Galerie, Berlin (2016); Berlinale, International Film Festival, Berlin (2014); and Schirn Kunsthalle Frankfurt (2013); among others.
The exhibition was made possible through the generous support of Valeria Napoleone XX and Kaufmann Repetto. It was curated by Scott R. Davis, Kendall Follert, Mattos Paschal, and Haley S. Pierce.
Events
Video
Contact the Institute
Building Hours
Contact Information