|
ON DISPLAY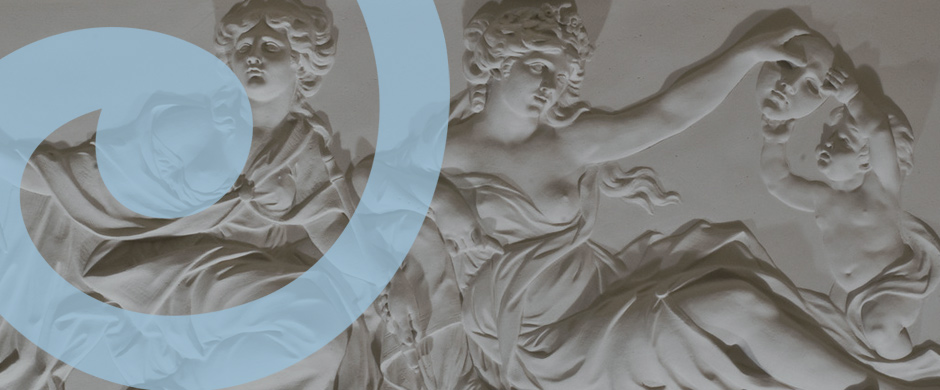 The Great Hall Exhibitions Archive
There are two Great Hall Exhibitions per year showcasing prominent contemporary artists. Taking place in the fall and spring semesters, the expansive great hall of the Duke House, a historic landmark building, provides an impressive setting for displaying seminal contemporary art in the center of the Institute's academic home and community.
Fall 2016:
Martha Friedman, 
Some Hags
October 19, 2016 - February 6, 2017
The Institute of Fine Arts New York University was proud to host Some Hags, an exhibition featuring a new body of work by sculptor Martha Friedman. For this exhibition Friedman orchestrated a site-specific installation that responded to the sixteenth-century Flemish tapestry hanging in the building's grand staircase.  Her response took the form of three metal and rubber sculptures that allude to the female body in various states of use, and were a reflection of her ongoing exploration of industrial objects, modernity, and the female body. Said Friedman, "The tapestry depicts a scene from The Odyssey where Odysseus uses a sword to threaten the sorceress Circe, who has just used her magic book to turn his men into boars. I'm intrigued by how contemporary this five-hundred-year-old weaving feels in the way it tackles issues of gender and power." The show's title, Some Hags, refers not only to the three bodies that will occupy the hall, but also critiques the perception of forceful women throughout history.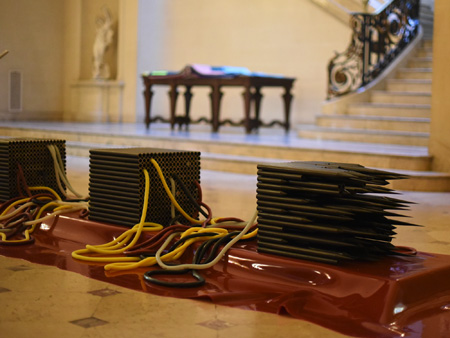 Friedman, Brooklyn-based artist who is also an assistant professor of sculpture at Princeton University, collaborated with the writer Jeff Dolven, and Institute students Sarah Mallory, Blanca Serrano Ortiz de Solórzano, Adam Dunlavy, and Connor Hamm, to produce a series of innovative programs to accompany the exhibition.On November 16th, Susan Marshall & Company will perform the world premiere of their newest dance piece Two Person Operating System, which will activate one of the sculptures featured in the exhibition. This work, which grew out of a collaborative concept developed by Friedman and Marshall, is funded by the National Endowment for the Arts.  On December 1, a concert in the Great Hall will feature sound artist C. Spencer Yeh debuting an original sound score in response to electronic music pioneer Milton Babbit's Homer-influenced composition, Philomel.  The exhibition's opening will include a panel discussion about the works on display; NYU professor Thomas Crow, the Institute's Rosalie Solow Professor of Modern Art and Associate Provost for the Arts at New York University, will moderate. The exhibition and associated programming is sponsored by The Barnard Center for Research on Women, Princeton University, and Valeria Napoleone. 
Artist's Bio
Martha Friedman was born in Detroit, MI and lives and works in Greenpoint, Brooklyn. She earned her BFA from the School of the Art Institute of Chicago in 1998 and her MFA from Yale University School of Art in 2003. She has had solo exhibitions at Wallspace, New York (2012, 2009, 2007); the Museum of Contemporary Art Detroit, MI (2010); DeCordova Museum and Sculpture Park, Lincoln, MA (2010); Shane Campbell Gallery, Chicago, IL (2010). Her work has been shown in numerous group exhibitions, nationally and internationally. Select examples include Frieze New York Sculpture Park, curated by Tom Eccles, New York (2013) and Museum on the Seam, Jerusalem, Israel (2013). Friedman is Assistant Professor of Sculpture at Princeton University. Friedman has an upcoming solo exhibition at the Henry Museum in 2018.
Public Programming
October 19 - Opening (6:00pm) and panel discussion moderated by Prof. Thomas Crow (7:30pm)
The Institute hosted a panel discussion to unfold the ways in which Friedman's work responds to and dialogues with the Circe tapestry. The esteemed panelists, Dr. Nancy Worman, Ann Whitney Olin Professor of Classics at Barnard College, Columbia University, and Dr. Jamieson Webster, author and analyst, each drew from their own area of expertise to contemplate the various renderings of the female figure through history, ranging from classical Greek literature through the Renaissance and ending with contemporary portrayals.
November 16 - Performance by Susan Marshall & Company (6:00pm) followed by a panel discussion (7:00pm)
Susan Marshall & Company performed the world premiere of the their newest dance piece, Two Person Operating System. The work activated one of Martha Friedman's sculptures featured in the 2016 Fall Great Hall Exhibition. The dancers pay careful attention to speed, force, and precision, while navigating dangerously sharp edges in Friedman's creation. The sculpture and dance, funded by the National Endowment for the Arts, grew out of a collaborative concept developed by Friedman and choreographer Susan Marshall. After the performance, Friedman and Marshall will hold an open conversation with Dr. Brooke Holmes, Professor of Classics at Princeton University, and Dr. Tina Campt, Professor of Africana and Women's Gender and Studies at Barnard Collage.
Susan Marshall & Company's Two Person Operating System performed again on November 19 from 1:00pm to 5:00pm
December 1 - Concert featuring C. Spencer Yeh (6:00pm) followed by a panel discussion (7:00 pm)
Innovative artist and musician C. Spencer Yeh premiered a new piece of music based on Milton Babbit's groundbreaking electronic masterpiece, Philomel, and vocalist Liz Pearse performed Babbit's original. Both works draw inspiration from the Ovidian story of Philomel and the tapestry she wove, after being raped by King Tereus, to reveal her rapist's identity. After the performances, Yeh and Pearse discussed the works with R. Luke Dubois, composer and director of the Brooklyn Experimental Media Center at the NYU Tandon School of Engineering, and Jeff Dolven, poet and professor of English at Princeton University.
Events
Video
Contact the Institute
Building Hours
Contact Information