|
On Display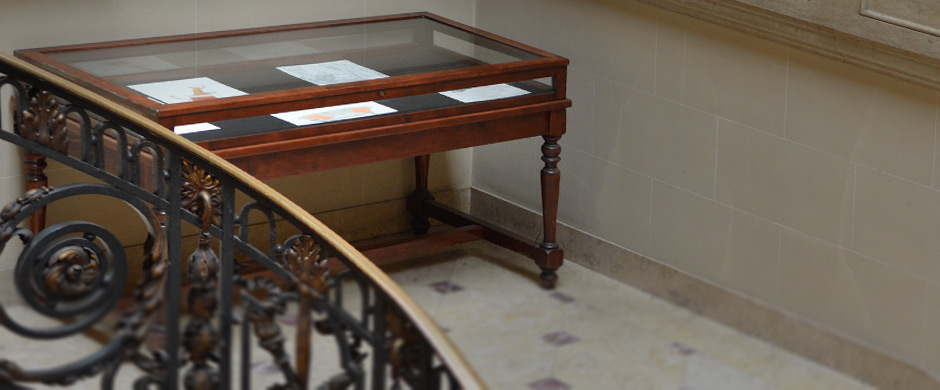 Display Cases in the Great Hall
TIGER AND BLOSSOM
Six Jewels of Indian Painting and Drawing from the 17th - 18th Centuries
21 February – 19 April, 2020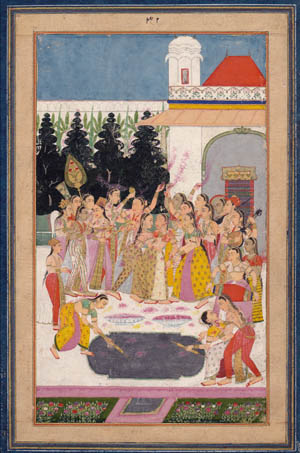 The rare Indian works on paper on here are selected from a collection amassed over more than 40 years. These examples are redolent with pigments collected from sacred animals, and pigments extracted from crushed insects, malachite, cinnabar, lapis lazuli, gold leaf. The earliest sheets shown here include the exquisitely preserved miniature from c. 1620-1630, Five Jewels of King Lakshmanasen, in horizontal format, from a Gita Govinda manuscript attributed to the artist Sahibdin (active 1628-1655) and the Royal Mewar workshop of Maharana Jagat Singh I (r. 1628-1652). A later miniature Gita Govinda painting, also from Mewar (Rajasthan), in horizotal format, dated c. 1665, also attributed to Sahibdin, in the collection of the Metropolitan Museum of Art (1988.103).  A tinted ink drawing from Rajasthan depicts a noble Rathor Thakur with a katar dagger in his waist sash, holding a blossom. The divided composition artfully depicts the dualities of the ideal warrior. In a panel below his feet, a tiger attacks an antelope, revealing the noble's refined nature restraining his power.
Later examples range from a late 18th century fragment, depicting the leaping horses of Krishna's Chariot, to the ink rendering of lovers Radha and Krishna walking under an umbrella in vasant, or thefertile rainy season. The final painting depicts the celebration of the Hindu festival of Holi, an exuberant ritual that involves spraying dyed and scented cleansing water to rejuvenate and rid oneself of past errors and wrongdoing. Here it is celebrated in the zenana, or harem, in March, with women drawing water in syringes from a marble-ringed pool near a garden pavilion.
Curated by Lisa A. Banner
---
Display Cases Exhibition Archive

Completing the Image: Baroque Frames
24 January – 21 February, 2020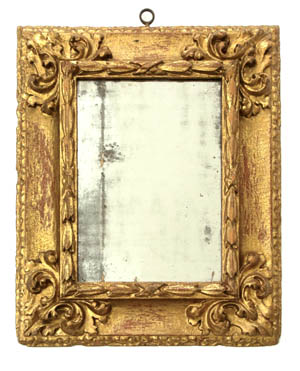 Frames complete pictures, holding them for display on a wall or other setting, and presenting them to face the viewer. They follow the form of stretched canvas, protecting the work, and defining physical structure and visual borderlines to separate and support that picture from the outside reality of the viewer. The frames shown here reveal some of the rich abundance of patterns, forms and designs created to present European paintings from the baroque period, with one example of a later French papier maché frame embellished to reflect and capture the light with japanning and glimmering Mother-of-Pearl. Baroque elements of curvature, theatricality, and movement are present in the frames from the late 16th through the 19th c., and also in the containment of severe and linear 17th c. architectural moldings, meant to be a simple division between the viewer's reality and a contained image. Frames create visual and physical borders to their contents, to shape or to display. Empty frames lose their context and sometimes their meaning. Yet they remain as constructed armatures, and these vestiges of what had been created and displayed, are too often repurposed to serve anew.
Read more about Completing the Image
ACADEMY
15 January, 2019 - 15 February, 2019
Master Drawings by ANDREW SHEARS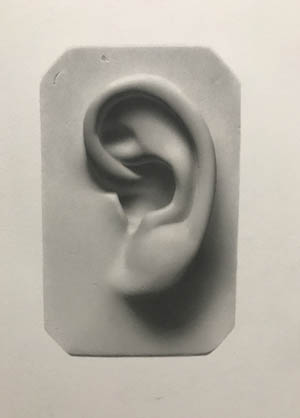 Classic academic foundation drawing normally begins with simple and basic forms, careful observation, and practice. Sometimes an artist spends hours mastering the idea of a freehand circle drawn without touching the sheet, or suggesting volume in a carefully arranged still life, composed of objects from the studio, desk, or breakfast table, offering a window onto quotidian practice. The hardness of the pencil point reveals the softness of a paper surface, as it yields to the movement of the artist's hand.
Read more about Shears' exhibition
GHOST
15 October, 2018 - 15 January, 2019
Oil Paintings by LEX BRAES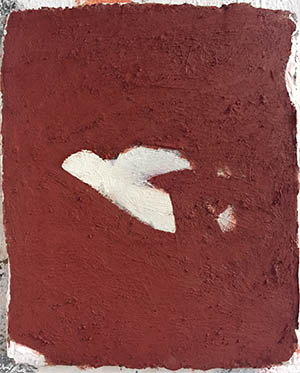 Scottish painter Lex Braes starts with a thought and an image, and then reduces that image to a structure of a few lines, maybe five lines or a singleendless line, like a Celtic knot. With oil paint on plaster he mines a motif that he first found in 2009, using organic geometry to discover shapes, creating rhomboids, parallelograms, and abstract forms that suggest and reminisce about ancient memories. Some of Braes's forms recall the keening, wailing figure of a man on a Greek krater, seen on a trip to Athens. Others are derived from memories of a reclining female nude. These are indelible memories that sometimes become the joined lines that form two shapes, an abstract form, or uplifted arms signaling mourning.
Read more about Braes' exhibition
RADIATION MAPS
20 July, 2018 - 30 September, 2018
Lithographs by HISAO HANAFUSA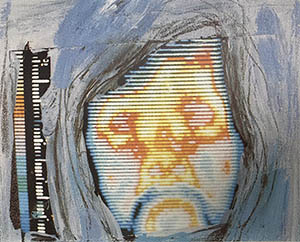 Hisao Hanafusa believes that "all humans have uchuiden or 'universal memory' and in his work he explores that concept. When Hanafusa was seven years old, nuclear bombs were dropped on Hiroshima and Nagasaki in his native Japan. Radiation ruined the lives of many in the days and weeks that followed, and those events seared a universal memory into all generations thereafter. When Hanafusa arrived in the U.S. in 1964, he applied his bold philosophical approach to shape his art work, both on the surface, and within.
Read more about Hanafusa's exhibition
LIGHT OF THE MOON
23 May, 2018 - 16 July, 2018
Nudes and Orotones by KATE BREAKEY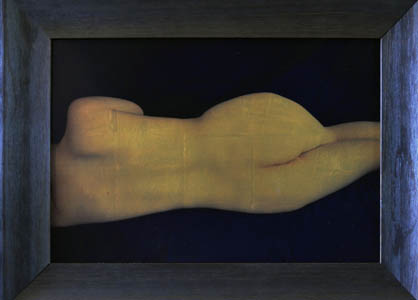 Orotone photographs are printed on glass, made by a process that lends extraordinary subtlety, suffusing the image with warm golden light, as if aged over time. This selection from Kate Breakey's Golden Stardust series are orotones made by burnishing and adhering 24 karat gold leaf to the verso of a glass plate, on which an image has been digitally printed.
Read more about Kate Breakey's exhibition
ORNAMENTATIONS
28 October, 2017 to 8 January, 2018
Copper Plate Engravings by ANTON WÜRTH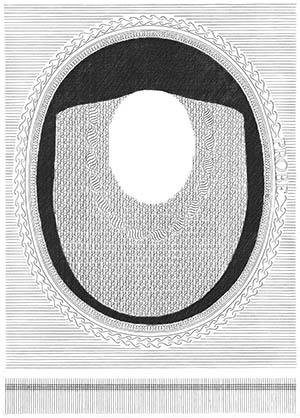 Anton Würth's design elements emerge from what inspires him: old master engravings. Würth invites us to experience a seventeenth-century Kunstkammer, where erudite collectors, aristocrats, and intellectuals pored over intricate ideas. Würth studies engravings like those of Robert Nanteuil (1623-1678) and experiments with techniques learned through research. By removing central compositional elements of a portrait, for example, or a landscape design, Würth focuses on support structures. Elements of whimsy and playfulness emerge in the lyrical lines of his own engravings, forming compositions that allude to the old masters, and derive from years of subtle and determined practice.
Read more about Anton Wurth's exhibition
KAPPUS
19 May through 15 September 2017
Paintings by Kit White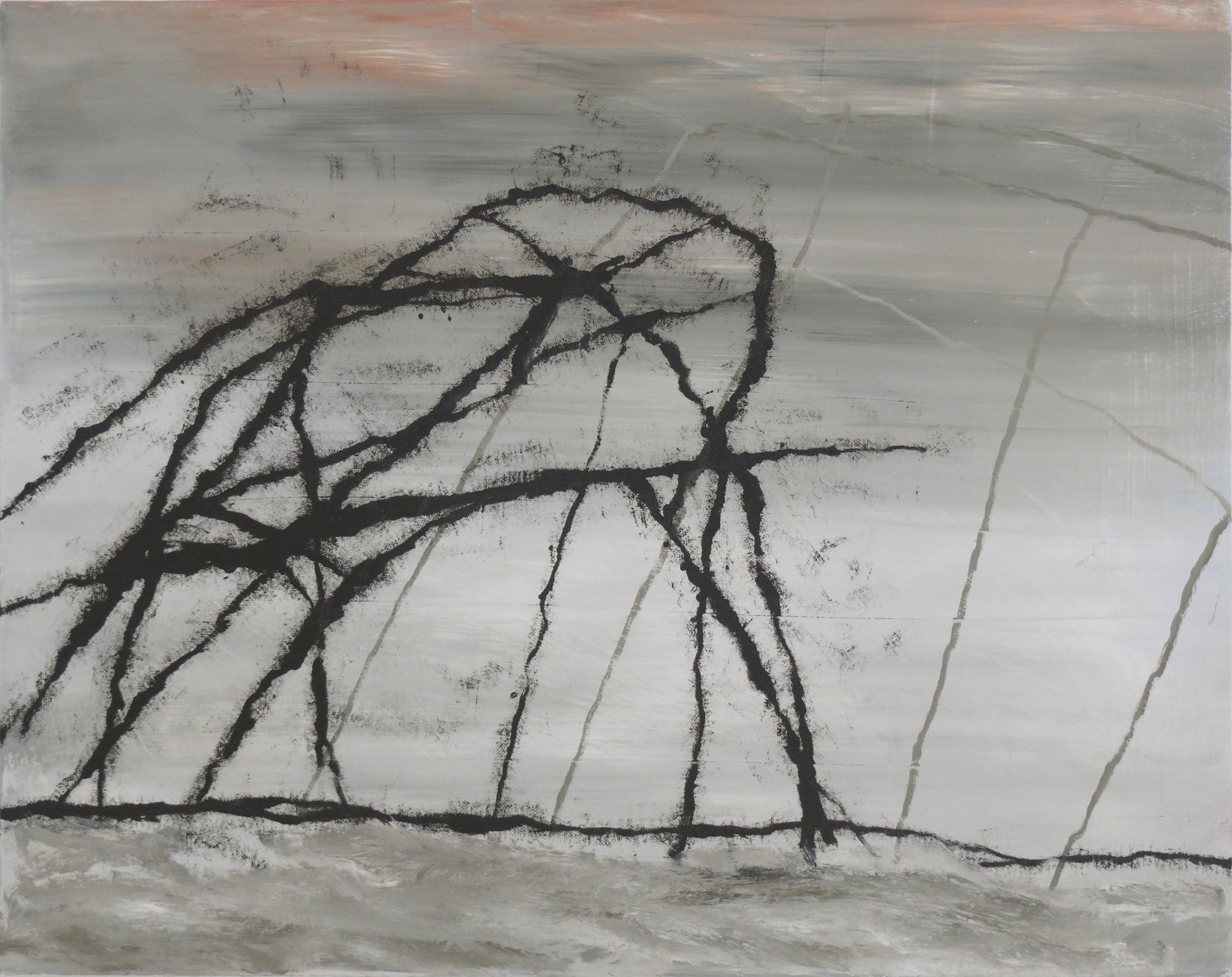 Nothing is missing from Kit White's paintings. Excised elemental and skeletal forms imply bodies, leaning, intersecting, and often wavering vertical figures, composed of lines that stand against layers of color. The forces of nature are restrained yet completely present in the strokes that he sweeps in oil paint onto wooden panels, or canvas.  Lines and marks are conveyed via oil transfer in his drawings, enticed onto paper, usually from the verso, working without fully knowing where they will land. The process is reactive, instinctive, in contrast to the discipline of White's thought process. Unique lines become entities unto themselves.
Read more about Kit White's exhibition
---
ELEVATED
3 April - 19 May 2017
Jean Shin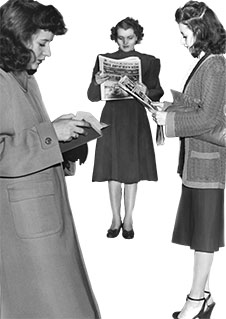 First proposed in 1929, New York's Second Avenue Subway was abandoned as a result of the Stock Market Crash, and the beginning of the Great Depression that year. Anticipating the new subway line, existing 2nd and 3rd Avenue elevated train tracks were dismantled, leaving a transportation void for the remaining part of the century. Work proceeded in fits and starts for decades until groundbreaking in 2007 led to the 2017 opening. When New York's Second Avenue Subway line finally opened, public art installations were commissioned by the MTA from New York City based artists, including Jean Shin, an internationally recognized artist working in the public realm, whose sketches are on view here.
Read more about Jean Shin's exhibition
---
TEMPUS FUGIT
21 January through 15 March 2017
Installation art by James Perkins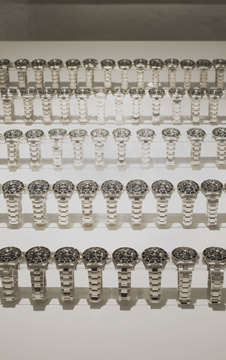 James Perkins explicitly plays with our perception of universal truths and values, as perceived through conceptual signifiers. Here, Perkins places a single Submariner Rolex watch within a pile of 99 counterfeit Submariner Rolex watches purchased on the black market. Poignant and optimistic, this installation explores our sense of discovery and fascination with the idea of luxury, symbols of success, and signs of difference. In One Percent, Perkins dazzles us with the sheer numbers of timepieces, and the near impossibility of finding the real within the pile of imitations. The physical characteristics of luxury like shiny rare metals, exquisite workmanship, and thick polished glass, compete with the recognizable form of the watches. Real luxurious watches and cheap fake copies blend as their sheer numbers overwhelm viewers. All are working timepieces. Only one is the truth the viewer seeks.
Read more about James Perkins' exhibition
---
SILHOUETTES
1 November 2016 – 11 January 2017
Silkscreens by Peter Hristoff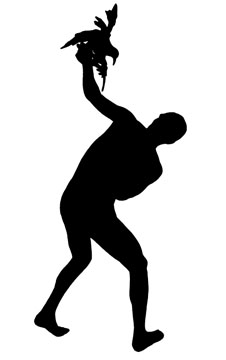 Peter Hristoff's extraordinary silkscreened silhouettes echo the popular 18th and 19th century tradition of revealing profiles and silhouettes in shadow against a neutral plane.  These renderings capture an essence of personality with the profile or shadow of a figure against a white ground. The idea of a shade, or shadow, an image of death, is inherent in some of Hristoff's other works, like his carefully handwritten Unfinished Scroll, an ongoing list of tribute, recording the names of those lost to AIDS since the crisis began in the 1980s. As meditative as these works are, Hristoff's restless imagination finds an expanding personal encyclopedia of images and influences that he swirls into the practice of making delicate and original silhouettes.
Read more about Peter Hristoff's exhibition
---
MITOCHONDRIA
28 September – 1 November 2016
Photographs by Nona Faustine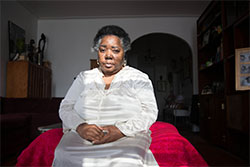 Mitochondria are part of every plant and animal cell on earth, and they generate the energy that keeps those cells going.  DNA within the mitochondria of cells are directly traceable through the matrilineal ancestry, passed from the mother to female and male children alike. However if traced back, all mitochondria come from a single source, our female ancestor in Africa. Since the matrilineal line passes down its genetic material unchanged, it can uniquely be traced back through several generations of women, revealing unbroken links from mothers to daughters.
Nona Faustine's photograph series, MITOCHONDRIA, focuses on three generations of women in her family. Her mother, her daughter, and herself, and looks at the powerful expressions of these women over time. As she describes it, "Three generations of women living together in one family. My mother, my daughter, and I."
Read more about Nona Faustine's exhibition
---
LIGHT LEAKS
17 July to 14 September 2016
Paintings by Holland Cunningham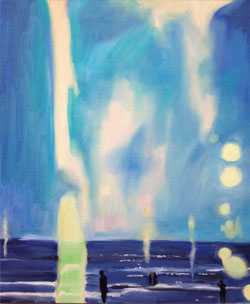 Holland Cunningham's small paintings begin as interpretations of found photographs, some from her own family, others discovered at estate sales or given to her by friends. She plays with effects of light upon the images, reinterpreting and sometimes smearing them, as if the images from the past, like memories, can be altered with time, or the effects of moisture, weather, and age. Creating anonymity by removing specificity, she transforms these images into universal yet sometimes desperately unsettling scenes.
For the narrative of summer, the use of color in some paintings and black and white in others creates a rhythm as simple as the days. Intense turquoise paints sky, water, and the bottom of a pool, while soft pink and golden yellow glazes add vibrancy to black and white, or character to a cloudless heat-filled day. Only the scrawled "No Trespassing" graffiti across the pool seems to disturb a hazy sense of wellbeing.
Read more about Holland Cunningham's exhibition
---
PERGAMON ALTERATION
15 May to 17 July 2016
Paintings by Piers Secunda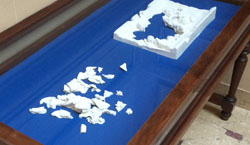 Lucius Ampelius described the Pergamon Altar in his Liber Memorialis as one of the wonders of the world, in the only known ancient reference to the greatest surviving monument of Hellenistic sculpture. Although Pergamon first became an important cultural center in the 3rd century B.C.E., the Altar was built from 166-156 B.C.E., to honor Zeus and the Olympian gods and celebrate Attalid dynasty victories by Eumenes II. His successor Attalus III died without male heirs, and the city was ceded to the Roman Empire. Centuries later, as a result of conflicts between Christians and Muslims in the 7th century C.E., the city was dismembered to provide stone for defensive walls, and later abandoned. Ottoman authorities permitted excavations of the site by Prussian engineer Carl Humann in the 19th century, and the removal of the Altar to Berlin. Italian artisans were employed in the early 20th century to reproduce the marble reliefs for study purposes in small format plasters. Depicting a battle of the Gigantomachy, one of these reliefs provides the basis for a series of new paintings by Piers Secunda.
Read more about Piers Secunda's exhibition
---
THE LETTER, THE DECREE, AND THE SHIPS
29 March to 15 May 2016
Paintings and Drawings by David Fertig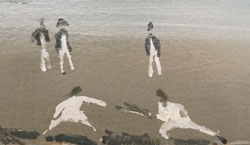 Painting with a delicate yet fierce imagination, David Fertig explores the real and imagined events of the Napoleonic Wars, placing intimate moments from history into the forefront of our view.  His paintings tell the unfolding story of lovers who part, one for battle, one for expectant hope, as a war begins, rages and continues toward the inevitable.
Fertig's paintings bridge worlds of representation and abstraction, recalling the philosophy of Nicolas de Staël's "entre deux."  Misty scenes are viewed through a clouded lens, and figures blur as if emerging from memory after reading a loosely held letter. A sheaf of pages from a decree, and petals from an overblown rose fall onto the table.  The gesture of a hand is fraught with emotion, delicately captured in grey and pink and a still life is animated by words suggesting a rousing declaration of War. Steamy clouds, waves, and splashes of salt water hit the prow of a ship, giving viewers a synesthetic experience of the ocean, the creaking masts, and dried salt on the decks.
Read more about David Fertig's exhibition
---
DI QUI NON SI PASSA
22 February to 29 March 2016
Paintings by Riccardo Vecchio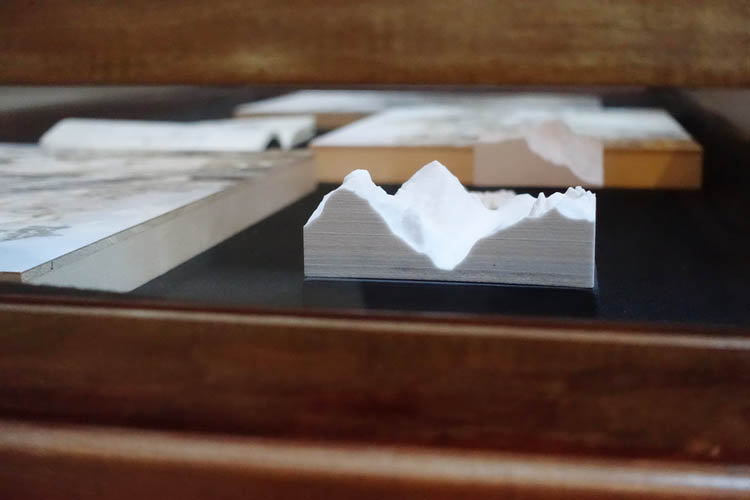 In these paintings of the Dolomites, Riccardo Vecchio explores the topography and natural transformation of an infamous World War I battle site. Now a UNESCO World Heritage Site, this ridge of the Alps forming the northeastern Italian border witnessed horrendous conflicts during Word War I. During the War, Di Qui Non Si Passa was an admonition to those approaching: From here you shall not pass. A cast-iron sign at the edge of Italian territory where the terrain becomes fiercest and most daunting, this sign stands today as a monument, marking a brutal and futile mission of dubious military significance, where lives were lost. In the attempt to cut off the advance off the enemy, trenches and tunnels were dug into glaciers and rocks. Men and animals carried provisions and munitions thousands of feet up into this unsparing terrain. A battle became trench warfare at a complete standstill; unable to advance both Italians and Austrians dug deep tunnels into the rock, and set off tons of dynamite. Resulting explosions made entire peaks implode, burying many alive. Others simply died from exposure.
Read more about Riccardo Vecchio's exhibition
---
HEATHROW ORCHARD WALKS
9 January 2016 – 9 February 2016
Performance Activism Documentation by Kate Corder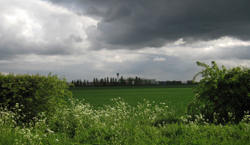 Kate Corder's photographs document political action since 2014, circumnavigating Heathrow Airport on foot, to trace villages and ancient sites that limn edges of its perimeter. Like Richard Long's walks, or Robert Smithson's essays about airports and geological time, Corder's walks exist in the doing, and then exist in a separate form as the documentation. Collecting fruits and flowers, observing a vanishing way of life, Corder notices intrusions of the modern jet age upon the medieval and subsequent settlements and agricultural rhythms, and she views her work as performance activism.
Read more about Kate Corder's exhibition
---
BEANSTALK
3 November 2015 – 9 January 2016
Willard Traub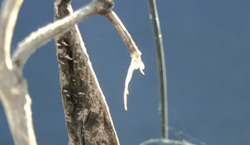 Kentucky Wonder green beans, hardy pole beans that thrive in full sun, were special for photographer Willard Traub.(died on 25 August 2015). The beans grew outside his back door in Massachusetts. Productive staples yielding from early spring until first frost, sometimes they remained as frozen hulls on the vines, well beyond harvest time. Winding around metal fences and resilient despite weather, disease, and insects, their elegant forms remind of the wonder of nature in close familiar settings, outside a back door, or along a fence.
Read more about Willard Traub's exhibition
---
NUDES
21 September to 2 November 2015
Gary Schneider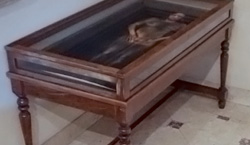 Gary Schneider's extraordinary nude photographs, 2001-2005, evolved from working with a small flashlight in total darkness, sustaining the exposure on film for about an hour, to trace whole body portraits of friends. Perfecting the process over several years, he created unusual studies that explore both psychological and physical presence. Schneider muses that "there are so many variables" in creating frank yet mysterious and unique individual portraits, which are photographic records of the performance of exposure.
Read more about Gary Schneider's exhibition
---
COWBOY COUNTRY: Photographs of Wyoming
6 July to 13 September 2015
Roberto Sandoval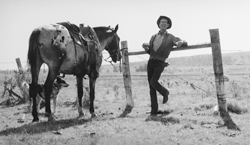 Roberto Sandoval's silver gelatin print photographs were shot over a ten year period, to reflect the ranching life of Wyoming cowboys.  Less populous than any other of the fifty states, Wyoming is a land of high plains and extensive cattle ranches, fringed with mountains.  With a wide and low horizon and high stone mesas among the features that Sandoval has captured in these black and white photographs, he documents the expansive West in the late twentieth century. Horses and cowboys, when seen, dominate the rolling landscape of open grazing and grassland, sparse treelines and rugged peaks that characterize this wild open range and give it a mythic quality.
Read more about Roberto Sandoval's exhibition
---
CROSS-POLLINATION
1 June to 30 June 2015
Walter Martin and Paloma Muñoz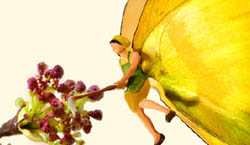 Entomological boxes by Walter Martin and Paloma Muñoz contain a selection of composed butterflies and moths, assembled from the wings of Lepidoptera gathered from all over the world, and joined to tiny human bodies.  In nature, the role of these flying insects is pollination, gathering a dusting of pollen along their legs, and carrying it from one plant to another.  Delicate color and dramatic markings attract mates, and allow Lepidoptera to dissemble in the presence of predators. Martin and Muñoz cross-pollinated human with Lepidoptera fusing them into new forms.
Read more about Walter Martin and Paloma Muñoz's exhibition
---
LA 24 ORE: COURT OF MEMORY
1 May to 31 May 2015
Kikki Ghezzi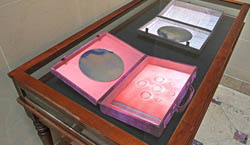 The Italian "24 Ore" (literally, "24 hours") is a leather briefcase designed to hold only a day's essentials. Kikki Ghezzi has created three 24 Ore containing photogravure images of her childhood home, images taken when the home had stood silent for five years after the death of her father, and shortly before it was to be emptied completely. Three distinct cases represent stages in a journey of remembrance: preservation of memory, grief, and ultimately, personal transformation. The 24 Ore embody the process of memory itself, its limitations and demands for selection and compression: a house must become a small, portable case; years passed within its walls must become only moments of in-ward reflection.
Read more about Kikki Ghezzi's exhibition
---
Benjamin Cottam
March 21, 2015 - April 30, 2015
COLLATERAL DAMAGE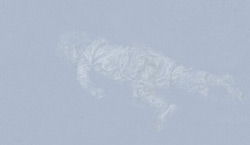 Benjamin Cottam's drawings have the vaporous quality of plumes of smoke, captured against a fine and delicate azure sky. Using techniques favored by many artists of the 18th century, Cottam excerpts images taken from the headlines or news snippets, and converts them into riveting and intense studies. Delicately rendered in white crayon against a blue page, they are silky threads of memory. Recording moments of journalism, depicting pieces of people, bodies, and the residual effects of mindless, senseless killing, Cottam draws what is reported on the news.
Read more about Benjamin Cottam's work
---
William Hempel
February 14th, 2015 - March 21st, 2015
DIRTY WORDS: LOVE LETTERS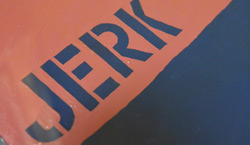 When William Hempel returned to New York after seven years living abroad, he was struck by the casual and constant use of insults. This series of paintings emerged from his experience of language, and its permutations, as the artist experienced harsh words in common parlance, called out loud on streets among friends and strangers every day in public and private in the City.
Each small painting has the same dimensions. The panel depths vary, implying the hurt of the words, how deeply they penetrate as they are uttered. Contained on the handcrafted wooden panel is a single word, appearing in the top register of a two-color field, lovingly painted with stencil.
Read more about William Hempel
---
TR ERICSSON
January 7th, 2015 - February 13th, 2015
LUCIFER'S KISS: Photograms by TR ERICSSON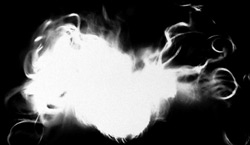 Lucifer was the Latin name given to the brightest star in the ancient Roman sky, the light we now identify with the planet Venus. The first light in the night sky, it is often seen low on the horizon just after sunset. Ericsson plays with the subsequent interpretation of Lucifer as the favored angel who falls from grace, becoming identified with forces of darkness. In these photograms, Lucifer brings light to the paper, revealing a woman's form, fashioning her contours against glossy black.

Playing with light and dark, edges and shadows, Ericsson manipulates both muse and medium to create a sensuous and luminous image. Read more about Te Ericsson's work
---
Beatrice Pediconi
October 6th, 2014 - January 6th, 2015
EPHEMERAL PIGMENTS: Polaroids by Beatrice Pediconi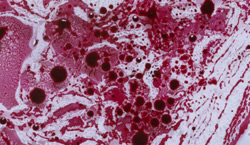 Beatrice Pediconi's Ephemeral Pigments is a series of polaroids of paintings on water, documenting her spirit moving over the liquid tableau. Using a different medium each time, sometimes paint, sometimes egg, sometimes pigment and oils, she circulates images into a basin of water, dropping viscous liquids into a receptive tray filled with water, coloring the movement and ripples on the surface, with these intense and delicious substances. At times they are suspended like a meniscus on the surface, at times they form shapes, and then dissolve, trailing tails behind.
The movement of the artist's hand over the water, her gesture, is recorded in the three poetic series of polaroids.
Read more about Beatrice's exhibition
---
Michael Kirk
August 8th - October 6th, 2014
NORWAY: Small works on Paper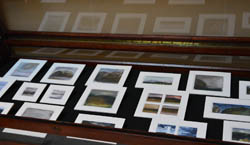 Michael Kirk's intimate pastels and watercolors were made on trips he took to Norway. Tender reflections of majestic landscapes, made on site as he traveled through Norway's fjords and mountains, many of the small works later inspired larger paintings and drawings when he returned to his studio. They convey his immediate responses to Norwegian landscape. His own words describe his impressions:
1991. Lofoten, an archipelago within the Artic Circle, mountainous islands reach out into the Norwegian Sea. In late May the "midnight sun" floats along the horizon. Dusk becomes dawn; one day runs into the next. I was working with pastels using my fingers to grind pigment into pigment. This physical act extends my being directly into the paper. The work is not driven by conscious thought, rather by a series of sensations and the rhythm of my hands responding to the moment.
---
Dean Dempsey
June 20th to August 8th, 2014
DREAMSEQUENCE FILM STILLS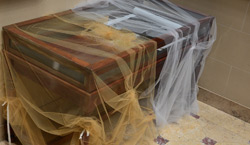 As a photographer and a filmmaker, Dean Dempsey plays with questions of identity by masking his figures, removing them from our gaze with layers and adornment, or by placing them into carefully arranged tableaus that reveal a multiplicity of meanings.
In his film Dreamsequence, women are posed in diferent rooms that suggest a dramatic stage set. One kneels on the floor in an empty room filling with balloons that drop randomly from the ceiling, and later sits in a chair, lifting her face to a shower of golden glitter raining down upon her skin. The other perches on a chair in a bay window, naked except for the paint on her face, and the tulle enveloping her lower limbs. She moves without speaking, holding a bird in a cage. In the close ups of their faces shown here, they appear as though they are remembered from a dream.
---
Eliana Pérez
May 4, 2014 - June 16, 2014
HUNTED: Gouache Drawings by Eliana Pérez
Domestic intranquilities form the subjects of this series of gouache drawings by Colombian artist Eliana Pérez, executed as a cont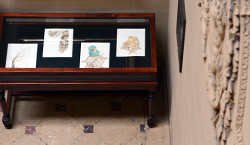 inuous numbered series with point of brush on deckled edge paper. Animals inhabit an interior and domestic landscape, coming to life and interacting with their environment. A group of branches in a vase waves cautiously as if bent by wind toward an unseen place, breaking into pieces and wispy fragments for no apparent reason. A slipcover begins to growl as if ready for attack. A hidden dragon slithers to life in the folds of a drapery, leaving fire in its wake. An archer shoots at a trophy stag from the comfort of his decorative pose on an ovoid telephone table. A flock of birds twitter against the back of a sofa. A living room is submerged in standing water, colorless, and linear. A blue mattress, its coils exposed, floats away on an ocean of coiled lines. The images form a personal narrative of disquiet.
Read more about Eliana Pérez's exhibition
---
Jongil Ma
March 24, 2014 - May 3, 2014
WOLF: Constructions in Wood and Mirror by Jongil Ma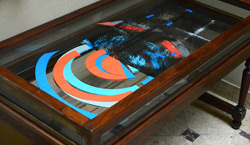 Jongil Ma is intrigued by the delicate social relationships between friends and inside social groups. As an immigrant to the United States from Korea in 1996, his continued fascination with these interactions has led him to create an art practice that embraces sculpture and installation to create interactive spaces. Working in both large-scale monumental sculpture and intimate conceptual pieces, he brings sensitivity and power to his work. Because he wants to break through the confining divisions between audience and artist, he asks a wide range of participants to bring their own concerns to transform his pieces.
---
Timothy Hawkesworth
February 1, 2014 - March 17, 2014
Wishes: Horses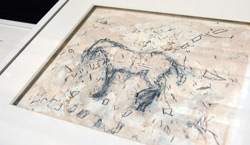 Horses are powerful, atavistic creatures, symbols of freedom, speed, and sensitive response. This exhibition of horse drawings spans two important dates connected to the imagery of Irish painter Timothy Hawkesworth: 1 February 2014 marks the beginning of the Year of the Horse, the seventh sign of the Chinese zodiac and an auspicious year recognizing the power and primal nature of the horse. The end date of the exhibition, 17 March marks Saint Patrick's Day, named for the patron saint of Ireland, where Timothy Hawkesworth grew up on a farm and began his relationship with horses.
Hawkesworth's horses are energetic and rapidly drawn with graphite over wax and paint on paper, moving from right to left, galloping, rearing, and walking with heads bowed, raised or thrown back in restless movement. Evoking the animal nature with figurative representations, like Susan Rothenberg's horses from the 1970s, Hawkesworth infuses a personal vision in these drawings, and taps into a source of infinite fascination: domesticated animals that retain a wild and untamed spirit.
Read more about Timothy Hawkesworth's exhibition
---
Christopher Smith
November, 2013- January 17th, 2014
Alabaster and Albacore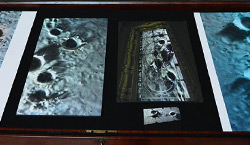 Christopher Smith's Alabaster and Albacore is a series of lush and velvety photographic prints, showing proposed video installations in the interiors of recognizable landmarks and public spaces, including the James B. Duke House. In this body of work Smith engages themes of transience and permanence, movement and color, nature and displacement.
Taking elements of color and bubbles from his ongoing "Painter Project," Smith transforms them, draping them over the railings of staircases, suspending them from the skylights and floating them across the floor toward the viewer. Using techniques attuned classic films like as director Carol Reed's "Odd Man Out (1947, Two Cities film), Jean-Luc Godard's "Two or Three Things I Know About Her," (1967, Argos Films), or Martin Scorsese's 1976 classic, "Taxi Driver," Smith hones in on the bubbles floating in front of the camera as visual metaphors for the transience of life, the fragility of the moment.
Read more about Christopher Smith's exhibition
---
William Smith
September 15th - October 31st
Flowers of the Sky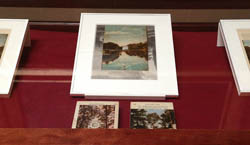 Flowers of the Sky is a series of life-size botanical paintings on the folios of an 18th century astronomy text, dismantled and then reassembled into an accordion-fold artist book. The transformation of the text of James Ferguson's Astronomy Explained upon Sir Isaac Newton's Principles (1799) began in response to a Victorian astronomy book entitled Flowers of the Sky in the archive of the John Work Garrett Library at Johns Hopkins University.
As the artist describes, the fluid yet tenuous painting on the book pages is analogous to a fragile web or distant constellation. For Smith, flowers are symbols of our selves and of nature, as well as a metaphor for the machinations of the universe. Implicitly, book folios serve as multivalent supports for the painted leaves and flowers that adorn them with color and design imposed over printed words.
Display Cases Artists in the News
Nona Faustine currently has work on view at the Paul Robeson Galleries at Rutgers University in the group show: Mirror Mirror, February 08 – December 20, 2018.
New paintings by Kit White are currently on view at The Century Association in New York through 4/30/2018. His work is also included in a group show at FreedmanArt through 8/31/2018.
The prints that Jean Shin exhibited at the Institute were the basis for the mosaics in her Second Avenue subway installation. Read more in the New York Times
The Nature of This Place featured new paintings by Kit White at FreedmanArt gallery, 3/21-9/30/2017

Nona Fasutine interviewed by Lisa A. Banner in Prime Magazine
Nona Fasutine's 2016 solo show reviewed in The New Yorker
Jongil Ma and Christopher Smith were view at the David Owsley Museum of Art. More info
Peter Hristoff completed an artist residency at the Metropolitan Museum of Art in June 2016. Read more on The Met's website
Piers Secunda's display cases exhibition gets reviewed in Artnet news
Jongil Ma's work featured at Space 776 in Bushwick, Brooklyn, NY. More info
AbEx Redux includes paintings by Kikki Ghezzi at The Local in Long Island City, Queens, NY, April 3rd - 27th, 2016
Benjamin Cottam's display cases exhibition at the Institute reviewed in the Brooklyn Rail
TR Ericsson featured in the Huffington Post. "The 21 Art Exhibitions You'll Be Talking Bout This Year" and mentions Ericsson's show at the Cleveland Art Museum
Beatrice Pediconi at the Maison Particulière in Brussels
Contact the Institute
Building Hours
Contact Information
If you wish to receive information on our upcoming events, please subscribe to our mailing list.