|
ON DISPLAY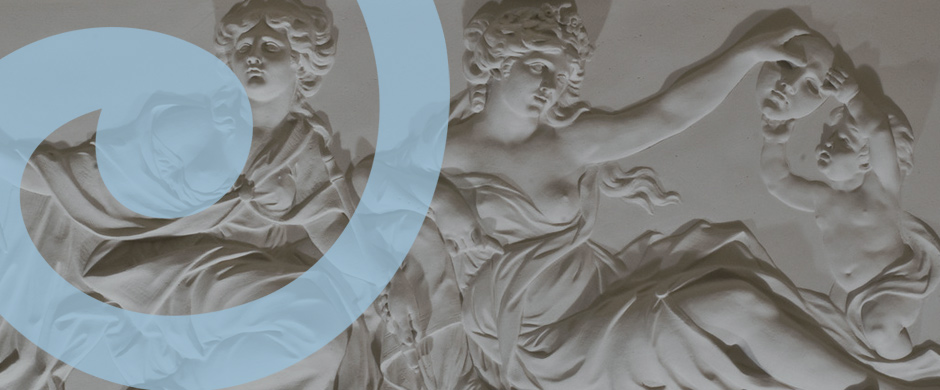 The Great Hall Exhibitions Archive
There are two Great Hall Exhibitions per year showcasing prominent contemporary artists. Taking place in the fall and spring semesters, the expansive great hall of the Duke House, a historic landmark building, provides an impressive setting for displaying seminal contemporary art in the center of the Institute's academic home and community.
Spring 2018:
Jamie Isenstein
May 2, 2018 - September, 2018
The Institute of Fine Arts is pleased to present Universe of Logs, an exhibition of new work by New York based artist Jamie Isenstein. Inspired by her encounter with the decorative logs in the Institute's Great Hall fireplace, Isenstein's exhibition highlights the artifice and theatricality of these seldom noticed objects. Isenstein considers how such objects, often found within museums and historic homes, shape our contemporary understanding of truth and knowledge. By borrowing and redisplaying sets of logs from several New York cultural institutions, Isenstein calls attention to their familiar presence and metaphorical meanings.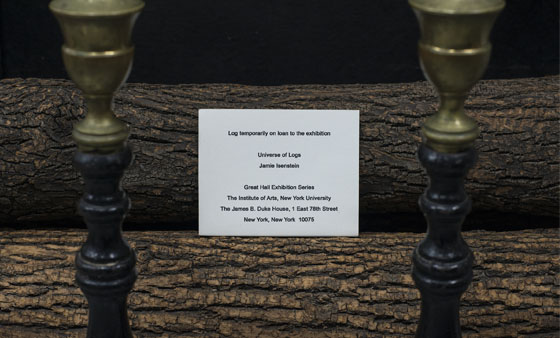 The installation also includes movable mirrors to maximize the natural light within the Great Hall and to spotlight the logs' intended purpose. In so doing, Isenstein relates these logs to the imagery of torches depicted in the Neoclassical friezes throughout the Great Hall. The mirrors and the displaced and illuminated logs address the notion of light as a symbol of the production of history, truth, and knowledge.
Participating lending institutions to the exhibition include The Morgan Library & Museum, Museum of the City of New York, Bartow-Pell Mansion Museum, Morris-Jumel Mansion, Fraunces Tavern Museum, The Vander Ende-Onderdonk House, and the Wyckoff House Museum.
Jamie Isenstein (b.1975, Portland, Oregon) holds an MFA from Columbia University and lives and works in New York City. She has had numerous solo exhibitions including presentations at the Crisp-Ellert Art Museum, St. Augustine, FL (2017); Andrew Kreps, New York, NY (2015); and the Hammer Museum, Los Angeles, CA (2007). She has also participated in group exhibitions throughout the United States and Europe. Isenstein is represented by Andrew Kreps Gallery.
The exhibition was made possible through the generous support of Valeria Napoleone XX. It was curated by Scott R. Davis, Kendall Follert, Mattos Paschal, and Haley S. Pierce.
Events
Video
Contact the Institute
Building Hours
Contact Information