|
ON DISPLAY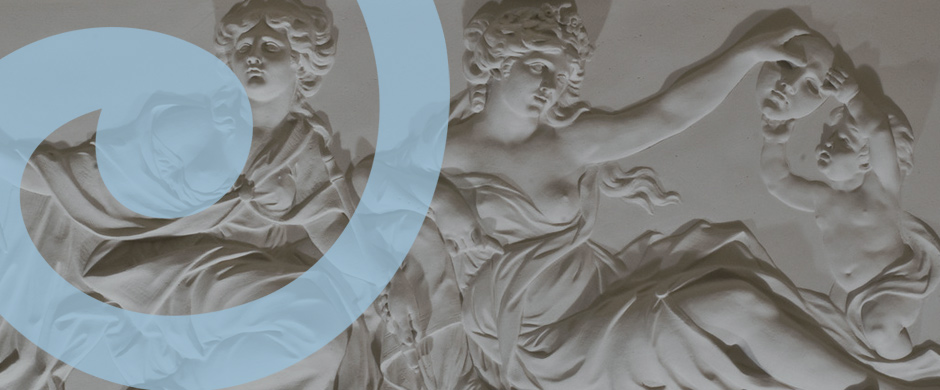 The Great Hall Exhibitions Archive
There are two Great Hall Exhibitions per year showcasing prominent contemporary artists. Taking place in the fall and spring semesters, the expansive great hall of the Duke House, a historic landmark building, provides an impressive setting for displaying seminal contemporary art in the center of the Institute's academic home and community.
Spring 2016: Charles Simonds
April 1, 2016 - May 13, 2016
The Institute of Fine Arts continued its ongoing Great Hall Exhibition Series by showcasing sculptor Charles Simonds's Mental Earth in the Great Hall. The exhibit was organized by Institute of Fine Arts PhD student Julia Pelta Feldman, and was accompanied by a dialogue and day-long symposium featuring the artist.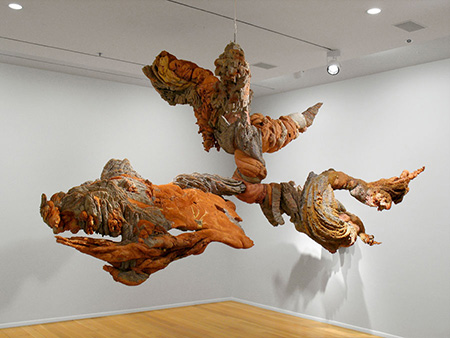 A sculptor with roots in New York City's downtown scene, Simonds first gained renown as an artist in the 1970s for his Dwellings, miniature villages in unfired clay constructed in the streets of SoHo and the Lower East Side and conceived as homes to an imaginary civilization that Simonds called "the Little People." He created over 200 Dwellings, which usually disappeared days or weeks after their meticulous making. He has also exhibited freestanding sculptures and installations at various institutional spaces, including the Whitney Museum, the Paris and Venice Biennials, Documenta 6, and the Museum of Modern Art. He has been the subject of retrospective exhibitions at the Guggenheim Museum, the Galerie Nationale de Jeu de Paume, and the Institut Valencia d'Art Moderne, among other museums. 

"Created in 2003, Mental Earth is a hanging sculpture in which a vibrant arabesque of earthy clay forms – resembling at once landscape, cloud, and man-made structure – floats in the air, detached from the terrestrial and architectural context of Simonds's early work in the streets," said Feldman, who also organized the upcoming all-day symposium on Simonds. "It is the opposite of site-specific in that it is able to create a new site for itself wherever it is exhibited. But despite this dramatic change from the artist's earlier work, Mental Earth represents powerful continuity with his entire oeuvre: it posits land, architecture, and the human body as a unified, living, and growing form."

The IFA is deeply grateful for the generous support of the following donors to the Simonds Great Hall Exhibition and programming: The Agnes Gund Foundation; the Elizabeth A. Sackler Museum Educational Trust; Caroline Cummings Rafferty; and the Cummings Rafferty Family Fund of the Community Foundation for Palm Beach and Martin Counties.
Events
Video
Contact the Institute
Building Hours
Contact Information