|
IN DISCUSSION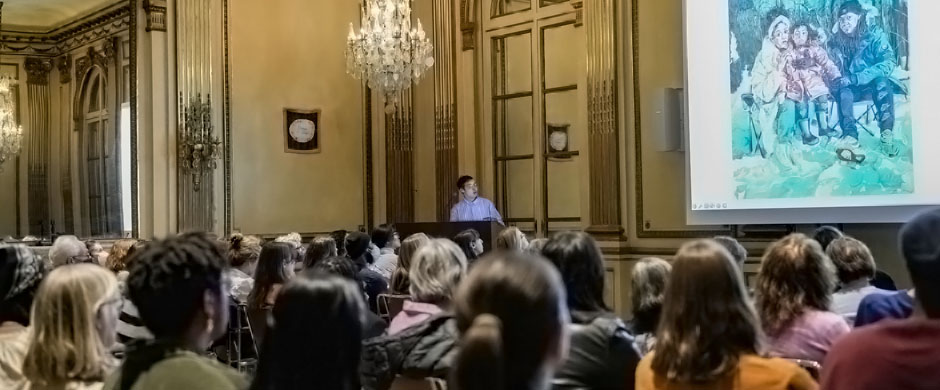 Events Archive
2017
January 25, 2017
Medieval Art Forum
Paul Lott Lecture: featuring Charles T. Little
Speaker: Charles T. Little, Curator, The Metropolitan Museum of Art
Title: The Art of Ivory in the Carolingian World: Assessing and Reassessing the Canon
Watch online
February 1, 2017
Intertwined: Opening Event and Panel
Speakers:
Josh Blackwell, Fiber artist; Professor, Bennington College
Julia Bland, artist
Susan Brown, Associate Curator of Textiles, Cooper-Hewitt, National Design Museum
Samantha De Tillio, Assistant Curator, Museum of Arts and Design
February 8, 2017
Summer Projects Series, La Dolce Villa! Student Conservation Projects at La Pietra
Speakers: Various
February 10, 2017
New York Aegean Bronze Age Colloquium
Speaker: Peter M. Fischer, Senior Professor, Professor Cypriote and Near Eastern Archaeology, University of Gothenburg, Sweden
Title: Hala Sultan Tekke, Cyprus, 1600–1150 BCE: The Rise and Fall of a Trade Metropolis
February 15, 2017
China Project Workshop
Speaker: Ellen Huang, University of California, Berkeley will speak on Jingdezhen porcelain makers' discoveries about surface, with examples from early Kangxi transitional wares and Qianlong double-layered vases
The discussion will be moderated by Lee Ambrozy, Institute of Fine Arts, NYU
February 21, 2017
Works in Progress
Speaker: Kent Minturn
This event is only open to the Institute's community
February 22, 2017
The Roberta and Richard Huber Colloquium on the Arts and Visual Culture of Spain and the Colonial Americas
Speaker: Julia McHugh
Title: Tapestries, Prints, and Private Libraries in Viceregal Peru
February 23, 2017
Daniel H. Silberberg Lecture Series
Speaker: Yukio Lippit, Professor of History of Art and Architecture, Japanese Art; Director of Undergraduate Studies, Harvard University
February 27, 2017
Samuel H. Kress Lecture
Speaker: Michael Gallagher, Sherman H. Fairchild Conservator in Charge in the Department of Paintings Conservation, The Metropolitan Museum of Art
Title: Brokering Truths
WATCH ONLINE
March 1, 2017
The Roberta and Richard Huber Colloquium on the Arts and Visual Culture of Spain and the Colonial Americas
Speaker: Amanda Wunder, Associate Professor of History, Lehman College, and Art History, CUNY Graduate Center
Title: Baroque Seville: Sacred Art in a Century of Crisis
March 3, 2017
China Project Workshop
Speaker: Guo Jue, Barnard College will speak on Baoshan Tomb 2 and Chu culture in the fourth century BCE
The discussion will be moderated by Lillian Tseng, Institute for the Study of the Ancient World, NYU
March 6, 2017
Guest Lecture: Ridha Moumni
Title: European Art in Tunisian Palaces (1837-1881)
March 7, 2017
Daniel H. Silberberg Lecture Series
Speaker: Ben Lerner
Title: The Kiss of Media: Ekphrasis at the Edge of Fiction
March 8, 2017
Judith Praska Distinguished Visiting Professors in Conservation and Technical Studies Lecture
Speaker: Thea B. van Oosten, Judith Praska Distinguished Visiting Professor
Title: "Plastics in Modern and Contemporary Art: Meant to Last Forever?"
watch online
March 9, 2017
Pre-Columbian Society of New York Lecture Series
Speaker: Jeffrey Quilter, William and Muriel Seabury Howells Director, Peabody Museum
Title: Tales of the Moche Kings and Queens: The Lords and Ladies of the Northern Deserts of Peru
March 20, 2017
Renaissance Consortium
Speaker: Maria Loh
Title: Tangere, Tocco, Tactus, and the Genius of Titian
March 21, 2017
Panelists: Ian Wardropper, Director, The Frick Collection
Emily Rauh Pulitzer, Curator, Philanthropist and Founder, Pulitzer Arts Foundation
John P. Sare, Art Law Expert and Partner, Patterson Belknap Webb & Tyler LLP
Moderator: Katharine J. Wright, Curatorial Fellow and Collections Specialist, The Metropolitan Museum of Art
Title: Visions for the Greater Good: Three Leading Perspectives on Art, Collecting and Philanthropy
March 22, 2017
Works in Progress
Speaker: Margaret H. Ellis
This event is only open to the Institute's Community
March 22, 2017
Spotlight on New Talents in Time-Based Media Art Conservation
with Amy Brost and Athena Christa Holbrook
Please note: This lecture takes place at the Michelson Theater, NYU Dept of Cinema Studies, 721 Broadway, 6th Floor, Room 648
watch online
March 24, 2017
New York Aegean Bronze Age Colloquium
March 27, 2017
Medieval Art Forum
Speaker: Jean-Marie Guillouët, Professor, Université de Nantes
Title: Hyper-Technical Gothic: A Social and Cultural History of Late Medieval Technicality (ca.1400-1530)
March 28, 2017
Artists at the Institute
Artist: Nicole Eisenman, artist
March 29, 2017
NYU Curatorial Collaboration
Speakers: Megan DiNoia, Haley Pierce, Regina Harsanyi, Julia Bozer, and Eva Jensen
March 31, 2017
China Project Workshop
Speaker: Sophie Volpp, Department of East Asian Languages and Literature; Department of Comparative Literature, University of California, Berkeley
| will discuss the problems of cross-disciplinary engagement, using as a case study the interest of art historians and scholars of literature in considering Dream of the Red Chamber (Honglou meng) in tandem with the panoramic paintings (tongjing hua) of the Forbidden City.
The discussion will be moderated by Michele Matteini, Department of Art History and Institute of Fine Arts, NYU
April 3, 2017
The Great Hall Display Case Exhibition Series
Artists Talk with Institute Alumna and Curator, Lisa Banner
Artists: Peter Hristoff, James Perkins, Piers Secunda, Jean Shin
watch online
April 4, 2017
Works in Progress
Speaker: Matt Hayes
This event is only open to the Institute's Community
April 5, 2017
Spotlight on New Talents in Time-Based Media Art Conservation
Dan Finn, "Time-based Media Conservation at the Smithsonian American Art Museum"
Brian Castriota, "Ontological Models and Authenticity in Time-Based Media Art Conservation"
The two "spotlights" are followed by a book presentation:
Hanna B. Hölling, "Paik's Virtual Archive: Time, Change, and Materiality in Media Art"
watch online
April 6, 2017
Speakers: Molly Aitken, City College and Graduate Center, CUNY
Allison Busch, Columbia University
Title:Passionate Connoisseurship in Mughal India
April 7, 2017
Speakers: various
Title: THE ATTITUDES OF ARTWORKS: A Pop-Up Graduate Student Symposium
April 10, 2017
Guest Lecture
Speaker: Dr. Ingo Herklotz, Professor, Philipps Universität Marburg
Title: Richard Krautheimer in Germany (1925-1933): Towards the Uncertain Origins of a Distinguished Career
watch online
April 11, 2017
Great Hall Exhibition
Opening Event: Lucy Kim's, Rejuvenate and Repeat
April 13, 2017
Pre-Columbian Society of New York Lecture Series
Speaker: Mary E. Miller, Sterling Professor of History of Art and Senior Director of the Institute for the Preservation of Cultural Heritage, Yale University
Title: Were They Enslaved? Maya Figurines from Jaina and Beyond

April 14th, 2017
IFA- ISLAA Symposium for Emerging Scholars
watch online
April 15th, 2017
IFA- ISLAA Symposium for Emerging Scholars part II
watch online
April 17, 2017
A panel discussion in conjunction with the Great Hall Exhibition
Speakers: Dawn Chan, Lucy Kim and Bina Venkatarama
Title: Legacy of the Natural
April 18, 2017
Guest Lecture: Dimitri Laboury, Research Director, the National Foundation for Scientific Research of Belgium, and Associate Professor, Ancient Egyptian Art History, Archaeology, History, and Religion, University of Liège
Title: Painters and Painting Practices in Ancient Egypt
April 19, 2017
Works in Progress
Speaker: Michele Marincola
This event is only open to the Institute's community
April 21, 2017
IFA-Frick Symposium
Full program
April 21, 2017
New York Aegean Bronze Age Colloquium
April 24, 2017
NYU Curatorial Collaboration Salon
This event is only open to the Institute's community
April 25, 2017
Works in Progress
Speaker: Dipti Khera
This event is only open to the Institute's community
April 26, 2017
Walter W.S. Cook Annual Lecture
Speaker: Nadine Orenstein, Drue Heinz Curator in Charge, Metropolitan Museum of Art
Title: Hercules Segers and Rembrandt, the Eccentric and the Traditionalist
watch online
April 27, 2017
Daniel H. Silberberg Lecture Series
Speaker: Lynne Cooke, Senior Curator, Special Projects in Modern Art, National Gallery of Art, Washington DC
Title: Curating the Incommensurables
April 28, 2017
China Project Workshop
Speaker: Lü Pengliang, Bard Graduate Center and The Metropolitan Museum of Art
Speaking on Yuan dynasty bronzes
Moderated by Jonathan Hay, Institute of Fine Arts, NYU
May 2, 2017
Artists at the Institute
Speaker: María Magdalena Campos-Pons
Watch online
May 3, 2017
Works in Progress
Speaker: Matt Worsnick
This event was only open to the Institute's community
May 4, 2017
Daniel H. Silberberg Lecture
Speaker: Brigid Doherty, Associate Professor of 20th Century Art, Department of Art and Archaeology, Princeton University
Title: Hanne Darboven's onetwo and the Opposition of Writing and Describing
Watch online
May 5, 2017
China Project Workshop
Speaker: Yu-chih Lai, Academia Sinica
Speaking on the encounter between Chinese baimiao "plain-line" painting and European drawing.
The discussion will be moderated by Michele Matteini, Department of Art History and Institute of Fine Arts, NYU
May 11, 2017
Empire of Smoke: the Legacy of Tobacco
Smudging Ceremony at the entrance of the James B. Duke House
Introduction by curators Kristen Gaylord and Kathleen Robin Joyce
Opening Remarks by George Stonefish
"Spice Roots/Routes," a performance/lecture by Beatrice Glow
"Tobacco, tobacco! Sojourns, Symbols, and Slaves in the Shaping of the Modern World," a talk by Gunja SenGupta
Watch online
September 12, 2017
Series: Works in Progress
Speaker: Carol Krinsky
This event is only open to the Institute's Community
September 14, 2017
Series: PCSNY
Title: Migration or Imitation? The Anomalous Appearance of Maya-Style Murals at the Central Mexican Site of Cacaxtla
Speaker: Andrew D. Turner, Postdoctoral Associate in the Art of the Ancient Americas, Yale University Art Gallery
LEARN MORE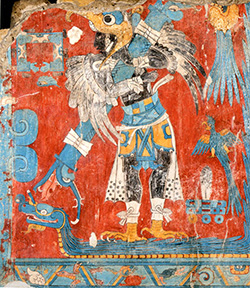 Abstract: Since their discovery in the mid 1970s, the Maya-style murals of Cacaxtla, Tlaxcala (AD 600–900) have challenged notions of Mesoamerican cultures as regionally bounded and immobile. Located some 700 kilometers from the nearest Maya site, the murals have been considered by some to be the result of migration or invasion by a poorly understood group from the southern Gulf Coast referred to as the Olmeca-Xicalanca, and by others to be a local attempt to claim ties to distant powers. This presentation considers the Maya-style traits that appear within Cacaxtla's murals and elsewhere in the site's monumental art programs and argues that Cacaxtla's art reflects a deep and sustained engagement with specific Late Classic sites of the Maya Lowlands. Through analysis of style and iconography at Cacaxtla, it is possible to gain a better understanding of the nature of interaction between powerful cities of the Maya region and Central Mexico during the Late Classic period.

Image: Ricardo Alvarado Tapia
---
September 21, 2017
Series: Works in Progress
Speaker: Pepe Karmel
This event is only open to the Institute's Community
September 22, 2017
Series: New York Aegean Bronze Age Colloquium
Speaker: Peter Pavúk, Associate Professor of Classical Archaeology; Director of the Institute of Classical Archaeology, Charles University, Prague, Czech Republic
Title: Cultural encounters the Center of the East Aegean-West Anatolian Interface in the Late Bronze Age

September 25, 2017
Title: José Leonilson: Autobiography of a Brazilian artist
Speakers: Cecilia Brunson, independent curator; Gabriela Rangel, Director and Chief Curator, Visual Arts, Americas Society; Susanna V. Temkin, Assistant Curator, Visual Arts, Americas Society; Yuji Kawasima, PhD. Candidate Universidad Complutense de Madrid; Ana Lenice Dias, President, Projeto Leonilson; and professors Jenni Sorkin, University of California, Santa Barbara; and Edward Sullivan New York University.
LEARN MORE Watch Online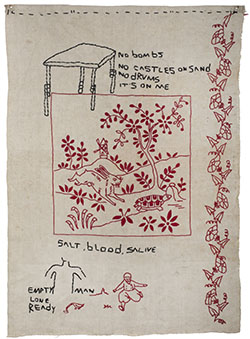 Abstract: Americas Society presents an academic symposium at New York University's Institute of Fine Arts to celebrate the upcoming exhibition José Leonilson: Empty Man and the international launch of the three volume Leonilson catalogue raisonné, recently completed by the artist's estate, the São Paulo-based Projeto Leonilson.

Image: José Leonilson Bezerra Dias, Empty Man, 1991, Thread on embroidered linen, 20 7/8 x 14 9/16 in (53 x 37 cm). Família Bezerra Dias/Projeto Leonilson. © Projeto Leonilson
---
September 27, 2017
Series: Medieval Art Forum
Speaker: Martha Easton, The Material Collective
Title: "The Most Extraordinary Art Museum in the World": Inventing Medievalism at the Hammond Castle Museum in Gloucester, Massachusetts
LEARN MORE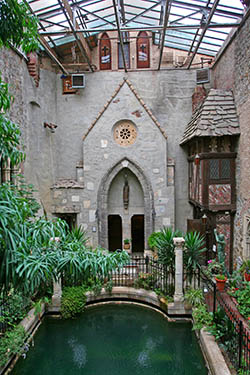 Abstract: In the 1920s, the scientist and inventor John Hays Hammond, Jr. built a medieval-style castle high on a bluff overlooking the sea in Gloucester, Massachusetts. His 'castle' housed his laboratory, but Hammond also used it as a stage setting for his sizeable collection of ancient, medieval, and Renaissance objects, in a fantastical setting meant to evoke a medieval past. Although Hammond lived, worked, and entertained his many famous friends in the castle, he also operated it as a museum, which one breathless newspaper account of the time deemed "the most extraordinary art museum in the world." Despite these accolades, today Hammond's collection and castle are almost completely unknown and unpublished.



---
September 28, 2017
Series: Huber Colloquium
Speaker: Edward Sullivan, Deputy Director, Helen Gould Shepard Professor in the History of Art, The Institute of Fine Arts and College of Arts and Sciences, NYU
Introduction by Christine Poggi, Judy and Michael Steinhardt Director, The Institute of Fine Arts, NYU
Title: Between Toledo and Buenos Aires: Radical Modernity and the Mystic Cosmovision of Esteban Lisa (1895-1983)
LEARN MORE Watch Online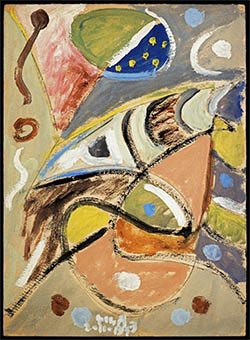 Abstract: Esteban Lisa (1895-1983) was both an enigmatic figure as well as a major force within the development of art in Argentina in the mid-20th century. Born in a small town in the province of Toledo, Spain, he left for Buenos Aires at age 12. Like many other émigré artists to the Americas (Esteban Vicente, Maruja Mallo, the cinéaste Luis Buñuel or the musician Pau Casals) he formed a bridge between the artistic worlds of the New and the Old Worlds. Lisa developed a particular brand of abstraction that became widely acclaimed only after his death. (He refused to exhibit in his lifetime and, like his illustrious Buenos Aires contemporary Jorge Luis Borges, worked as a civil servant for many years). Lisa is the subject of a current exhibition at the art museum of Boston College. This lecture will place the artist within the context of his time in both Argentina and Iberia and will attempt to analyze the rise of interest in his work on both sides of the Atlantic beginning in the 1990s. Image: Fondation Audi, "Esteban Lisa: in the land of the Cedars" 2010, p. 66; PJT
---
October 2, 2017
Digging Deeper: Conservation In the Field
LEARN MORE
The Institute of Fine Arts invites you to an evening of project presentations by current Conservation Center students from their summer experiences at IFA-sponsored and co-sponsored archaeological excavations.
Presentations will include:
Chantal Stein, Sardis Excavations in Turkey
Andrew Wolf, Samothrace Excavations
A question and answer session will follow the last presentation, and please join us for a light reception in the Loeb Room at the conclusion of the evening's program.
---
October 3, 2017
Series: Silberberg Lecture Series
Speaker: Andres Zervigón, Rutgers, The State University of New Jersey
Title: Photography and Truth in the Radicalized Public Sphere
LEARN MORE Watch online
Abstract: In 1927, the radical-left magazine Die Arbeiter-Illustrierte Zeitung (or AIZ) published a two-page spread with the declarative titled "Die AIZ sagt die Wahrheit!" [The AIZ Tells the Truth!]. At issue was its cover photo from a few weeks earlier showing right-wing militiamen scandalously posing on the country estate of German Interior Minister Walter von Keudell, the first "völkisch" member of a Weimar-era cabinet. The picture had ignited furious public debate before enveloping the minister himself, who was forced to protest his innocence from the well of the Reichstag. As von Keudell declared, the picture was nothing more than a cut-and-paste falsification. In the subsequent two-page spread, the AIZ now confessed that its cover had indeed been a "Bildkombination," but that the image nonetheless told the truth about the government's codling of proto-fascists. Using this case of a highly public debate about photography's veracity, my paper proposes that Weimar-era Germany's politically polarized public sphere was significantly fomented by the camera. The experience of political combat was now being driven by a contest of photographic images. But as the paper also suggests, the rhetoric of truth propelling this encounter, particularly in the face of an open "Bildkombination," shows that photography now functioned at an affective register that reinscribed the medium as a passionate rather than mechanically objective form of witness. This phenomenon resembles today's photographic conditions in the era of "alternative facts."
Andrés Mario Zervigón is Associate Professor of the History of Photography at Rutgers, The State University of New Jersey. He is author of John Heartfield and the Agitated Image: Photography, Persuasion, and the Rise of Avant-Garde Photomontage (University of Chicago Press, 2012), and Photography and Germany (Reaktion Book, 2017). In addition, Zervigón coedited three anthologies: Photography and Its Origins with Tanya Sheehan(Routledge, 2014), Photography and Doubt with Sabine Kriebel(Routledge, 2016), and Subjective/Objective: A Century of Social Photography with Donna Gustafson (Zimmerli/Hirmer, 2017). For his current book project, titled Die Arbeiter-Illustrierte Zeitung -- The Worker's Illustrated Magazine, 1921-1938: A History of Germany's Other Avant-Garde, he received the Paul Mellon Senior Fellowship at the Center for Advanced Study in the Visual Arts (CASVA, 2013-14). His articles and reviews have appeared in New German Critique, Visual Resources, History of Photography, Rundbrief Fotografie, Photo/Researcher, Études Photographiques, October, Art Journal, and CAAReviews. Zervigón leads The Developing Room, an academic working group at Rutgers that promotes interdisciplinary dialogue on photography's history, theory and practice. Its last event was the two-day symposium Reinventing Documentary Photography in the 1970s, co-convened by Sarah Miller and Drew Sawyer.
---
October 6, 2017
Series: China Project Workshop
Speaker: Nancy Steinhardt
October 9, 2017
Series: Latin American Forum
Speaker: Cecilia Vicuña
Title: A Conversation with Cecilia Vicuña
LEARN MORE Watch online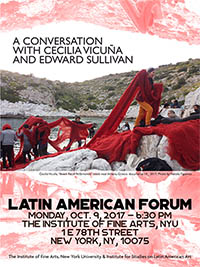 Abstract: Artist, poet, activist and philosopher, Cecilia Vicuña (born in Chile, a long-time resident of New York) has been noted for many decades for her work in a wide variety of media and venues. Her political activism, her artistic innovation and her stimulating and original approach to problems of visuality and the expression of collective emotion are at the heart of her art.
We are immensely pleased to have Cecilia as the first Artist in this Fall's series of Latin American Forum events. She will discuss her work in the context of a conversation with Edward J. Sullivan, Professor of Latin American and Caribbean Art History and Deputy Director of the Institute of Fine Arts
---
October 10, 2017
Series: Works in Progress
Speaker: Meredith Martin
This event is only open to the Institute's Community
October 16, 2017
Series: Works in Progress
Speaker: Andrew Ward
This event is only open to the Institute's Community
October 18, 2017
Series: Greek and Roman Seminar
Speaker: Vinzenz Brinckmann on the Riace Bronzes

October 19, 2017
Great Hall Exhibition Opening - Judith Hopf
The Institute of Fine Arts Great Hall Exhibition Series is pleased to present the work of Berlin-based artist Judith Hopf.
LEARN MORE
This exhibition proudly continues a commitment to presenting work by mid-career female artists at the Institute's James B. Duke House. Set within the building's beaux-arts interior, Hopf's films and sculptures of brick create a rich aesthetic contrast and promote conceptual interaction with the historic venue.
Since 1932 the Institute of Fine Arts has been dedicated to graduate teaching and advanced research in history of art, archaeology, and conservation. This tradition was enhanced in 2013 when the Institute, revealing the potential of the Duke House's interior as venue for contemporary art, inaugurated its student-led Great Hall Exhibition program. Acclaimed artists Lynda Benglis, Rachel Harrison, Marta Chilindrón, Martha Friedman and most recently Lucy Kim, are among the artists featured to date.
The exhibition was made possible through the generous support of Valeria Napoleone XX and Kaufmann Repetto. It was curated by Scott R. Davis, Kendall Follert, Mattos Paschal, and Haley S. Pierce.
The exhibition will be on view to the public from October 19th through January 2018 from 1-4pm daily.
---
October 21, 2017
NYU Alumni Weekend at the Institute of Fine Arts
Speaker: Matthew Israel
Title: "The Big Picture: Contemporary Art Now"  
This event is only open to NYU Alumni, Institute Alumni, Students, Faculty, and Staff.
October 23, 2017
Series: Praska Lecture
Speaker: Karl Buchberg
LEARN MORE Watch online
Abstract: The collaboration between curators, conservators and conservation scientists has become an increasingly important dynamic in recent years. The result of their research, sometimes called technical art history, is often incorporated into museum websites and exhibition catalogs and design. Three exhibitions held in recent years at The Museum of Modern Art will be presented as case studies.
Karl Buchberg has a B.A. from Columbia University and holds a master's degree in art history and an advanced certificate in conservation from the Conservation Center of the Institute of Fine Arts, New York University. He was the Conservator of Rare Books and Special Collections at the Firestone Library of Princeton University from 1980-1986. He was a part time lecturer at the Conservation Program at the School of Library Service at Columbia University from 1984-1990. He has recently retired after a tenure of thirty years from The Museum of Modern Art where he was Senior Conservator specializing in paper conservation. During this time, he was co-curator for the landmark exhibition Henri Matisse: The Cut-Outs; the first time a conservator curated a show at the museum. In addition, he contributed technical essays to both the Georges Seurat, The Drawings and Degas: A Strange New Beauty catalogues.
---
October 24, 2017
Series: Artists at the Institute
Artist: Anicka Yi
LEARN MORE
Abstract: Anicka Yi lives and works in New York City. Recent institutional solo exhibitions of her work include the Solomon R. Guggenheim Museum, New York; Fridericianum, Kassel; Kunsthalle Basel; List Visual Arts Center, Cambridge, Massachusetts; The Kitchen, New York; and The Cleveland Museum of Art. In October 2016, she was awarded the Hugo Boss Prize and presented a solo exhibition at Solomon R. Guggenheim Museum, New York, from April to July 2017. Yi has screened her film, The Flavor Genome, at the International Film Festival of Rotterdam in 2017. She is represented by 47 Canal, New York.
---
October 26, 2017
Series: Pre-Columbian Society of New York
Speaker: Terence N. D'Altroy, Loubat Professor of American Archaeology and Director of the Center for Archaeology, Columbia University
Title: Cosmic Order and Inka Rule
LEARN MORE
Abstract: Many discussions of Inka rule focus on the domination of millions of people, by imposing military control, establishing sustainable governance, and building a vast support infrastructure. Equally important, however, were the efforts the Inkas made to impose their own notions of cosmic and social order on the world at large. This talk explores how the Inkas thought the world worked and how to be successful within it, as they tried to make themselves the indispensable intermediary between humanity and all other powers. Among the key ideas that contributed to practical rule were their notions of life and death (e.g., living ancestral mummies), flexible relations with time and the past, and a landscape in which they shared social space with living mountains and rocks. Those ideas help us to understand how the Inkas managed to rule in a land without writing or a multi-year calendar. Among the sites explored are the major temples, carved stones, and the world's highest archaeological sites, the mountain peak shrines containing sacrificed children.
---
October 30, 2017
Series: Looking Closer: Conservation in the Museum
Speakers:
Paper, Book, and Photo Conservation
Lydia Aikenhead, National Archives and Records Administration, Washington, DC; London Rare Book School, London, UK
Bryanna Knotts, George Eastman Museum, Rochester, NY
Rachel Mochon, The Cooper-Hewitt National Design Museum, New York, NY; The Roy Lichtenstein Foundation, New York, NY
Katherine Parks, Columbia University Libraries, New York, NY; The Morgan Library & Museum, New York, NY; Rare Book School, University of Virginia, VA
Paintings Conservation
Kimberly Frost, Museo Nacional del Prado, Madrid, Spain
Objects Conservation
Soon Kai Poh, Peabody Essex Museum, Salem, MA
Time-Based Media Art Conservation
Lia Kramer, Small Data Industries, New York, NY

November 1, 2017
Series: New York Aegean Bronze Age Colloquium
Speaker: Athansia Kanta, Director, 23rd Ephorate of Prehistoric and Classical Antiquities, Herakleion, Crete, Greece

November 2, 2017
Great Hall Exhibitions Programming
Title: In Conversation: Pepe Karmel and Ben Kafka on Judith Hopf
LEARN MORE
Program Description: In conjunction with the fall 2017 Great Hall Exhibition featuring Berlin-based artist Judith Hopf, please join us for a conversation between Pepe Karmel, Associate Professor of Art History at NYU with interests in contemporary art and critical theory, and Ben Kafka, Associate Professor of Media, Culture, and Communication, and practicing psychoanalyst from NYU Steinhardt.

The discussion will be moderated by Institute student and co-coordinator of the Great Hall Exhibition Series, Kendall Follert.

Topics of conversation will include the impact of technology on perception and human experience and its role in contemporary art, using Hopf's work as a touchstone.
November 3, 2017
Symposium: International Symposium on Photography and Media Art in China since the 1990s LEARN MORE
Description: In collaboration with The Institute of Fine Arts, New York University, The Walther Collection will present an international symposium on Friday, November 3, 2017. The symposium brings together leading international scholars, curators, writers, and artists to address a wide range of topics pertinent to the production and reception of photography, video, and new media art practices in China from the 1990s to present. This half-day event, co-organized with The Institute of Fine Arts and hosted on its campus, coincides with East of Que Village: The Ends of Nature, a site-specific video installation by Yang Fudong, currently on view at The Walther Collection Project Space through November 25, and is curated by Christopher Phillips.
November 6, 2017
Colloquium on Modern and Contemporary Art from the Middle East and South Asia
Speaker: Dr. Anneka Lenssen, Assistant Professor, UC Berkeley
Title: "Aleppo Surrealism: Fateh al-Moudarres and the Bleeding Image, 1946-66"
LEARN MORE
The first Surrealist poems by a young generation of Arab artists and critics in Syria and Iraq appeared in 1946, in short-lived journals like al-Qithara and al-Fikr al-Hadith. Next, there followed a tide of visual experiments with automatic drawing in a heavily psychologized register: ink-blot sketches, talismans, and doodles of bloated hands and blinded eyes. The most inventive and critical of these practitioners is Aleppo-based artist Fateh al-Moudarres (1922-1999), a figure who went on to forge a brilliant career as a painter of the repressed material of Syrian historical memory and its looped cycles of martyrdom and rebirth, and prophets and false gods. In this talk, Lenssen examines al-Moudarres's early engagements with theories of the fleetingness of the image's manifestation—and in particular the vulnerability of its outward formation, such that the presence of a figure always entails a kind of subcutaneous bleeding—and highlights their significance to the later arts of decolonization struggle in the Arab East.
November 7, 2017
Series: Silberberg Lecture Series
Title: Everyday Life at the Dig, c. 1900
Speaker: Prof. Zeynep Çelik, Columbia University (Adjunct Professor in the dept. of History) and New Jersey Institute of Technology (Distinguished Professor College of Architecture and Design)
LEARN MORE
Abstract: History of archaeology is commonly written centering on Western men of knowledge in far-away lands and among primitive people unable to understand the values and meanings of past civilizations. Focusing on everyday life on an archaeological site in Nippur, this lecture will offer another perspective by highlighting a complex social dynamic with multiple voices: local laborers, Ottoman civil servants, and American archaeologists.
November 9, 2017
Series: Pre-Columbian Society of New York
Speaker: Megan O'Neil, Associate Curator in the Art of the Ancient Americas, Los Angeles County Museum of Art
Title: "Touch and Tactility in Ancient Maya Art"

November 10, 2017
Series: China Project Workshop
Speaker: Chen Kaijun, East Asian Studies, Brown University
Title: What Kinds of Art did Bannermen Technocrats Make in Eighteenth-century China and Why?
November 15, 2017
Series: Works in Progress
Speaker: Alejandro Vergara
This event is only open to the Institute's Community
November 16, 2017
Series: Greek and Roman Seminar
Speaker: Rachel Kousser (CUNY)
Title: The Red and the Black: Materiality in Hellenistic Sculpture

November 17, 2017
Series: Latin American Forum
Title: RIDE or DIE - Miguel Luciano in conversation with Elizabeth Ferrer
LEARN MORE
Description: The talk between Miguel Luciano and Elizabeth Ferrer will introduce recently commissioned projects that question the complicated relationship between Puerto Rico and the United States, at the centennial mark of U.S. citizenship for Puerto Ricans (1917-2017). Luciano's work acts as a powerful commentary on the current economic and political crisis in Puerto Rico and examines its impact on the diaspora.
November 20, 2017
La Dolce Villa! Conservation at Villa La Pietra
Learn More
The Institute of Fine Arts invites you to an evening of presentations by current conservation students about their projects at Villa La Pietra, NYU's campus in Florence, Italy.
Bryanna Knotts & Chantal Stein
Treatment of two upholstered stools
Kim Frost & Andy Wolf
Stabilization of polychrome sculpture and examination of the "Cartapesta Madonna da Vestire" in the Sala di Ballo

Lia Kramer & Soon Kai Poh
Treatment of an 18th Century painted fan
A question and answer session will follow each presentation. Please join us for a light reception in the Loeb Room at the conclusion of the evening's program.
November 27, 2017
Series: Huber Colloquium
Speaker: Jay Levenson, MoMA
Title: Portugal and the World: a History in Three Exhibitions

November 28, 2017
Silberberg Lecture Series
Speaker: Noam Elcott (Columbia)
Title: Canvas/Screen/Ghost: Painting and Cinema in Interwar Europe
Learn More
Abstract: Please join Noam Elcott (Columbia) in a talk which interrogates the screen as the basic unit in the abstract films and theoretical writings of Hans Richter, Theo van Doesburg, Oskar Fischinger, Werner Gräff, Moholy-Nagy, and others. The post-WWII orthodoxy, still very much alive, whereby the film screen, like the modernist canvas, reflected its own properties through the animation of squares and rectangles, is a complete distortion of the historical record.

Through close analyses of paintings, photograms, and films, along with treatises, film scores, reviews, and correspondences, Elcott demonstrate that the materiality and circumscription of the screen were understood as qualities to be overcome rather than properties to parade.
November 29, 2017
Series: Works in Progress
Speaker: Jonathan Hay
This event is only open to the Institute's community
November 30, 2017
Series: The Great Hall Exhibition Series
Title: Film Screening and Symposium in Conjunction with Judith Hopf
Learn More
Description: On view alongside Judith Hopf's sculptural work is the Flying Cinema (2016), which features her short film, Some End of Things: Conception of Youth (2011). The film retains Hopf's unique humor that also hints at a greater sense of irony and sadness fostering a dialogue with the social and political history of film and architecture. Studio art students and alumni from New York University, Columbia University, Hunter College, and other schools across the Greater New York Area have been invited to draw inspiration from Hopf's work and submit their own work for consideration in a Great Hall Exhibition Series Film Screening and Symposium hosted at the Institute. Please join us in a screening and conversation surrounding these original works.
December 4, 2017
Archaeological Research at Aphrodisias 2017
Speaker: Roland R.R. Smith, Lincoln Professor of Classical Archaeology and Art, University of Oxford; Director of NYU Excavations at Aphrodisias

December 6, 2017
Series: Artists at the Institute
Speaker: Toni Dove
Learn More
Abstract: Considered one of the pioneers of interactive cinema, New York-based artist Toni Dove creates hybrid performance, installation and screen-based art that fuses film, game or instrument based interaction, and experimental theater. In her work, performers interact with an unfolding narrative, using interface technologies such as motion sensing, iPad and laser harp to inhabit and animate on-screen avatars.
Toni Dove's work has been presented in the United States, Europe and Canada as well as in print and on radio and television. Projects include interactive installations: Archeology of a Mother Tongue, (virtual reality) Banff Centre for the Arts; Artificial Changelings, premiere: Rotterdam Film Festival, USA; Body Mécanique at the Wexner Center for the Arts, Ohio; Spectropia: feature length live-mix movie performance: Lincoln Center, Scanners, the New York Video Festival 2006; Cleveland at the Ingenuity festival 2007; premiered: Wexner Center for the Arts; REDCAT, LA Nov 2007;the Zero1 Festival of Art on the Edge, San Jose, 2008, EMPAC, Troy NY, 2008, the Kitchen, NYC, 2010, Roulette, NY, 2012. Lucid Possession, a live mix music cinema performance, a co-production with Issue Project Room, Roulette and HERE, premiered in NYC in 2013 after a preview show at Center for the Arts at Virginia Tech.
Her current work in progress, an interactive cinema and robotics installation 'The Dress That Eats Souls', will be presented in a retrospective of Dove's interactive work "Embodied Machines" at The Ringling Museum in Sarasota, Florida, 2018.
Dove was the Hirshon Artist/Director in residence at the New School for Social Research in Media Studies 2014/15. She has received numerous grants and awards including support from the Rockefeller Foundation, the Greenwall Foundation, the Langlois Foundation, New York State Council on the Arts, National Endowment for the Arts, New York Foundation for the Arts, The LEF Foundation, MediaThe Foundation, and the Eugene McDermott Award in the Arts from M.I.T.
Dove was appointed to the 2000/2003 Government Advisory Committee on Information Technology and Creativity, National Research Council, USA. She is the granddaughter of American abstract painter Arthur Dove.
December 7, 2017
Series: Medieval Art Forum
Speaker: Manuel Castiñeiras, Professor and Chair of the Department of Art and Musicology, Universitat Autònoma de Barcelona
Lecture Title: From Spain to Italy: Myths as Identity for Emerging Powers in the Medieval Mediterranean (11th-13th centuries)
Co-sponsored by the Roberta and Richard Huber Colloquium on the Arts and Visual Culture of Spain and the Colonial Americas

December 11, 2017
Series: Works in Progress
Speaker: PhD Candidate Charlotte Healy
This event is only open to the Institute's Community
December 13, 2017
Series: PCSNY
Speaker: Lawrence Waldron, Assistant Adjunct Professor, City University of New York
Title: The Archipelago and the Arc of Time: Continuities Across 2,000 Years of Pre-Columbian Caribbean Art

December 14, 2017
Series: Greek & Roman Seminar
Speaker: Clemente Marconi
Annual Selinunte Presentation

December 15, 2017
Duke House Exhibition Public Program