|
IN DISCUSSION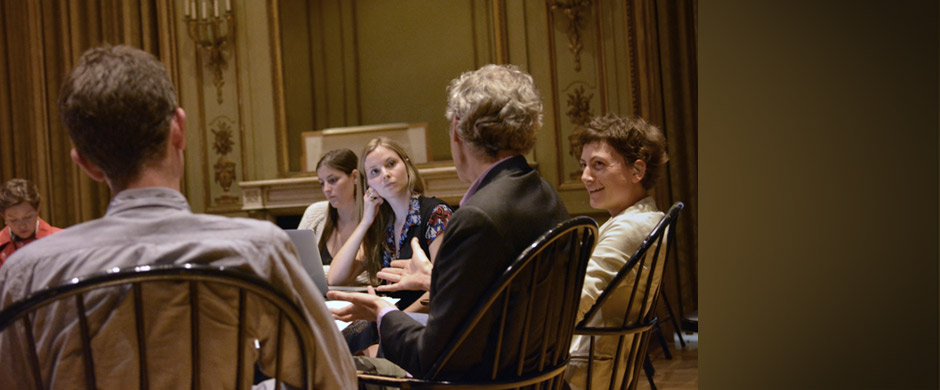 Works in Progress
The Works In Progress series was initiated in 2013 by the Graduate Student Association to create a collegial forum where faculty and advanced doctoral students can present current and ongoing research. Open to current students and faculty, the series aspires to facilitate conversations beyond the classroom about methodologies and research, about specific projects and interdisciplinary issues. The Works In Progress talks augment the rich intellectual exchange between students and faculty, and among colleagues, of the Institute of Fine Arts.
Schedule
Please check the events calendar for a schedule of upcoming talks in the Works in Progress series.
Archive
Fall 2018
September 21, 2018
Professor Pepe Karmel presented
Punctuated Equilibrium: Modernism after Globalism
October 10, 2018
Professor Meredith Martin presented
The Sun King at Sea: Maritime Art and Slavery during the Reign of Louis XIV
October 16, 2018
PhD Candidate Andrew Ward presented
Cylinder Stamping in Ancient Western Sicily: Adaptation and Translation
November 6, 2018
PhD Candidate Anne Wheeler presented Robert Smithson: Language as Material
November 8, 2018
Professor Colin Eisler presented
Syphilis/Durer/Imagery
November 16, 2018
Alejandro Vergara, IFA visiting professor and Jefe de Conservación de Pintura Flamenca y Escuelas del Norte (Senior Curator of Flemish and Northern European Paintings), Museo Nacional del Prado
December 4, 2018
Professor Jonathan Hay presented

December 11, 2018
PhD Candidate Charlotte Healy presented
Paul Klee's Hand
Spring 2017
February 21, 2017
Professor Kent Minturn presented "Early Freud for Art Historians."
READ MORE

About "Early Freud for Art Historians"
This lecture investigated what Freud has to say about the visual before his overt foray into our discipline with his essays "A Childhood Memory of Leonardo da Vinci" (1910) and "The Moses of Michelangelo" (1914). After studying with J-M Charcot (who Freud described above all as ein Seher) Freud turns away from the visual in favor of words, or, "the talking cure." Yet it is precisely through words that the visual returns, especially in the parapraxis involving Luca Signorelli's painting, The Last Judgment (c. 1499), as described by Freud in the Psychopathology of Everyday Life (1901).

March 22, 2017
Professor Margaret Holben Ellis presented "Drawing for Printing: An Expanded Fabrication Narrative for Albrecht Dürer's Drawing, Adam and Eve, 1504."
READ MORE

about "Drawing for Printing"
A recent technical examination of the 1504 drawing Adam and Eve by Albrecht Dürer resulted in new observations, which augment our understanding of the drawing's materials and method of manufacture, and provide tantalizing clues to the artist's printmaking practices. In the process of unraveling the fabrication narrative of Dürer's composite drawing Adam and Eve, it becomes clear that the drawing's ultimate function dictated many more aspects of its facture than previously recognized. While today's viewer might attribute various visual effects to the artists' particular style, in reality, most, if not all, of the materials and methods that Dürer opted to use in making this drawing were mandated by the technological "next step" of engraving. In this sense, the story of the drawing's making is expanded, which allows us to distinguish Adam and Eve not as a noun or thing – a drawing for a print – but as a verb or process – that is, drawing for printing.

April 4, 2017
Doctoral Candidate Matthew Hayes presented a portion of his dissertation, "What Burckhardt Saw: Restoration and the Invention of the Renaissance, c. 1850-1904" (defended Spring 2017).
READ MORE

about Matthew Hayes' presentation
During the nineteenth century, art history became an academic discipline, and the Italian Renaissance was defined as a cultural apogee. The restoration of paintings was intertwined with these developments – closely, but often covertly. This talk will introduce my dissertation, which explores intersections of art history and restoration in this period. Focus will be on paintings conservation in Berlin under the "Bismarck of German museums," Wilhelm Bode.

April 19, 2017
Professor Michele Marincola presented "What does facture tell us about a work of art? Initial thoughts about a group of early sixteenth-century Netherlandish reliquary busts from Spanish collections."
READ MORE

about Michele Marincola's presentation
For several decades scholars have associated a group of about 23 head reliquaries, today found in Spain, Germany and the United States, with the court of Charles V (1500-1558), the Habsburg Holy Roman Emperor. It seems clear that they were made to house relics of the Ursuline cult from Cologne, but where and when the busts were carved and decorated is less certain. Furthermore, the cuts of wood from which some were fashioned and the way in which these were assembled is unusual – if not unique – for reliquaries of the period.
This Works-In-Progress talk considered a subset of the reliquaries from collections in New York and California that Prof. Marincola has examined recently. There are marks seen on the undersides and insides of the sculptures that suggest close workshop relationships within this group of serial objects and with several in Spain. Considerations like choice of wood and assembly method both support and complicate the art historical narrative, and offer a view into the complex worlds of image making and trade in artists' materials in early Renaissance Europe.

April 25, 2017
Professor Dipti Khera presented "The Art of Feeling Place."
READ MORE

about Dipti Khera's presentation
Mughal Portraits and British Landscapes. Art history tells the story about the introduction of portraiture and landscape painting to South Asia via a history of its empires. Though scholars have considered portraiture, objects and ideas that shaped the imagining of place and landscape remain largely unexplored. By the early eighteenth century, Udaipur in Northwestern India was at the center of pioneering material and pictorial experiments in presenting the sensorial, embodied experience of space. A wide range of objects, from large-scale court paintings, three to five feet long, to painted invitation letter-scrolls up to seventy-two-feet long, formed representations of Udaipur's lands, lakes and bazaars as well as Northern India's prominent temples in Banaras and British durbars in Ajmer. These objects demanded audiences to make emotional connections of belonging to and longing for real places in the present, and in imagined ideal times. Moving beyond a valuation of art and aesthetic practices predicated on their mimetic merit, Udaipur's painters, poets, scribes and travelers offered bhava of a place—feeling of a place—as a rich, layered category. Generating bhava, emotions and moods, in visual and literary arts was foundational to the theory of Indian aesthetics, yet its connection with pictorial practice was hardly straightforward. Udaipur's creation of persistent relations between affective phenomenon and efficacious desires, art and knowledge, and politics and aesthetics calls upon us to imagine—distinct from colonial and nationalist accounts of political and cultural decadence—an art history of praise, pleasure and power in eighteenth-century India and beyond.

May 3, 2017
Doctoral Candidate Matt Worsnick presented a portion of his dissertation, "'Italian was the civilization which had left such splendid monuments': Narratives of excavated architecture in a contested Italo-Yugoslav territory."
READ MORE

about Matt Worsnick's presentation
In the decades following World War I, as Italy and Yugoslavia competed for the valuable territories between them, ancient and medieval buildings proved powerful tools for building narratives of national belonging and the rightful location of a place. But the figures who would do the bidding in such efforts–architects, advertisers, and archaeologists, among others–often proved ambivalent agents, stretched between professional interests and those of the state and its diplomats. This talk will examine the Basilica of Euphrasius and the Roman amphitheater in Pula, considering the debates and polemics that sought to reframe their popular receptions during a period that Istria, the tenuously-held peninsula on which they were located, shifted from fascist Italy, to ambiguous wartime possession during World War II, and then to socialist Yugoslavia in the 1940s and 1950s. It will also consider how experts narrativized the region's art and architecture to lay longue-durée claims to territory and national coherence.
Fall 2016
September 13, 2016
Doctoral Candidate Laura Corey presented a portion of her dissertation, "The Inspiring Insider: Mary Cassatt and the Taste for Impressionism in America."
READ MORE

about Laura Corey's presentation
Dealer Ambroise Vollard recollected that "it was with a sort of frenzy that generous Mary Cassatt labored for the success of her comrades" in the Impressionist circle. Over nearly fifty years, Cassatt leveraged her 'dual citizenship' in the American upper class and French avant-garde to become an influential tastemaker involved in importing more than a thousand pictures to the United States. Her role as an artist-advisor is known anecdotally, particularly in relation to the Havemeyer collection, but has yet to be fully understood or analyzed in the context of her tenacious pursuit of her own artistic career. This excerpt from my dissertation examines the early years during which Cassatt established her reputation and honed her expertise in the market for contemporary art before expanding into Old Masters and beyond.

October 26, 2016
Doctoral Candidate Antonia Pocock presented a portion of her dissertation, "Pop Primitivism: Claes Oldenburg and H.C. Westermann."
READ MORE

about Antonia Pocock's presentation
In a notebook entry dated 1960, Claes Oldenburg distinguished between artistic traditions in New York, where he has mostly resided since 1956, and in his hometown of Chicago, where he began his artistic career in the early 1950s: "I come out of Goya, Rouault, parts of Dubuffet, Bacon, the humanistic and existentialist Imagists, the Chicago bunch, and that sets me apart from the whole Hofmann-influenced school." This reflection on his artistic heritage coincides with his first critically recognized work, The Street, an environment shown at the Judson Gallery in January 1960. In the months leading up to The Street, Oldenburg encountered works by Dubuffet and several members of the "Chicago bunch," including his friend H. C. Westermann, in the exhibition New Images of Man at the Museum of Modern Art. Situating The Street in the context of New Imagism, marked by a fascination with artifacts from ancient civilizations and non-Western cultures, reveals the foundation of Oldenburg's Pop practice: an anthropological approach to urban life and its many subcultures.

November 7, 2016
Professor Barry Flood presented "Globalism Before Europe? Ethiopia and the 12th-century World System."

November 29, 2016
Professor Clemente Marconi presented "The Construction of the Sacred: Temple, Cult Statue and the Making of Religious Experience in Ancient Greece."
READ MORE

about Clemente Marconi's presentation
The goal of this presentation is to reunite two separate, recent strands of scholarship on ancient art: one laying emphasis on the phenomenological aspects of the reception of the built environment, and the other focusing on the thaumatic response to objects of high artistry, as a sensuous, synesthetic reaction of wonder and astonishment. In particular, this presentation addresses the different strategies concerning the size and placement of cult statues in Greek temples during the Archaic and Classical periods and discusses how these various solutions may have affected the experience of the worshipper approaching those images for praying.
Spring 2016
February 17, 2016
Dr. Andrew Finegold, Mellon Postdoctoral Fellow, presented "Self-Referentiality on Mimbres Painted Bowls."
READ MORE

about Andrew Finegold's presentation
The distinctive ceramic vessels of the Mimbres culture of the American Southwest (c. 950–1150 CE) feature a seemingly endless variety of geometric designs and representational images, the latter having been the subject of abundant iconographic analysis. As we have no written accounts from this region and time period (or even know what language was spoken by the creators of these pots), approaches to this imagery have often relied, problematically, upon indigenous mythologies recorded at distant times and places. While I therefore remain skeptical about our ability to reconstruct their primary textual referents—the stories they depict—I do believe that Mimbres imagery can offer insights to the cultural importance of the vessels on which they were painted. Mimbres paintings often take into account their own mediality and conditions of apprehension by playfully responding to or incorporating the standardized hemispherical shape of the ground. There are also instances where the imagery seems to intentionally resonate with the holes that were regularly punctured through the bowls' bases at the time of their placement within burials. I will argue that some Mimbres artists occasionally chose imagery that, by anticipating this common ritual treatment, highlighted the objects' extension through time while provoking reflection on the vessels' material presence and the metaphoric potentials of their ritual perforations.

March 1, 2016
Doctoral Candidate Elizabeth Buhe presented a portion of her dissertation entitled "Sam Francis: The Expansive Edge of 1960s Abstraction."
READ MORE

about Elizabeth Buhe's presentation
From 1963 to 1969, Sam Francis produced his Edge Paintings--massive works whose white centers are framed by watery passages of rainbow acrylics on all equilateral sides--a body of work that marked a clear departure from the atmospheric, amorphous forms characteristic of his 1950s oils. Francis once scrawled in his notebook, "Color / a pattern that plays across a membrane of the mind / different tones or hues may stimulate / different areas of the membrane (dose)." Equating color and therefore his own painting with energy, a self-identification of his work as stimulant emerges. This chapter proposes his patronage of the liquid light show group The Single Wing Turquoise Bird as a privileged encounter for gaining insight into Francis's understanding of the Edge Paintings as shimmering objects, full of potential. In this reading, the Edge Paintings act as material evidence of a symbiotic process of energy exchange between artist and painting, and as objects that stimulate the viewer's awareness: something akin to an altered state experience.

March 22, 2016
Doctoral Candidate Tara Prakash presented a portion of her dissertation entitled "Statues of the 'Other': An Examination of Three-dimensional Representations of Foreigners in Ancient Egypt."
READ MORE

about Tara Prakash's presentation
During the late Old Kingdom, six different pharaohs erected nearly life-size limestone statues of kneeling bound foreigners inside their pyramid complexes. These statues, which are commonly known as prisoner statues, are unusual in being large-scale depictions of foreigners. This project is the first comprehensive analysis of this statue type. For this presentation, Prakash used the prisoner statues from the pyramid complex of the Sixth Dynasty pharaoh Pepi I to review several central issues related to the prisoner statues overall, including their original placement within the pyramid complex, the style and execution of the bodies, and the question of their intentional breakage.

April 11, 2016
Professor Michele Matteini presented "Kim Chong-hui's Ink Orchids: Painting out of Time."
READ MORE

about Michele Matteini's work
After his sojourn in Beijing in 1809, the Korean polymath Kim Chŏng-hŭi began to paint pictures of orchids in four or five strokes of undiluted, monochrome ink, accompanied by short inscriptions in archaistic writing. The transnational trajectory of this production is well studied, as is its indebtedness to the experimental modes of mid eighteenth-century 'Eccentric' Chinese painting. This presentation explores the seemingly irreconcilable positions of 'Eccentric' Chinese painting and 'scholarly' Korean painting, highlighting the impact of antiquarian studies on both. From this angle, Matteini asked how the ink orchid came to embody a shared effort of rethinking painting's practice and standard historical narratives. This material will be published in a forthcoming article.

April 28, 2016
Professor Katherine Welch presented "Some Thoughts on the Aesthetics of Roman War."


Thursday, May 5, 2016
Professor Pat Rubin presented "Bent Elbows, Bare Bottoms, and Bending Meanings: Shifting Perspectives on Viewing the Male Body in Art."
READ MORE

about Pat Rubin's work
As sharp as the crooked elbow and as shapely as the male buttocks can be, these eye-catching body parts can also unhinge fixed readings of their messages in art. Over time their postures have been seen as courtly and camp, as virile and effeminate. Soliciting attention, the nature of that attention raises questions about the meanings that they suggest and that have been suggested over time. Both are put into poses that pose questions about the ways that men look, what they look like and what sort of liking is involved in looking. This material is part of a chapter from Rubin's current book project, to be published by Yale University Press.
Fall 2015
September 14, 2015
Professor Colin Eisler presented "Two novel roles of Renaissance Sculpture: Donatello's Forzori Altar for Jacopo Bellini and Michelangelo's Vatican Pietà for French patronage."
READ MORE

about Colin Eisler's presentation
Fifteenth century framing is now among Eisler's major concerns. He is reconstructing the exterior and interior of the Ghent Altar and putting together a lot of North Italian Quattrocento polyptychs taken apart and reframed in the Napoleonic era. The Works-In-Progress talk concentrated on Mantegna's early Saint Luke Altar in Brera, showing its original enclosure to have been far more Gothic than indicated by its present day presentation.

October 7, 2015
Doctoral Candidate Robert Brennan presented a portion of his dissertation, "The concept of "modern art" circa 1400" (defended April 2016).
READ MORE

anout Robert Brennan's work
Brennan's talk was based on his dissertation, which studies the phenomenon of the "modern art" (arte moderna) of painting as it was practiced and conceived in Italy between the fourteenth and early fifteenth centuries. The presentation focused on two textual sources written around 1400: Cennino Cennini's Libro dell'arte and novella 136 of Franco Sachetti'sTrecentonovelle. Together, these two sources indicate the existence of parallel conceptions of modern painting, one sophisticated, the other putatively "vulgar," but both equally valid as descriptions of the change wrought upon painting a hundred years earlier by Giotto and his school.

October 27, 2015
Professor Meredith Martin presented "Staging Siam in 1860s Paris."
READ MORE

about Meredith Martin's work
Martin's talk, "Staging China, Japan, and Siam at the 1867 Paris Exposition Universelle," examined the display of art objects from East and Southeast Asia at Paris's 1867 exhibition, arguing that their presentation and reception was far more culturally specific and nuanced than is sometimes assumed. Countering traditional views of such exhibitions as promoting a narrative of Western imperial domination, her talk aimed to show instead how European designers and critics used these displays to tell multiple and sometimes conflicting stories about empire, history, culture and commerce in both Asia and France. At the same time, the paper explored how ruling elites from different parts of Asia, most notably the king of Siam, actively participated in European exhibition for strategic purposes of their own. Part of a larger study of diplomatic and artistic relations between France and Siam (Thailand) from the seventeenth to nineteenth centuries, her talk will be published in revised form in the anthology Beyond Chinoiserie: Artistic Exchanges between China and the West during the Late Qing Dynasty (c. 1795-1911), edited by Petra Chu and Jennifer Milam (forthcoming).

November 2, 2015
Doctoral Candidate Sean Nesselrode presented a portion of his dissertation, "The Harvest of Modernity: Art, Oil, and Industry in the Venezuelan Twentieth Century."
READ MORE

about Sean Nesselrode's work
Nesselrode's dissertation looks at the notion of modernism in mid-twentieth-century Venezuela in light of the conditions generated by the rapid development of the foreign-led petroleum industry. His talk focused on two case studies dealing with Creole Petroleum: the graphic design of the company journal El Farol (1939–75) and the Judibana housing community constructed in tandem with the Amuay Refinery (1946–55).

November 30, 2015
Doctoral Candidate Marci Kwon presented "Joseph Cornell at the Ballet" from her dissertation, "Vernacular Modernism: Joseph Cornell and the Art of Populism" (defended July 2016).
READ MORE

about Marci Kwon's work
In 1940, Joseph Cornell began a series of sculptures devoted to the ballet, his largest body of work on a single subject. Long seen as escapist nostalgia, Cornell's ballet works in fact participated in period debates about the preservation of performance, the vulnerability of the human body, and the relevance of myth to contemporary society. By placing Cornell in conversation with key art world figures, including impresario Lincoln Kirstein and Abstract Expressionist painter Jackson Pollock, this talk illuminated the shift from a paradigm of folk collectivity to one of universalizing myth during this tumultuous decade.

December 7, 2015
Professor Robert Maxwell presented "Historical-Legal 'Memoria' and the Practice of Writing in Some Romanesque Manuscripts."
READ MORE

about Robert Maxwell's work
Maxwell's current work addresses the reciprocal roles of making images and writing history in the Romaneque period, considered through the corpus of a emergent genre of manuscript, namely the illuminated history book. This work-in-progress lecture explored the ways in which illuminated history effected 'memoria' (understood as the recollection of things across space and time). Looking to the images of certain medieval legal-historical texts, we might say that these symptomatic images condense multiple temporalities of practices and traditions. They are visualized ligatures that connect past performances and present representations of contemporary recording practices.
Spring 2015
February 2, 2015
Doctoral Candidate Kate Holohan presented a portion of her dissertation, "Collecting the New World: Latin American Art at the Spanish Habsburg Court" (defended September 2015).
READ MORE

about Kate Holohan's work
Kate Holohan presented an overview of her dissertation, "Collecting the New World at the Spanish Habsburg Court, 1519-1700." She discussed the textual evidence--ranging from a diary entry by Albrecht Durer to a letter written by a French diplomat--for Habsburg collections of American objects in Madrid, paying particular attention to the possible architectural setting(s) for these collections. Although the objects in the Habsburg collections are now largely lost, her study provided examples of the types of objects (preserved in other European collections) described in these texts and also in royal inventories.

February 17, 2015
Doctoral Candidate Ami Brett presented a portion of her dissertation, "Designing "Public Symbols": Alvin Lustig's Modern Graphic Language for Los Angeles, 1937-1955."

READ MORE

about Ami Brett's work
Brett's dissertation analyzes works by the modernist graphic designer Alvin Lustig. This presentation examined formal and conceptual intersections between two seemingly unrelated bodies of work by the designer dating to two periods in his career. The earlier group of works, created during the second World War, expressed themes important for Los Angeles' modernist architects and urban planners; these were contrasted with a series of book jackets that Lustig created in the immediate postwar period for New Directions, an East-coast publisher of avant-garde literature.

February 23, 2015
Doctoral Candidate Marya Fisher presented a portion of her dissertation, "Architecture and the Sacred: The Non-Peripteral Temples of South Italy and Sicily" (defended May 2016).
READ MORE

about Marya Fisher's work
This talk, derived from two chapters of the dissertation project, looked at the architectural form of an understudied class of Greek temples, the non-peripterals, in the Geometric through Classical Periods. Considering both plan and elevation, Fisher addressed the general trends in the architecture of these temples as well as regional and local variations.

March 9, 2015
Doctoral Candidate Brett Lazer presented on Art and the Inquisition in early seventeenth century New Spain (defended April 2016).
READ MORE

about Brett Lazer's work
Brett Lazer presented a chapter from his dissertation The New World, the Basque Language, and the Power of Painting: the Art and Writing of Baltasar de Echave Orio. The project focuses on the work of the Basque writer and painter Baltasar de Echave Orio, who immigrated to New Spain in the late sixteenth century. Lazer's talk centered on Echave's treatise on the history of the Basque language, published in Mexico City in 1607, exploring the way Echave integrated his experience of the New World into an account of the ancient history and language of the Iberian Peninsula. Lazer continues to work on Echave and is currently preparing an article on Echave's treatise.

April 7, 2015
Professor Thelma K. Thomas presented on clothing and memory in Late Antiquity.
READ MORE

about Thelma K. Thomas's work
Thomas's talk emerged from my exploration of the earliest accounts of the transfer of monastic garments in the fourth-century Life of Paul by Jerome and the Life of Antony by Athanasius, in which clothing changes its function through gifting to become both a repository of memory and a cue to memory. In both texts, items of clothing function as a particular kind of aide-mémoire symbolic of the intimate bond between the men involved in the transaction, prompting continued reflection upon lessons learned, and aiding continued teaching to successive generations. The multipurpose mantles/covers of these tales provided a useful starting point for the study of their commemorative potential. Building upon previous research on the architectural framing of conceptual spaces for remembering, seeing, and being seen by ancestors in Graeco-Roman architectural traditions, Thomas turned to compare the roles of these mantles in the display of Late Roman ancestral imagines in elite homes (which constituted in legal and popular terms a particular type of home furnishing) to the roles of similar mantles in portrayals of ascetic forefathers in roughly contemporaneous monastic dwellings. A version of the project has been submitted for publication: "The Honorific Mantle as Furnishing for the Household Memory Theater in Late Antiquity: A Case Study from the Monastery of Apa Apollo at Bawit," in Liminal Fabric: Furnishing Textiles in Byzantium and Early Islam, edited by Gudrun Buehl and Elizabeth Williams (Washington DC, Dumbarton Oaks Research Library and Collection, in press as of May 2016).

April 27, 2015
Professor Hsueh-Man Shen presented on her research for an upcoming exhibition at the Getty on the Chinese cave-temple site of Dunhuang (c. 400-1400).
READ MORE

about Hsueh-Man Shen's work
In this presentation, Shen presented her research on the Chinese cave-temple site of Dunhuang (c. 400-1400), focusing on its historical importance on China's Silk Road, as well as its present-day condition. She presented contemporary challenges to visiting the site, in terms of both geography and preservation, alongside new efforts being made by the Getty Conservation Institute. The focus of the presentation was her role in the organization of an exhibition at the Getty Research Institute entitled Cave Temples of Dunhuang: Buddhist Art on China's Silk Road (May 7 - September 4, 2016), considering her role on the curatorial team, challenges posed by the exhibition spaces, issues of visitor experience and immersion, and the collaboration across fields and organizations that made the project possible.
Fall 2014
October 21, 2014
Doctoral Candidate Katie Wright presented a portion of her dissertation, "Your Art Here: Print Advertisements and Contemporary Art, 1964-1980" (defended September 2015).
READ MORE

about Katie Wright's work
Emboldened by the cultural appropriations of Pop art, many American artists in the 1960s and '70s began directly interposing their work into the pages of mass media publications. Wright's dissertation research establishes artist-generated print advertisements as paradigms of this avant-garde trend. Surpassing typical artist pages or artist-designed exhibition announcements, the "ad art" examples discussed in this talk serve as experimental, satirical and ambitious works of art in their own right, fostering important dialogues about feminism, racial politics, sexuality, commercialization and other pressing issues facing the art world at the time. Specifically, this presentation introduced two chapters of the dissertation and the main concepts therein: chapter one, which centers on the way the conceptual art ads of Yoko Ono, Ray Johnson and Terry Fugate-Wilcox lampooned an increasingly avaricious New York art market; and chapter two, which positions the ads of Ed Ruscha and Judy Chicago as touchstones for the uniquely macho and sexist culture of the Los Angeles art scene in the postwar years.

October 28, 2014
Dr. Noemie Etienne, Mellon Post-Doctoral Fellow, presented her research on anthropological dioramas on the East Coast around 1900.

READ MORE

about Noemie Etienne's work
This presentation discussed anthropological life-groups created in two installations around 1900. These installations--at the American Natural History Museum in New York City and at the New York State Museum in Albany, New York--were fabricated by anthropologists Franz Boas and Arthur Parker, in collaboration with sculptors and painters, mostly from Germany and France. The talk explored the different influences at work -- aesthetic, cultural, scientific -- on the production and reception of these installations. The material of this talk forms part of Etienne's current book project that addresses, among other things, issues of art, craftsmanship and anthropology, as well as race, representation and life-casting.

November 19, 2014
Professor Alexander Nagel presented "Orientations of Renaissance Art."
READ MORE

about Alexander Nagel's work
Italian art in the period from ca. 1300 and ca. 1500—what is called the Renaissance—is characterized by its extraordinary openness to the world, representing not only proximate things visible to the artist, but also far-way peoples and places known to artists through textual accounts, oral reports, drawings, imported objects, and other images. It is difficult to think of another tradition of art more focused on depicting "elsewheres." Renaissance art was an art of naturalism, yes, but it was also an art that relied to an unprecedented degree on data coming in through other media. The intensively media-intensive nature of the art explains in good measure, Nagel proposes, the spectacular and improbable rise of painting in this period from a subordinate to a superintendent art. Painting emerged as the medium most able to take in information from other media, and to represent those other media (textiles, furnishings, books, metalware, ceramics, sculptures, buildings, etc.).

November 25, 2014
Doctoral Candidate Rachel Kaplan presented material from a chapter of her dissertation "Mexican Modernism at Home and Abroad: The Legacy of Inés Amor and the Galería de Arte Mexicano" (defended April 2015).
READ MORE

about Rachel Kaplan's work
This presentation focused on exhibitions and debates on painting held in Mexico throughout the 1940s. It charted the work of a private gallery (Galería de Arte Moderno), a private society (Sociedad de Arte Moderno), and a new public institution (Museo Nacional de Arte Plásticas) in creating spaces for these debates to occur. This material provided the basis for the fourth chapter of Kaplan's dissertation. This chapter focuses on the scene in Mexico where the larger project investigates presentations of Mexican modernism in the United States and the role of the Galería de Arte Mexicano in promoting this art abroad.

December 3, 2014
Doctoral Candidate Patrick C. Salland presented "The Egyptian World at Dawn: Cosmological Locations in New Kingdom Royal Palace Paintings," a portion of his dissertation, "Palatial Paintings and Programs: The Symbolic World of the Egyptian Palace in the New Kingdom (c. 1550-1069 BCE)" (defended May 2015).
READ MORE

about Patrick C. Salland's work
In preparing a paper at the University of Pennsylvania Center for Ancient Studies, Salland presented on his research into the wall and floor paintings of natural settings found in New Kingdom palaces. His research concluded that the specific plants and animals selected for these motifs were all carefully used to represent a winter morning in a papyrus swamp along the banks of the Nile. This setting was intended to reference the Egyptian creation myth where the sun rose over a mound of earth that had just emerged from the primordial ocean at the beginning of time. By representing this location the king became a child of the creator god who inhabited this newly created world in a moment of divine perfection.
Spring 2014
February 19, 2014
Edward Sullivan presented "Caribbean: Art at the Crossroads of the World. Exchanges of Visualities in the 19th Century."
READ MORE

about Edward Sullivan's work
This talk was given just before the publication of Sullivan's book From San Juan to Paris and Back: Francisco Oller & Caribbean Art in the Era of Impressionism (Yale University Press, 2014). It presented some of the major arguments regarding the region as a center of creativity, exchange and artistic synergies between Caribbean, European and North American artists from c 1830 to the first decade of the 20th century. The lecture and Q&A experience also served to clarify some of Sullivan's ideas for the exhibition of the same subject that he was then preparing. The exhibition, Impression and the Caribbean: Francisco Oller and His Transatlantic World, was first seen at the Blanton Museum, University of Texas, Austin (June – September 2015), at the Brooklyn Museum (the organizing institution, October 2015 – January 2016), and at the Museo de Arte de Puerto Rico in San Juan (January – April 2016).

February 26, 2014
Professor Marvin Trachtenberg presented "Tektonikon and Surfacescape: Architecture and the Body in the Italian Renaissance."
READ MORE

about Marvin Trachtenberg's work
Despite the advent of post-modernist aesthetics and notions of embodied perception, the study of Renaissance architecture remains closely tied to the modernist ocular regime of focused vision and formalist analysis. The limitations of this interpretive paradigm are revealed in studying the authorship question of the Pazzi chapel. A reconsideration of the building-as-body syndrome in medieval and Renaissance architectural thought and practice suggests two new categories of analysis: Tektonikon and Surfacescape. This talk explored the relationship between premodern concepts of the body and the experience of architecture.

March 25, 2014
Professor Hannelore Roemich presented "Light and Perception – How We See Art."
READ MORE

about Hannelore Roemich's work
This presentation explored the scientific aspects of color in works of art. The range of topics included history and chemistry of dyes and pigments, color measurements and quantification of color change, accelerated and natural light aging studies, color theories and color order systems, chemical and physical causes of color, advanced research on multispectral imaging, as well as relevant aspects of the science of vision and color perception. These topics are part of an advanced science class on "color and perception" and of "preventive conservation".

April 9, 2014
Professor Thomas Crow presented "Pop Art, Che, and May '68."


April 15, 2014
Professor Finbarr (Barry) Flood presented "Bad Examples: Mimesis and the Mobilization of Resistance to Public Statuary in the Modern Middle East."


April 29, 2014
Professor David O'Connor present on the Egyptian Royal Harem.
READ MORE

about David O'Connor's work
Ancient Egyptian Pharaohs typically each had several queens, as well as princesses, who in toto (along with servants and other staff) comprised a corporate group with its own palaces and establishments. Prominent amongst this royal female collectivity were young women of striking beauty,"whose bodies had not been stretched in child birth" and who attended upon the king (proffering food, drink, aromatics, flowers; providing singing and dancing, and even the playing of board games) in ceremonialized but also erotically charged circumstances. In particular, the activities of these "Nefrut" or "beautiful ones" are commemorated in literary texts and in the art of certain monuments, such as the "High Gates"of the Temple of Medinet Habu. Generally, Egyptologists minimise the significance of the Nefrut, but David O'Connor's research suggests their presence is more than simple entertainment for the relevant king-they play a vital role in maintaining the emotional stability of Egypt's rulers, and hence contribute powerfully to the central position the Egyptians believed their rulers occupied in the cosmos, upon which all life and productivity depended.

May 7, 2014
Doctoral Candidate Delia Solomons presented on U.S. reception of Latin American art in the 1960s, from her dissertation "Installing Latin American Art for Cold War Culture: U.S. Exhibitions (1959-1967)" (defended May 2015).
READ MORE

about Delia Solomons's work
In 1959, the very year the Cuban Revolution amplified Cold War tensions, museum-goers in the United States witnessed a sudden surge in exhibitions of "Latin American Art." These shows offered privileged spaces to newly codify this category in ways that supported U.S. interests. In major surveys of the early to mid-1960s, "Latin American Art" was utilized as an agent of cultural diplomacy, marshaled by curators and critics to propagandize hemispheric unity and perpetuate the belief that New York was the center of the art world. At the same time, these group exhibitions involved multiple conflicting voices, thereby complicating the broad geographic-aesthetic label and its political uses. Curators questioned the term's viability given the region's stylistic heterogeneity, and the artworks often operated as dissident inhabitants rebelling against the frames purporting to hold them. This presentation explored how these dynamics played out in one key case study: the 1966 exhibition Art of Latin America Since Independence (organized by Yale University Art Gallery and University of Texas at Austin).
Fall 2013
October 29, 2013
Professor Robert Slifkin presented "The Empty Room and the End of Man."
READ MORE

about Robert Slifkin's work
This paper examined a group of works that through their monumental scale, use of refracted light, and architectonic enclosures encouraged viewers to engage in an expansively spatial manner so that the gallery itself became an aesthetically-charged site. Drawing upon the original reception of some of the most significant public exhibitions of minimal and postminimal art (taking the work of William Anastasi, Robert Barry, and Bruce Nauman as key examples) this essay argued that these works and 'environments' (to use a word often invoked around such art) produced experiential situations that served as imaginary figurations of what the world would look and feel like without human habitation or if the viewer was the last person on the Earth. By creating works that imagine uninhabitable or empty physical spaces or, through their massive size or spatial expansiveness, encourage a mode of spectatorship and photographic reproduction that occludes other people, these works channeled a larger cultural anxiety concerning the threat of nuclear annihilation that fundamentally inflected, however unconsciously, significant realms of postwar American culture well into the 1970s.
This paper represents a section from Slifkin's current book project, The New Monuments and the End of Man: American Sculpture and War, 1945-1975, which will address the history of postwar sculpture in the United States, and in particular the increasing importance given to its spatial modes of address, in terms of the historical context in which such practices emerged, examining how these artistic practices and their accompanying discourses operated within broader cultural ideals and anxieties, particularly those related to the threat of nuclear war and the annihilation of the human race.

November 6, 2013
Professor Jonathan Hay presented "Translation as Operation."

November 20, 2013
Professor Linda Nochlin presented "Representing Misery: Gericault, Courbet and Others".
READ MORE

about Linda Nochlin's work
Basing her interpretation on the definition of misery provided by Eugène Buret in his 2 volume study: De la misère des classes laborieuses en Angleterre et en France published in 1840, Linda Nochlin attempted to investigate the visual representation of misery in the nineteenth century in the work of Théodore Gericault, Gustave Courbet and the lesser known Fernand Pelez. All three artists as well as lesser known artists, popular illustrators and graphic artists attempted to provide a new and poignant imagery for the representation of the poor and neglected in the nineteenth century. Her objects of research include paintings, prints, newspaper illustration, photography and a vast variety of texts In order to body forth the new social conditions created by the Industrial Revolution artists and draftsmen required a novel systems of representation in visual as well as textual documentation. This lecture and a forthcoming book attempt to investigate the specific qualities manifested by the visual representation of misère in France and Britain during the nineteenth century.

November 26, 2013
Professor Jean-Louis Cohen presented "Uncle Sam in the Land of the Soviets, or Americanism in Russian Architecture and City Planning".
READ MORE

anout Jean-Louis Cohen's work
Within the broad phenomenon of Americanism, a system of cultural transfer characteristic of modernity and modernization worldwide, the most paradoxical bilateral relationship is the one established between Russia and the United States during the long 20th century. Every historical conjuncture in Soviet history has been characterized by changing representations of America's technology, territorial development, architecture, and visual culture. Cohen intends to propose a comprehensive analysis of a phenomenon all too often limited to the – monumental - case of the high-rise buildings erected in the late Stalinist era. The interpretation will develop through the prism of architecture and urban design, relying on the analysis of discourse, designs and buildings. Politics, art, literature, and technology will also be involved in the discussion of ideal, and occasionally, built projects. A book and an exhibition will result from this project.

December 4, 2013
Professor Clemente Marconi presented on his work as editor of the Oxford Handbook of Ancient Greek and Roman Art and Architecture.
READ MORE

about Marconi's presentation
This presentation concerned Clemente Marconi's then-forthcoming publication of the Oxford Handbook of Greek and Roman Art and Architecture (OUP, 2014), for which Marconi served as both editor and contributor. In particular, the presentation focused on the rationale behind the structuring of the volume (articulated into five parts: 1) Pictures from the Inside; 2) Greek and Roman Art and Architecture in the Making; 3) Ancient Contexts; 4) Post-Antique Contexts; 5) Approaches), and the goals in assembling the pool of contributors.
On the one hand, the volume was seen as an opportunity to examine the study of Greek and Roman art and architecture at a critical time in its development. In the past few decades, this area of investigation has been characterized by an ever-increasing range of approaches, under the influence of various theories and fields of study within both the humanities and the social sciences, from the study of literature, history, and philosophy to that of archaeology, anthropology, and sociology. From this point of view, the scope of this handbook was seen to explore key aspects of Greek and Roman art and architecture and review the larger theoretical frameworks, methodologies, and directions of research in this field. Hence the particular emphasis throughout this volume on historiography, not only as a chapter of the larger intellectual history but as an essential and critical moment of disciplinary self-reflection toward a development of historical consciousness.
On the other hand, as the editor of this volume, Marconi sought contributions from senior scholars, who have been playing a critical role in shaping the field, and from younger scholars, who will play an equally important role in defining the discipline for future generations. At the same time, Marconi made a point of inviting colleagues from a range of different countries and academic traditions, in order to provide as comprehensive and wide-ranging a discussion as possible. Considering the dominance of the national paradigm and the fact that most scholarship on the history of art and architecture continues to be conducted within the framework of the nation-state, the plurality of approaches reflected in the Handbook comes hardly as a surprise. In this regard, as the editor Marconi made the choice of giving the authors free rein, except for the indication of the titles of their chapters, a full description of the general outline of the project and its intellectual aims, and some advice about the articulation of the discussion, aiming at consistency throughout the volume, namely, the need to accompany the treatment of each subject with both historiographical considerations and a final reflection about possible future directions in the specific field of study. As a result of that freedom, the reader will immediately notice how opinions may considerably diverge, concerning the same issues and also on larger theoretical and methodological considerations, from one chapter to the next. In fact, emphasis on openness was from the outset my main goal, as was bringing the pluralism of approaches in our field to the fore, certainly not pursuing one particular universal theory and unified narrative, which would systematically obscure what it attempts to illuminate.