|
IN DISCUSSION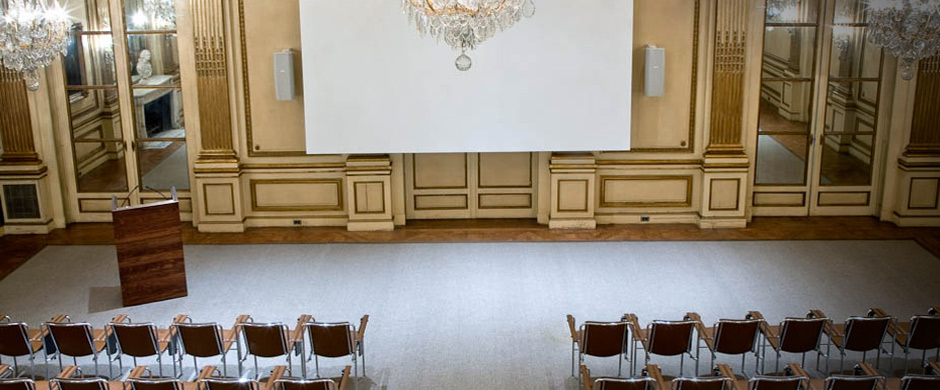 Live Stream Schedule
Currently, most of our public programming is being conducted over Zoom. Please check the events calendar to RSVP.
Recent Broadcasts
Monday, August 10, 2020 1pm-2:30pm
Speaker: Thomas Crow, Rosalie Solow Professor of Modern Art
Lecture Title: French Landscape at the Margins of Survival
LEARN MORE

about Thomas Crow's talk
watch

Thomas Crow's talk

online [opens in new window]
Please join IFA Professor Thomas Crow for a virtual return to the closed galleries of 19th-century French painting at the Metropolitan Museum as he discusses how landscape works so often viewed as pleasant idylls find another story of precarious existence in unforgiving rural terrain. Professor Crow will explore how present-day fears of plague, hunger, and displacement find a mirror in these paintings.
Thomas Crow is the Rosalie Solow Professor of Modern Art. He has authored two influential studies of eighteenth-century French painting: Painters and Public Life in Eighteenth-Century Paris (1985), which received the Morey Prize from the College Art Association, and Emulation: Making Artists for Revolutionary France (1995). Subsequent publications, including The Rise of the Sixties: American and European Art in the Era of Dissent and the essay collection Modern Art in the Common Culture (both 1996), examine the later twentieth century, while The Intelligence of Art (1999) analyses specific moments in the history of art. Crow's most recent books are The Long March of Pop: Art, Design, and Music, 1930–1995 (2015); No Idols: The Missing Theology of Art (2017); Restoration: the Fall of Napoleon in the Course of European Art (2018); and the forthcoming The Hidden Mod in Modern Art, London 1957-1969.
Crow has received numerous honors throughout his career. He is a member of the American Academy of Arts and Sciences and holds honorary degrees from Pomona College and the University of London. He was the recipient of a John Simon Guggenheim Memorial Foundation fellowship in 2014 and delivered the Andrew W. Mellon Lectures at the National Gallery in 2015.
Before his appointment at the Institute of Fine Arts, Crow was director of the Getty Research Institute, professor of art history at the University of Southern California, professor and chair in the history of art at the University of Sussex, and the Robert Lehman Professor of the History of Art at Yale.
Tuesday, June 2, 2020, 1:00pm-2:00p
Speaker: Professor Finbarr Barry Food, founder-director of Silsila: Center for Material Histories and William R. Kenan, Jr., Professor of the Humanities at the Institute of Fine Arts and Department of Art History, New York University
Title: Healing Dust and Printed Cures
LEARN MORE

about Finbarr Barry Flood
Description: Medieval pilgrims often carried away tokens of the sanctuaries and shrines they visited. In the Islamic world, pilgrims to the holy places of Arabia seem to have been presented with an array of possible souvenirs. These included metal bowls, paper scrolls and tablets of dust and earth engraved or stamped with potent words and images. Among them are printed amulets that offer the earliest evidence for block-printing outside of China. These materials conveyed the blessings of place, but were also believed to offer protection from misfortune, or even to cure ailments ranging from stomach pain to snake bite. Straddling the boundaries between memento and medicine, some were worn close to the body, while the texts and images that others bore were washed or dissolved in liquids to be consumed by drinking. Professor Flood will explore this intimate relationship to the body, which highlights a paradoxical relationship between technology, protection and mass production in the medieval Islamic world.
Finbarr Barry Flood is founder-director of Silsila: Center for Material Histories and William R. Kenan, Jr., Professor of the Humanities at the Institute of Fine Arts and Department of Art History, New York University. He has held fellowships from the University of Oxford, the Center for Advanced Study in the Visual Arts at the National Gallery in Washington, D.C., the Smithsonian Institution, the Sterling and Francine Clark Art Institute, the Getty Research Institute, the Carnegie Foundation, the American Council of Learned Societies and the Wissenschaftskolleg zu Berlin. In spring 2019 he was the Slade Professor of Fine Art at the University of Oxford, while in autumn 2019 he delivered the Chaire du Louvre lectures at the Musée du Louvre on the theme Technologies de dévotion dans les arts de l'islam: pèlerins, reliques, copies, accompanied by a book of the same title. Previous publications include The Great Mosque of Damascus: Studies on the Makings of an Umayyad Visual Culture (2000), Objects of Translation: Material Culture and Medieval "Hindu-Muslim" Encounter, (2009), and the 2-volume Blackwell Companion to Islamic Art and Architecture (2017), co-edited with Gülru Necipoğlu. He has recently edited and introduced the volume There Where You Are Not: Selected Writings of Kamal Boullata (2019).
Tuesday, June 9, 2020, 6:00pm-7:00pm
Speaker: Speaker: Professor Edward J. Sullivan, Helen Gould Shepard Professor in the History of Art at the Institute of Fine Arts and the (CAS) Department of Art History
Title: Landscapes of Construction and Extinction: Art and Ecology in the Americas
LEARN MORE

about Edward J. Sullivan
Watch

Edward Sullivan's talk

online [opens in new window]
Join Edward J. Sullivan, the Helen Gould Shepard Professor in the History of Art at the Institute of Fine Arts and the Department of Art History, for an illustrated conversation exploring the concept of "landscape" and representations of nature from a preservationist point of view. It starts with comments on the pivotal role of Prussian naturalist and essayist Alexander von Humboldt who spent the years 1799 to 1804 traveling throughout South and North America. His scientific and artistic concerns regarding disappearing nature inspired future artists and naturalists to formulate their own strategies of representing "wild" and "tamed" landscapes (to use archaic terms popular in the 19th century) as reflective of shifts in society's priorities regarding open spaces and the "progress of "civilization."
Major figures of the Hudson River School such as Frederic Edwin Church and Martin Johnson Heade will be discussed. Latin American artists such as Mexico's José María Velasco also played key roles in depicting the newly transformed landscapes of their nations as they approached modernity. The lecture then shifts to the mid-20th century and considers the contribution of Roberto Burle Marx, the extraordinary Brazilian garden architect, painter, environmental activist and political agitator for stricter regulations to combat incipient climate change and the destruction of the country's forests in the Amazon region and the State of Minas Gerais. Parallels will be drawn with today's calamitous situation in a trans-continental context.
Edward J. Sullivan is the Helen Gould Shepard Professor in the History of Art at the Institute of Fine Arts and the (CAS) Department of Art History. He has been awarded the "Great Teacher" citation from CAS and in 2019 was honored with the "Outstanding Teacher of Art History" award from the College Art Association. Professor Sullivan is currently Deputy Director of the Institute of Fine Arts and Provostial Fellow. He has had a decades-long career at NYU and in addition he has taught at such institutions as Trinity College, Dublin, Williams College and the University of Miami. He is author of some thirty books and exhibition catalogues. His most recent publications include The Language of Objects in the Art of the Americas (Yale University Press, 2007); From San Juan to Paris and Back: Francisco Oller and Caribbean Art in the Era of Impressionism (Yale, 2014) and, Making the Americas Modern: Hemispheric Art 1910-1960 (Lawrence King Ltd. London, 2018).
Wednesday, May 13, 2020 1:00pm-2:00pm
Series: Annual Sanam Lecture
Speaker: Dr. Kathryn Howley, Lila Acheson Wallace Assistant Professor of Ancient Egyptian Art, The Institute of Fine Arts
Title: Healing Dust and Printed Cures: Technologies of Protection in Medieval Islam
Unfortunately this event has been postponed until further notice.
Please check back for updates.
Wednesday, May 6, 2020 6:00pm-8:00pm
Series: Artists at the Institute
Speaker: Pixy Liao
LEARN MORE

about Pixy Lao
Pixy Liao deals with photography, installation, and performance. Her work features a bright palette and careful staging, inviting an intimate way of beholding. The project Experimental Relationship (2007-ongoing) captures the artist with her 5-year-younger boyfriend, Moro, in a range of scenes and poses, playfully and mindfully reversing gender roles to question heteronormative relationships. Inspired by the contemporary political climate, her most recent project, Evil Woman Cult, dedicates itself to powerful female figures in history, paying homage to those who 'tend to have bad names because they were ruthless women.'
Liao is a recipient of an NYFA Fellowship in Photography; Santo Foundation Individual Artist Awards; Jimei x Arles Madame Figaro China Women Photographers Award; En Foco's New Work Fellowship; and LensCulture Exposure Awards. Her work has been exhibited at the Rencontres d'Arles, France (2019), Jimei x Arles International Photo Festival, Xiamen, China (2018), and the Chinese American Art Council, New York (2011), among others. Born in Shanghai, China, she currently lives and works in Brooklyn, New York.
Wednesday, April 22, 2020 6:00pm-8:00pm
Series: Silberberg Series
Speaker: Lia Markey
Title: Mapping Brazil in Medici Florence: Dudley's Arcano del Mare (1646-1647)
LEARN MORE

about David Thickett
Robert Dudley's Arcano del mare (Secrets of the Seas) (1646-1647) is thought to be the first printed sea atlas. Comprised of large-scale engraved maps and numerous charts with volvelles, the multi-volume book seeks to comprehensively document the world and demonstrate mastery over the seas. Created at the court of the Medici in Florence by the son of the more renowned Robert Dudley (1st Earl of Leicester), Dudley sought to legitimize himself through his navigational studies and knowledge of ship building. Though he made few voyages himself, he gained credibility via the Arcano. This paper will introduce Dudley's obscure career and the complex atlas itself, exploring several diverse editions. Through close analysis of text and image in the Arcano, the study demonstrates the significance of the section devoted to Brazil, which contains maps that are the only ones in the atlas to include human figures and a cartouche with the Medici coat-of-arms. Fraught with contradiction, the text and images on the maps both preserve and celebrate these lands and people while also denigrating them. Ultimately, the study questions Dudley's sources and motivations for depicting South America and argues that these images were recycled years after Medici incursions in the Americas were possible.
Lia Markey is the Director of the Center for Renaissance Studies at Chicago's Newberry Library. Dr. Markey's research examines cross-cultural exchange between Italy and the Americas in the sixteenth and seventeenth century, collecting history, and early modern prints and drawings. She has published Imagining the Americas in Medici Florence (2016) and a co-edited volume The New World in Early Modern Italy, 1492-1750 (2017). Her new edited volume, Renaissance Invention: Stradanus's "Nova Reperta" (2020), complements the Newberry Library's fall 2020 exhibition by the same title. She currently participates in the Getty Connecting Art Histories Research Group, "Spanish Italy and the Iberian New World.
Monday, April 27, 2020 6:00pm-8:00pm
Series: Praska Lecture
Speaker: Lucy Commoner, Judith Praska Distinguished Visiting Professor
Title: Outside In: Museum Conservators Collaborating with Guest Curators
LEARN MORE

about Lucy Commoner
Watch

Lcuy Commoner

online [opens in new window]
Museum conservators are increasingly involved in multiple holistic aspects of the museum culture as it affects the preservation and use of collections. As conservators interface with other professionals, the area in which there is perhaps the greatest need for collaboration is in the planning and execution of exhibitions.
Since at least the 1980s, many museums have invited artists or other cultural figures to forage through their storerooms and assemble an exhibition using personal criteria to determine both the content and how it will be displayed. This museological approach places the emphasis on reinterpreting and revitalizing permanent collections through independent thinking from an external vantage point. It also brings into view rarely seen collection pieces, exposing the richness of collections otherwise lingering in storage.
Join Lucy Commoner as she explores through a series of exhibitions at Cooper Hewitt, Smithsonian Design Museum, the creative and sometimes controversial outcomes of collaborations and compromises between conservators and guest curators from outside the museum field.
Lucy Commoner is Conservator Emeritus at Cooper Hewitt, Smithsonian Design Museum, where she served since 1977 as Senior Textile Conservator, and as Head of Conservation from 2004 until her retirement in 2016. Previously, she was an Assistant Restorer for the Textile Conservation and Egyptian Departments at the Metropolitan Museum of Art. She received a Bachelor of Arts degree in art history and studio art from Brown University. Her areas of expertise include early Dynastic Egyptian textiles, folding fans, museum storage systems, fiber identification and microscopy, exhibition and mounting techniques for textiles, and the construction and maintenance of a conservation environment. She has lectured and published widely and has been an adjunct professor at the New York University Institute of Fine Arts Conservation Center since 1987. She was the recipient of the Textile Specialty Group Award for contributions to the field of Textile Conservation from the American Institute for Conservation in 2016.