|
Art History
Conservation
Archaeology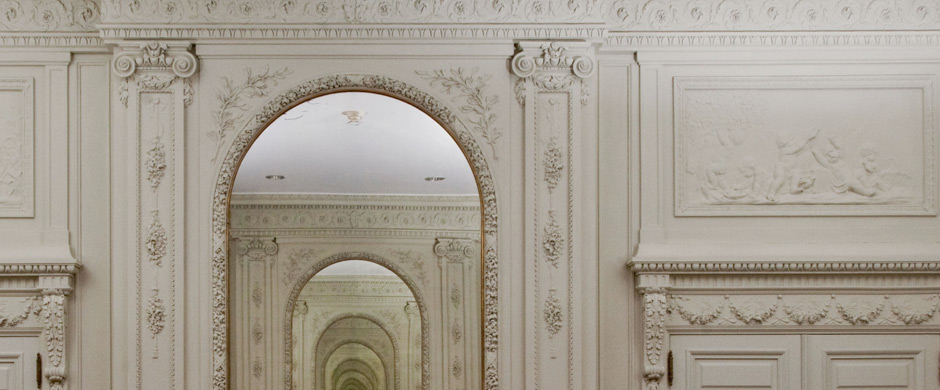 Judith Praska Distinguished Visiting Professor
In Conservation and Technical Studies
Thanks to a generous anonymous donation, a new visiting professorship in conservation and technical studies was inaugurated in Fall 2012. The Judith Praska Distinguished Visiting Professor in Conservation is named in honor of the donor's grandmother. Inspired by the Kirk Varnedoe Memorial Professorship, this visiting position is awarded to a prominent conservator or scientist who brings new areas for research and teaching to our program. The Praska Professor is invited for a semester to the Institute of Fine Arts to teach in his or her area of specialty, particularly in courses designed for both conservation and art history students. The Professor also gives one public lecture on his or her research at the Institute. Previous lectures by the Judith Praska Distinguished Visiting Professor in Conservation can be found in our video archvive.
watch online
2022 - 2023

Bertrand Lavédrine is a professor at the Muséum national d'Histoire naturelle (MNHN) and a scientist at the Centre de Recherche sur la Conservation (CRC) in Paris. He holds a master's degree in organic chemistry and a doctoral degree in Art and Archeology from the Faculty of Humanities, University of Paris I Panthéon-Sorbonne. From 2003 to 2007, he was appointed as the director of the conservation training program at the University of Paris I Panthéon-Sorbonne. He has written papers and books on the preservation of photographic collections, now available in several languages (French, English, Spanish, Russian, Japanese, and Vietnamese). Dr. Lavédrine also leads research into the characterization and degradation of plastics––he was coordinator of the European funded project "POPART" (Preservation Of Plastic Artifacts in museum collections)—and the non-destructive identification of dyes and pigments used in manuscript illumination. He has participated in various international training programs funded by the Andrew W. Mellon Foundation, the Getty Conservation Institute, the International Center for the Study of the Preservation and Restoration of Cultural Property (ICCROM), and research projects funded by the European commission.
Archive
2021 - 2022
Denyse Montegut
Denyse Montegut is a textile conservator and a leading authority on fiber analysis and identification. Until her retirement in 2021 she was Professor of Fashion and Textile Studies at the Fashion Institute of Technology, where she taught conservation science courses and served as department Chair for 23 years. She has been the consulting textile conservator for the Guggenheim Museum since 1998 and in 2020 she was given the Lifetime Achievement Award by the Textile Specialty Group of the American Institute for Conservation. Denyse holds a dual B.A. in Mathematics and Art History from Brooklyn College, an M.A. in Art History and a Certificate in Conservation from the Institute of Fine Arts, New York University, and is A.B.D. in Art Conservation Research from the University of Delaware.
Steven Weintraub
Steven Weintraub specializes in the preservation of museum collections. In addition to environmental consultation work for museums, he has done pioneering research in the areas of color perception and museum microclimates.
Weintraub holds a B.A from Colgate University, and an M.A. in Art History and a Certificate in Conservation from the Institute of Fine Arts, New York University. After graduation, he worked in Objects Conservation at the Metropolitan Museum of Art (MMA). Among his many activities at the MMA, he supervised the conservation and installation of the American Wing (1977-1979). He left the MMA to pursue his interests in preservation research at the Getty Conservation Institute. In 1988, Weintraub established Art Preservation Services, a company located in New York, focusing on museum preservation projects where he consults with many museums throughout the country.
Between 1990-1993, Weintraub set up and supervised conservation activities for the U.S. Holocaust Memorial Museum. In 2002, the Port Authority of NY&NJ brought him on as consultant for the preservation of their World Trade Center artifacts. Subsequently, the National September 11 Memorial and Museum retained him to be their conservation consultant through the opening of the Museum. Currently, he is working with the Frick Collection on the development of new methods for illumination of works of art. Weintraub has lectured and organized workshops in the US and abroad and has been teaching "Preventive Conservation" as adjunct lecturer (co-teaching with Dr. Hannelore Roemich) at the Conservation Center for over ten years.
Weintraub has been actively involved in innovative research on color perception and illumination of museum collections throughout his career. Based on his personal research, he teamed up with the National Institute for Standards and Technology on experiments that culminated in a publication on the "Perception of correlated color temperature: The color of white". His 2010 article in the AIC Newsletter, "Using Risk Assessment Tools to Evaluate the Use of LEDs for the Illumination of Light-Sensitive Collections", was the first publication in the U.S. to address this concern about the use of LEDs in museums. He is a co-author of the chapter on Preservation of Light-Sensitive Materials for the Illuminating Engineering Society's Recommended Practice for Museum Lighting publication.
The primary focus of his research on perception of color is to provide a scientific basis for establishing a balance between the need to minimize light-induced damage on artworks without sacrificing the qualitative experience of viewing art in a museum setting.
2020 - 2021
Lynda Zycherman

Lynda Zycherman is Conservator of Sculpture at the Museum of Modern Art. She has over forty years' experience examining and treating modern three-dimensional art and has particular expertise in metals conservation. She holds a BA from the City College of New York and an MA from the Institute of Fine Arts, NYU, with an Advanced Certificate in Art Conservation. She formerly held conservation positions and fellowships at the Freer Gallery of Art, Smithsonian Institution; The Metropolitan Museum of Art; and the Corning Museum of Glass. Her most recent publication addresses the conservation of Larry Bell's glass sculpture Shadows (1967). Lynda will teach a treatment course for conservation students on modern and contemporary sculpture conservation.
2019 - 2020
Yvonne Shashoua

Yvonne Shashoua is currently a Senior Researcher at the National Museum of Denmark and a consortium member of the Velux MarinePlastic research center leading the interdisciplinary research into degradation of plastics. She has researched plastics in cultural heritage at the British Museum and National Museum of Denmark since 1989 and has more than 100 publications. Her book, 'Conservation of Plastics' published by Elsevier in 2008 has sold more than 3000 copies. She is a guest lecturer at The Royal Danish Academy of Fine Arts, the Universities of Oslo, Gothenburg, and Gotland, as well as Metropolia University (Finland), the Canadian Conservation Institute, and the Getty Conservation Institute in Los Angeles. She holds a PhD in plastics deterioration from the Technical University of Denmark, a Diploma in Management in Museums from the Industrial Society (London), and a BSc with Honors in Industrial Chemistry from the City University of London.
Lucy A. Commoner

Lucy A. Commoner is Conservator Emerita at Cooper Hewitt, Smithsonian Design Museum, where she was the senior textile conservator from 1977-2016, and head of Conservation from 2004-2016. She received a Bachelor of Arts degree in art history and studio art from Brown University and studied weaving and textile design at the Rhode Island School of Design. She began her career in conservation as an Assistant Restorer for the Textile Conservation and Egyptian Departments at The Metropolitan Museum of Art from 1974-1977. Her areas of expertise include early Dynastic Egyptian textiles, folding fans (history and conservation), museum storage systems, fiber identification and microscopy, exhibition and mounting techniques for textiles, and the construction and maintenance of conservation environments. At Cooper Hewitt, Commoner developed a comprehensive storage and exhibition system for all types of textiles, costumes, and costume accessories that has been in use at the museum and its collection storage facility for the past 40 years.
2018 - 2019
Harriet Stratis

Harriet Stratis served as Conservator of Prints and Drawings and Head of Paper Conservation at the Art Institute of Chicago from 1995-2013. Subsequently, she assumed the role of senior research conservator before retiring in 2017. She holds an MA in Art History and an Advanced Certificate in Conservation from NYU's Institute of Fine Arts. Her scholarship has focused on the study of the materials and techniques of 19th-century artists including Edgar Degas, Mary Cassatt, Paul Gauguin, Odilon Redon, and James McNeill Whistler. Throughout her career she has partnered with curators and conservation scientists to explore the myriad ways in which materials usage informs artists' biographies and the chronological trajectory of their production.
Jim Coddington

Jim Coddington recently retired from the Museum of Modern Art as the Agnes Gund Chief Conservator after thirty years as a paintings conservator. He has an MS in conservation from the University of Delaware and a BA from Reed College. He has published and lectured on a wide range of research topics, often with art historians, conservators, and scientists. In addition to his conservation-related publications, he has contributed essays as well as technical studies of Pollock, de Kooning, Miro, Cézanne, and Pissarro to catalogs and collections including Mortality/Immortality, Jackson Pollock: New Approaches, De Kooning: A Retrospective, Miro: Painting and Anti-Painting, and Object:Photo. He was co-editor with Maryan Ainsworth of the 1996 issue of the Art Journal devoted to Conservation and Art History.
2017 - 2018
Karl Buchberg

Karl Buchberg has a B.A. from Columbia University and holds a master's degree in art history and an advanced certificate in conservation from the Conservation Center of the Institute of Fine Arts, New York University. He was the Conservator of Rare Books and Specials Collections at the Firestone Library of Princeton University from 1980-1986. He was a part time lecturer at the Conservation Program at the School of Library Service at Columbia University from 1984-1990. He has recently retired after a tenure of thirty years from The Museum of Modern Art where he was Senior Conservator specializing in paper conservation. During this time, he was co-curator for the landmark exhibition Henri Matisse: The Cut-Outs at MoMA; the first time a conservator had the role of curator at the museum. In addition, he contributed technical catalogue essays for both the Georges Seurat, The Drawings and Degas: A Strange New Beauty.
David Saunders

David Saunders received his DPhil in chemistry before joining the National Gallery, London in 1985. From 2005–2015 he was Keeper of the Department of Conservation and Scientific Research at the British Museum, where he is now an honorary research fellow. His research interests – and the subjects of over 100 publications in the field – encompass the deterioration of museum objects, particularly pigments and painted surfaces and the effect of display and storage environments on such damage. He also pioneered the application of high-resolution digital imaging methods to assist in the examination of paintings and other cultural heritage objects. He is a Syndic of the Fitzwilliam Museum in Cambridge, a fellow of the Society of Antiquaries of London and a fellow and vice president of the International Institute for Conservation (IIC). From 2003 to 2009 he was IIC Director of Publications and was an editor of Studies in Conservation for nearly 20 years. He was a guest scholar at the Getty Conservation Institute in 2015-2016, researching a book on museum lighting for conservators and curators. He returned to the Getty Research Institute and the Waddesdon Archive at Waddesdon Manor in 2017 as the inaugural Getty/Rothschild Fellow.
2016 - 2017
Lawrence Becker

Lawrence Becker received a master's degree in art history and an advanced certificate in conservation from the Institute of Fine Arts in 1982 and has been a practicing conservator for over thirty-five years. Initially concentrating primarily on the conservation of archaeological sculpture and objects from Egypt, West Asia, and the Greco-Roman world, his focus gradually shifted during his career toward the arts of South, Southeast, and East Asia. The majority of his career has been spent at The Metropolitan Museum of Art, where he was Sherman Fairchild Conservator in Charge of the Objects Conservation Department from 2003 - 2014 and Senior Conservator from 2014 - 2016. He has played a leading role in the Indian Conservation Fellowship Program, working with colleagues in the U.S., the Netherlands and India to enhance the professional development of younger Indian conservators and help address collection needs at Indian museums, monuments, and archaeological sites.
Thea B. van Oosten

Thea B. van Oosten received a master's in analytical chemistry from the University of Amsterdam and specialized in polymers at the National Dutch Graduate School of Polymer Science and Technology. For 36 years, Thea was a conservation scientist at the Cultural Heritage Agency of the Netherlands (RCE, former ICN) in Amsterdam before she retired in 2011. In addition to her professional experience, Thea comes to us with an extensive teaching record. As a recognized expert in the conservation of modern and contemporary art and design objects, she has contributed to several publications and books, such as Modern Art, who Cares, Plastics, Collecting and Conserving, Plastics in Art and Preservation of Plastic Artefacts in Museum Collections. One of her research topics was the consolidation of polyurethane foams, which resulted in a book published in May 2011, called PUR Facts, Conservation of Polyurethane foam in Art and Design. In spring 2016, Thea received a stipend as Independent Scholar at the Getty Conservation Institute to complete her most recent book titled A Matter of Choice: Properties of Plastics for Conservation.

2015 - 2016
Cathleen Baker
Conservation Librarian and Exhibit Conservator at the University of Michigan Library

Salvador Muñoz Viñas
Professor, Polytechnic University of Valencia (UPV), Head of the paper conservation section of the UPV Conservation Research Institute, and Director of the Conservation Department of the UPV

2014 - 2015
Alan Phenix
Scientist at the Getty Conservation Institute

Julie Wolfe
Associate Conservator in Decorative Arts and Sculpture Conservation at The J. Paul Getty Museum

2013 - 2014
Carol Mancusi-Ungaro
Carol Mancusi-Ungaro, Associate Director of Conservation and Research, Whitney Museum of American Art and Founding Director of the Center for Technical Study of Modern Art at the Harvard Art Museums

2012 - 2013
Christine Frohnert
Christine Frohnert, Conservator of Contemporary Art, Modern Materials and Media, Bek & Frohnert LLC
Contact the Institute
Building Hours
Contact Information
If you wish to receive information on our upcoming events, please subscribe to our mailing list.