|
Art History
Conservation
Archaeology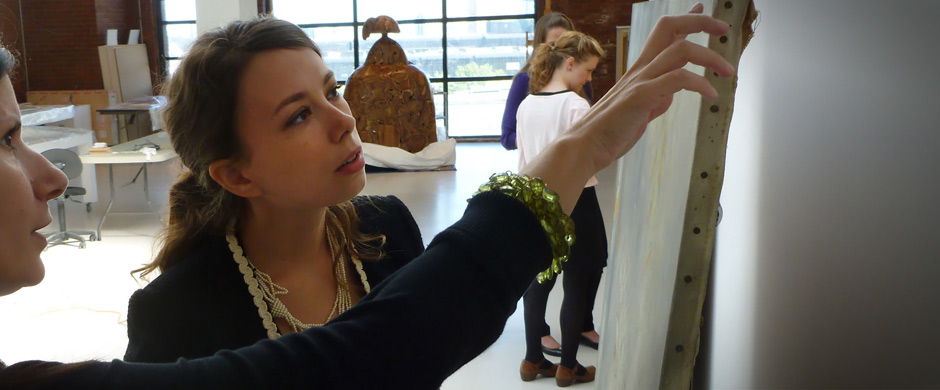 Apply to the Dual MS/MA Degree in Conservation and Art History
APPLY HERE
The dual-degree conservation program, the only one of its kind in the nation, is four years of full-time, funded study: three years of coursework and one year of Internship. Our students receive a generous funding package, consisting of a tuition-free education, comprehensive health care coverage, and living stipends to offset expenses while a full-time graduate student. In addition, we provide our students with starter toolkits; membership in AIC; fully-funded conservation experiences at Villa La Pietra in Florence, Italy, and archaeological excavations in Turkey, Greece, Sicily, and Egypt; as well as a variety of practical skill-building workshops. With a 98% placement rate, our graduates are leaders in the field of conservation with many serving as museum department heads, within government institutions, or proprietors of their own private practice.
Each year, the Institute receives over 60 applications for the conservation dual-degree program. Over twenty applicants are extended an invitation to interview remotely for an entering class of no more than eight students.
To speak to someone about the program or to learn more about the admissions process, contact conservation.program@nyu.edu.
Requirements for Admission
Read more

requirements for admission
The study of art conservation requires a background in studio arts, art history, and laboratory science. Thus, applicants need to provide evidence of having this experience, even if it falls outside their major area of study.
Courses taken in fulfillment of the admission requirements can be taken at any accredited institution, including community college, by enrolling as a non-degree matriculating student. Because we are a dual-degree program, where students earn their MA in the History of Art and Archaeology and MS in the Conservation of Historic and Artistic Works, we look closely at art history coursework and the ability to excel in a rigorous art history master's program. Ideally, upper-level art history courses should contain a strong writing and research component, where outcomes include substantially researched papers with proper citations and footnotes, following Chicago Manual of Style, or similar. The science classes used towards our prerequisites must also contain a laboratory, hands-on component. Generally speaking, these would be science courses for majors or a pre-med track and not the more simplified chemistry for general studies or applied sciences. See below for more detail on these and all other requirements.
All prerequisite courses in art history and laboratory science must be completed at an accredited institution on a grade basis, not pass/fail, with grades of B or higher. Students who enroll in coursework at institutions that only provide pass/fail options, like the School of the Art Institute of Chicago or New College, should request instructor evaluations to be included with their application. The last course in fulfillment of necessary coursework may be completed up to and including, but not beyond, the spring semester after the application deadline.
Applicants for the Mellon TBM Art Conservation program must declare their intention to enter this specialization at time of application. It is optional for all other applicants to declare a specialty, or remain undecided, when applying to the program.
International students wishing to enter the conservation program must satisfy the same admission requirements as U.S. applicants.
Candidates wishing to be considered for admission to the Institute for Fall 2022 must submit their applications by Wednesday, December 1, 2022.
All applications to the Institute (MA, PhD, and MA/MS) are submitted electronically through GSAS online.
Applications are processed electronically by NYU's Graduate School of Arts and Science (GSAS) Office of Admissions. Technical questions about the application can be directed to gsas.admissions@nyu.edu, 212-998-8050.
General Application Requirements
Undergraduate B.A., B.F.A., or B.S. degree in any major. Students have come to the program with backgrounds in archaeology, art history, anthropology, classics, language studies, computer science, pre-med studies, studio arts, business, law, philosophy, etc.
A reading knowledge of any one modern research language, other than English to be tested once the student begins the program. International students focusing on a field of study in which their native language is relevant may be granted an exemption from the language requirement pending submission of an exemption form signed by their advisor and the Director of Masters Studies.
Submission of a focused, 2-4 page, double-spaced Statement of Academic Purpose, a recent CV, and an optional personal statement.
The Institute requires at least three letters of recommendation that speak to the applicant's research and writing skills, and appropriateness to the art history and conservation fields.
One art history writing sample is required.
The GRE is no longer required for application to the conservation program.
The Graduate School requires applicants who are not native English speakers to submit official TOEFL or IELTS score results. The TOEFL/IELTS requirement is waived if the baccalaureate or master's degree was (or will be) completed at an institution where the language of instruction is English.
Art History Requirements
Minimum of four college-level courses in upper-level art history, not including introductory or survey-level courses. These represent courses where emphasis is placed on research and writing.
Acceptable coursework could include studies of different time periods, an artist's studio practice, artistic movements, and studies in archaeology.
Online or hybrid coursework in art history will be accepted.
Laboratory Science Requirements
Minimum of four college-level laboratory science courses.
Organic Chemistry I is required of all applicants.
Additional acceptable coursework can include: General Chemistry I & II, Organic Chemistry II, Physics, Biochemistry, Biology, or Material Science.
Acceptable coursework for the TBM specialization only can include: Physical Computing, Computer Programming, Electronics, A/V Engineering, or Optics.
Online hybrid coursework and high school advanced placement credits in laboratory science will be accepted on a case-by-case basis. Laboratory sections should be taught in-person.
Organic Chemistry I must appear on the transcript at time of application, either completed or in progress. Transcripts showing Organic Chemistry I in the spring semester following the application deadline will cause the application to be considered incomplete.
Studio Art Requirements
Studio experience need not come from graded coursework.
Studio portfolios may contain examples of traditional artist techniques, e.g. watercolor, acrylics, oil paintings, photography, pen and ink drawings, etchings, screenprints, life drawings, pastels, charcoals, ceramics, etc., or craft-based techniques, e.g. glassblowing, needlepoint, costuming, knitting, furniture making, jewelry making, or papermaking.
Applicants to the library & archive program should be prepared to show multiple examples of bookbinding as one of their areas of studio experience.
Applicants to the TBM curriculum can show their experience with video editing, programming, circuit building, animation, app design, 3-D rendering/modeling, etc.
Prior Conservation Experience
Pre-program conservation internship experience is not required for admission, and we actively discourage applicants from pursuing unpaid internships to gain treatment experience before graduate study at the Conservation Center. Instead, we are interested to learn about an applicant's in-depth engagement with conservation or associated fields such as collections care, registrar, curatorial, exhibition design, gallery management, their work as an artist's assistant or in a professional framing shop, or materials analysis.
The Interview
Select, qualified applicants are extended an invitation to a virtual interview with the Admissions Committee, composed of full- and part-time conservation faculty in early March. At the interview, applicants must present evidence of their familiarity with, and knowledge of, a wide range of artists' materials and techniques through a portfolio of relevant studio arts. A well-prepared interviewee should come ready to show five studio pieces to the Admissions Committee—one of which must make use of color. Should an applicant have prior conservation experience, a very brief 10-minute overview can be shared during the interview.