|
IN THE LAB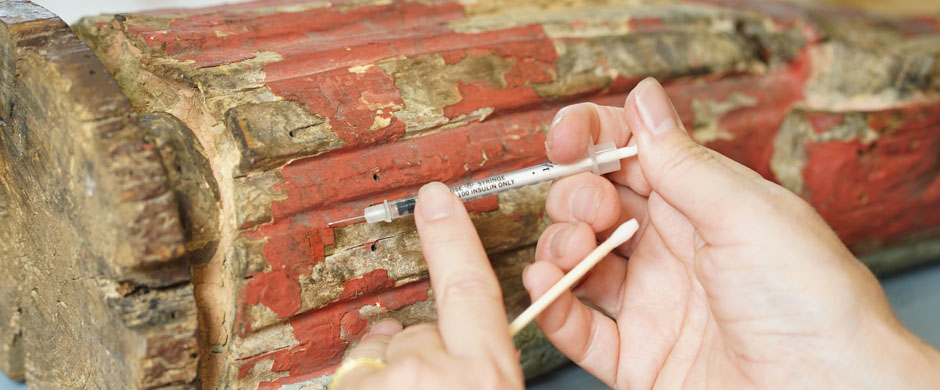 The Conservation Center
The Conservation Center of the Institute of Fine Arts, New York University has a long history as the oldest degree-granting art conservation program in North America. NYU is alone among the American art conservation graduate programs conferring both a MS in the Conservation of Historic and Artistic Works (replacing the Advanced Certificate) and a MA in the History of Art and Archaeology.
Our program consists of three years of classroom education followed by a nine-month internship at a cultural heritage institution. Students typically specialize in one of six specialties within conservation: paper, photographs, books, paintings, objects, or time-based media art conservation. Advanced treatment classes in conservation cement the theoretical knowledge gained in the first year while building skills needed for the internship and beyond. At the same time, students are completing coursework towards the art history degree with the Institute's renowned art history faculty.
Our students receive four years of funding, more than any other graduate program in the country, including full tuition and fees, comprehensive health care coverage, and living stipends to offset expenses while a full-time student. We also provide starter toolkits; membership in AIC; fully-funded conservation experiences at Villa La Pietra in Florence, Italy, and archaeological excavations in Turkey, Greece, Sicily, and Egypt; as well as a variety of practical skill-building workshops. We closely advise students on summer work placements in museums and libraries and fundraise to support many of these experiences.
We enjoy ready access to the extraordinary collections of New York City, including The Metropolitan Museum of Art, MoMA, the Whitney Museum, the Guggenheim Museum, the American Museum of Natural History, the Brooklyn Museum of Art, The Morgan Library & Museum, and nearby galleries, private collections, auction houses, historic properties, and private conservation studios. Our location in one of the art capitals of the world makes it easy to draw upon the expertise of conservators and conservation scientists in the area and beyond.
In response to the COVID-19 pandemic, we have changed our application requirements and admission procedures. The GRE is no longer required for admission, and all admission interviews will be conducted remotely. Please note that NYU does not require pre-program internships. Read more about our admission requirements online.
If you are thinking about applying to our program, we would love to hear from you; just send an email to Kevin Martin, our Academic Advisor, at conservation.program@nyu.edu.
All best, and on behalf of all of us at the Conservation Center,
Michele D. Marincola (she/hers)
Chair of the Conservation Center of the Institute of Fine Arts
Sherman Fairchild Distinguished Professor of Conservation