|
In the Field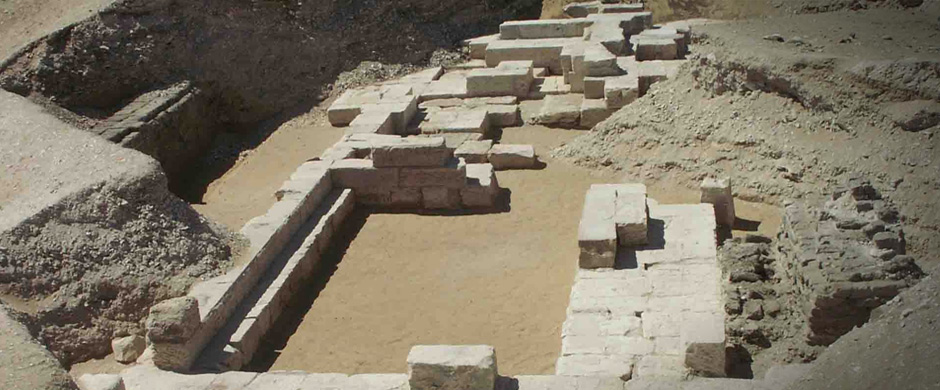 Current IFA Projects at Abydos
The Temple of Osiris
The exact location and nature of the Temple of Osiris at Abydos have been the subjects of enduring debate in Egyptology. Modest cultic buildings excavated more than a century ago by W. M. F. Petrie in the ancient town site have been interpreted by some scholars as including the temple of the god proper, while others have disagreed, arguing that the main temple had yet to be identified at the site.
Institute of Fine Arts excavations, supervised by Michelle Marlar, IFA PhD, now on the faculty of the Center of Excellence in the Visual and Performing Arts, Houston Community College, have revealed the remains of two superimposed architectural phases of a major temple building, very possibly the main temple of Osiris at Abydos. The much denuded later phase belongs to Egypt's last native dynasty, the 30th, dating to the 4th Century BCE. The earlier probably belongs to the New Kingdom, and a number of inscriptions of 18th Dynasty kings have been found on decorated blocks reused in the later phase that probably originated in the earlier, suggesting it may have been constructed during that period. A significant number of stone blocks decorated with painted relief, as well as decorated and inscribed architectural elements, and literally thousands of fragments of relief, inscriptions, and sculpture, have been recovered in the excavations. Although the evidence is fragmentary, it reveals much about the original decorative program of the temple, in both its earlier and later phases.
Future work will result in new discoveries about one of Egypt's most important temples and the ritual focus of ancient Abydos.