|
In the Field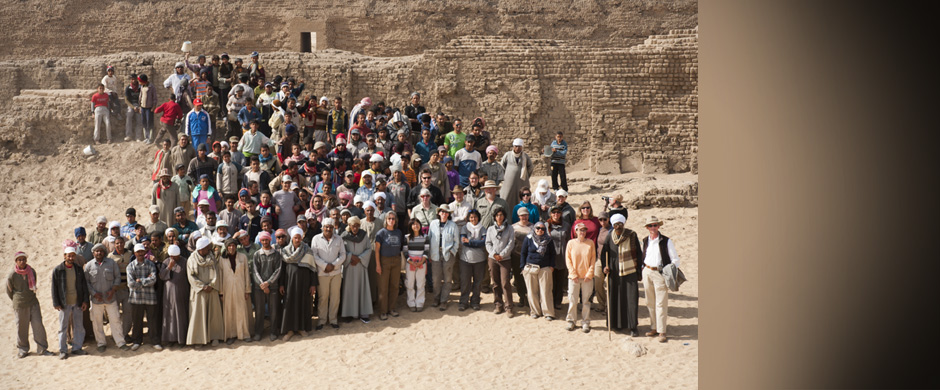 Life on Site at Abydos
Relationships
The Institute benefits greatly from an excellent and long-standing relationship with the Egyptian Supreme Council of Antiquities, headed by Vice Minister of Culture Dr. Zahi Hawass, and from cordial relations with the local communities at Abydos. Its work is also greatly facilitated by the American Research Center in Egypt, headquartered in Cairo, which serves as the umbrella organization for most U.S.-sponsored archaeological projects in Egypt.
The Abydos House
The Institute's field teams live and work at a field facility at Abydos, a house originally built in the late 1960s when Professor David O'Connor began working at the site. Its design includes rooms arranged around a series of spacious courtyards and many bedrooms built in a traditional Upper Egyptian domed form. The present Abydos field house has historical associations, as it was constructed on the site of a field house built in 1907 for John Garstang of the University of Liverpool and later used for many years by the Egypt Exploration Society. In a ruined condition by the 1960s, the Garstang house was demolished and the new house built in the same location. In the 1990s, with the advent of computers and digital surveying equipment in archaeology, the house was partly electrified. The 1960s house was greatly expanded and improved in 2001, in response to expanded and more regular Institute field operations, with the construction of new bedrooms, storage facilities, and workrooms, as well as the installation of flush toilets and hot water showers. The Abydos house continues to evolve to meet the needs of modern archaeological fieldwork, most recently with the addition of wireless high- speed internet throughout the compound and the construction of additional storage and lab space to accommodate the growing research collection.
Operations Staff
The Institute's Abydos operations are greatly facilitated by a dedicated Egyptian staff, headed by Mr. Ahmed Ragab Ahmed. a skilled manager who has proven his facility for finding creative and effective solutions to virtually any need. The excavation workforce is managed by Reis, or Foreman, Ibrahim Mohammed Ali. Reis Ibrahim is the scion of a line of specialized archaeological workers coming from the Upper Egyptian town of Quft and called "Quftis" that was originally organized and trained by the father of Egyptian archaeology, W. M. F. Petrie. Reis Ibrahim succeeded his father, Mohammed Ali Abdelrahim Mahfouz, as reis at Abydos, who had himself followed an uncle in the same family, Reis Hofni Ibrahim Salama.