|
Art History
Conservation
Archaeology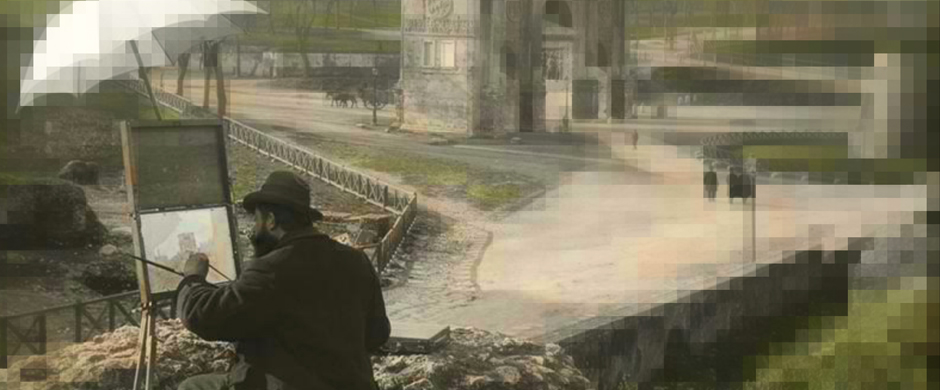 Digital Media | Computer Services
Image Databases & On-line Resources
Below is a list of image databases and other on-line resources that members of the Institute's community have found useful.  This list is updated regularly, and links are checked annually.  If you know of an on-line resource that is particularly useful that is not on this list, please send the linking information to Digital Media Services (jenni.rodda@nyu.edu).  Please note that each database is different in the way its search engine works, and to what uses downloaded images may be put.  Make sure you understand and adhere to applicable copyright or permission regulations as you conduct your research.
Art & Architecture Web
Images from the Courtauld Institute's various photographic collections (Conway Library, Witt Library, Photographic Survey of Private Collections).
(Art Abstracts)
The Art Abstracts/Index package does not include an image database per se. HOWEVER, it does index individual images - including advertisements - in art periodicals, most of which are in the IFA,'s collections. Especially useful for less well-known artists.
Art Resource
Photo archive of fine art with images of works from prehistoric times to the present. Over three million transparencies and black and white photographs of painting, sculpture, architecture and the minor arts. Also functions as the official rights and permissions representative for many institutions in the United States and abroad.
Artsy.net
Artsy's mission is to make the art world accessible to anyone with an Internet connection. It is a free resource which currently includes over 100,000 works from major museums and galleries around the world. Artsy also offers the largest collection of contemporary art available online. Unique to Artsy is The Art Genome Project, an art taxonomy which allows for more intelligent discovery and exploration.
Artstor
Art, architecture and design images. Collections include The Illustrated Bartsch, MoMA,'s Architecture and Design Collection, and the Huntington Archive of Asian Art.
Getting started with Artstor [PDF]
AtoM@DO
A searchable database of Dumbarton Oaks' archival collections, AtoM@DO brings together the holdings of ICFA and a selection of the Dumbarton Oaks Archives  (DOA) into a single virtual space, enabling discovery of related materials across the institution.
Beazley Archive
Provides bibliographic references and allows for iconographic searching on Classical vases. Based on J.D. Beazley,s Attic black-figure vase-painters and Attic red-figure vase painters.
Bridgeman Art Library
With images from over 8,000 collections and more than 29,000 artists, Bridgeman provides a central source of fine art and historical images for users
CAA Intellectual Property and the Arts
This webpage lists sources that provide images for a wide range of uses, including academic and scholarly use, with a focus on images suitable for publication.
CAMIO
Images from numerous mostly N.American museum collections, e.g. the Getty Museum, LACMA, the Metropolitan Museum of Art.
Census of Antique Works of Art and Architecture Known in the Renaissance
Chartres: Cathedral of Notre-Dame Image Collection
Chartres Cathedral is among the best preserved of the major French cathedrals, with extensive programmes of sculpture and stained glass. It was a major site of pilgrimage in honour of the Virgin Mary, to whom the cathedral is dedicated. This website provides access to a comprehensive collection of images and detailed descriptions of Chartres Cathedral.
Collections of Japanese Art Online and in Print
List of resources collected by IFA Alumna Rosina Buckland. Originally compiled in 2001 and last updated in 2005, this list of resources covering Japanese art is still useful. However, some of the embedded links are now broken, which may prove frustrating.
Corbis
Founded by Bill Gates. The database can be searched for free - but downloading is not free. Includes images of art and architecture, as well as other image categories. Particularly important for the Bettmann Archive of Historical Photography, comprising images of almost every significant world event and personality since the invention of photography.
Corpus VasorumAntiquorum Online
The most important research resource on Greek vases in museum collections, worldwide. Circa 250 digitized museum catalogues, with illustrations. CVA volumes/fascicules are continuing to be published in hard copy and are not digitized.
Google Image Search
Google searching restricted to images only.
(Image of France)
Image index ONLY. (The actual images are not available here.)
Index to all of the printed imagery (engravings, lithographs, woodcuts, etc.) authorized for publication in France. The information has been extracted from notices printed in the Bibliographie de la France beginning in November 1811.

Images indexed comprise not only engravings, etc., after works by 19th-century artists, but also after earlier artists.
Index of Christian Art
Electronic access to one of the largest and most important photographic and bibliographic archives of medieval art, worldwide. Bibliographic and iconographic index to Late Antique and Medieval art objects, to 1400 C.E, covering publications early 20th century - present.
Image access is gradually being incorporated, beginning with the illuminated manuscipt holdings of the Morgan Library, New York.
Note: Only a part of the Index is online.
Joconde
Index to and/or images of works of art in French public collections. Includes "fine arts" and "decorative arts."
Kunsthistorisches Museum, Vienna
Musée du Louvre (English Language Link)
NYPL Digital Gallery
Provides free and open access to hundreds of thousands of digital images from NYPL collections, including illuminated manuscripts, historical maps, rare prints and photographs, and more.
NYU's Handbook for Use of Copyrighted Materials
Smarthistory's Flickr image sets

Spiro (UC Berkeley)
Online public access catalog to the 35mm slide collection of the Architecture Visual Resources Library, at the University of California at Berkeley. Comprises circa 65,000 images of architecture, environmental design & related works.
The State Hermitage Museum (English language link)

Theban Mapping Project
Since its inception in 1978, the Theban Mapping Project (TMP, now based at the American University in Cairo) has been working to prepare a comprehensive archaeological database of Thebes.
Ukiyo-e Search
Ukiyo-e Search provides an incredible resource: The ability to both search for Japanese woodblock prints by simply taking a picture of an existing print AND the ability to see similar prints across multiple collections of prints.
ADDITIONS:
*Compiled from messages forwarded to the IFAGSA listserv and from ALA Connect Digital Images Collections Guide Project (//connect.ala.org/node/152079 - toc141646).
Ad Access
Funded by the Duke Endowment "Library 2000" Fund
American Memory: Photographs, Prints, & Drawings (Library of Congress)
Amiens Cathedral
(How site might have looked with the sculpture polychromed)
Architecture in the Classical Tradition, Queens University, Canada
Personal collection by Pierre du Prey, Professor & Director of the Architecture in the Classical Tradition project at Queen's University at Kingston, Ontario, Canada.
Artefacts Canada
The Artefacts Canada database contains close to 4 million object records and approximately 800,000 images from Canadian museums.
Art of the Photogravure
Celebrating the beauty and history of the photogravure process and the important role it has played in the evolution of fine art photography. Includes a database search of images from many famous photographers work with the photogravure process.
Basel Mission Picture Archive
Photographs taken at the intersection of European, African, and Asian cultures from 1850 to 1950
Bibliothèque virtuelle des manuscrits médiévaux (BVMM)
The Book of Kells, Trinity College Dublin

British Cartoon Archive
British Cartoon Archive is a research center and library of British cartooning located in in the Templeman Library at the University of Kent, Canterbury.
Center for Creative Photography Digital Collections
Digital Archive of 20th-Century Latin American and Latino Art, International Center for the Arts of the Americas, Museum of Fine Arts, Houston

Dumbarton Oaks Image Collections and Fieldwork Archives (ICFA)

George Eastman House Collections Online
Fine Arts Museums of San Francisco
William Gedney Photographs and Writings
Hosted by Duke University Libraries, this 50,000 item collection documents the work of photographer William Gedney, covering the 1950s to 1989 and locations in the United States, India, and Europe.
Getty Research Institute Special Collections
Harvard Graduate School of Design Loeb Library, TASK magazine archive

Imagine: The Israel Museum Searchable Collections Database
International Center of Photography eMuseum
International Dunhuang Project
More than 100,000 manuscripts, paintings and artifacts from Dunhuang and other Silk Road sites of the first millennium AD.
Billy Ireland Cartoon Library and Museum, The Ohio State University
The Billy Ireland Cartoon Library & Museum's primary mission is to develop a comprehensive research collection documenting American printed cartoon art, to organize the materials, and to provide access to these resources. The scope of the collection includes: editorial cartoons, comic strips, comic books, graphic novels, sports cartoons, magazine cartoons.
The Israel Museum, Jerusalem, Digital Dead Sea Scrolls

Machiel Kiel Photographic Archive

Library of Congress Prints and Photographs Online Catalog (PPOC)
Los Angeles County Museum of Art (LACMA)
Marshall T. Meyer Digital Collection

National Archives Online Public Access
National Gallery of Art NGA Images

National Museum of Women in the Arts
National Geographic Found Tumblr

The National Portrait Gallery, London

New York Art Resources Consortium (NYARC)
Documenting the Gilded Age: New York City Exhibitions at the Turn of the 20th Century
New York Public Library, Arts and Literature Digital Gallery
Images of art and cultural objects from the New York Public Library, including dance, design, furniture, motion pictures, music, ornament, performance, spectacle, and theatre.
Isamu Noguchi Catalog Raisonné

NYC Department of Records Photo Gallery

Polanoid
Image collection of over 290,000 Polaroid photos
A Pure and Remote View: Visualizing Early Chinese Landscape Painting

Queen's Diamond Jubilee, a collaborative project between the Bodleian Libraries and the Royal Archives

James J. Ross Archive of African Images, 1590-1920
Database of approximately 5,000 pictures of African art published before 1921
San Francisco Museum of Modern Art (SFMOMA)
Smithsonian American Art Museum
Smithsonian Archives of American Art Image Gallery
Smithsonian Freer and Sackler Galleries
Transatlantic Encounters: Latin American Artists in Paris between the Wars

UK National Archives
Archive of wartime artworks from World War II on Wikimedia Commons

U.S. Government Photos and Images
A large collection of photos and images made available by the U.S. government
Reed College Artists' Books Collection
WorldImages
Over 80,000 images from the the California State University IMAGE Project.
Yale University Art Gallery eCatalogue
Arts and Humanities Data Service
AHDS is a platform for a variety of online image collections at various UK institutions. Image groups come from (mostly) non-traditional fields of art history, including the London College of Fashion Cordwainers Shoe Collection, Spanish Civil War posters at the Imperial War Museum, suffragette imagery, and public sculpture.
The database is FREE, once the user has registered.
Digital Media | Computer Services
Hours
Digital Media Main Office
Monday -Friday: 9am - 6pm
Photographer's Office
Monday - Thursday: 10:15am - 7:15pm

Computer Labs
Monday - Friday: 9am - 9pm
Weekends: 12pm - 7pm
Contact the Institute
Building Hours
Contact Information
If you wish to receive information on our upcoming events, please subscribe to our mailing list.