|
Art History
Conservation
Archaeology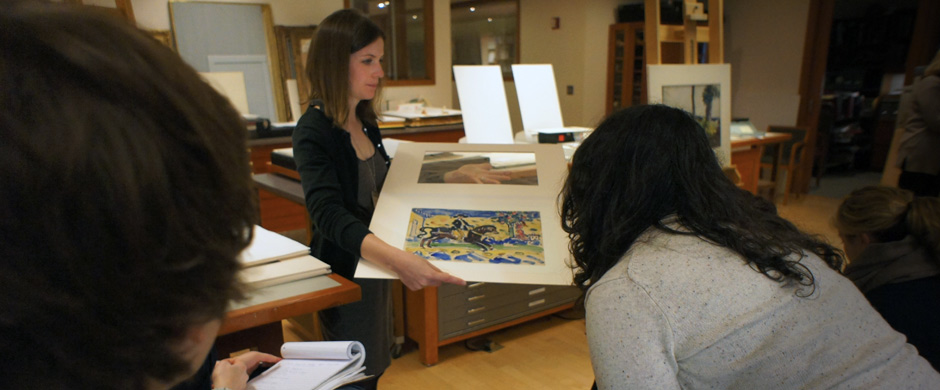 Doctor of Philosophy
APPLY HERE
The Institute's PhD program is designed for students who are eager to investigate the role of the visual arts today and in the past. Through detailed, object-based study and historical and theoretical interpretation, our degree program provides a rigorous experience supported by interaction with the leading scholars of the Institute, New York University and exceptional access to museums, curators, conservators, and archaeologists in New York and world-wide.
To speak to someone about the PhD program or to learn more about the admissions process, contact: ifa.program@nyu.edu.
Requirements for Admission
Each year the Institute receives over 200 applications to our PhD program, for an entering class of a maximum of twelve funded students.
Read more

requirements for admission
• Candidates for a degree from the Institute of Fine Arts should have an excellent background in the liberal arts, normally including at least four courses of undergraduate art history. A major in art history is not required.
• Starting with the Fall 2022 admissions cycle, the Institute of Fine Arts will no longer accept GRE scores as part of the application. Candidates should not send their GREs scores as they cannot be recorded or included as part of the application.
• Applicants will submit a focused, 2-4 page, double-spaced Statement of Academic Purpose. Applicants must also submit a CV.
• The Institute requires at least three letters of recommendation that speak to the applicant's research and writing skills.
• One art history writing sample is required. Those PhD applicants who already hold an MA in art history must provide a copy of their thesis or another substantial research paper to be read by an appropriate member of the IFA faculty.
• The Graduate School requires applicants who are not native English speakers to submit official TOEFL or IELTS score results. The TOEFL/IELTS requirement is waived if your baccalaureate or master's degree was (or will be) completed at an institution where the language of instruction is English.
Candidates wishing to be considered for admission to the Institute for Fall 2024 should submit their applications by December 1st, 2023.
Applications are processed electronically by NYU's Graduate School of Arts and Science (GSAS) Office of Admissions, gsas.admissions@nyu.edu, 212-998-8050.
Applications to the Institute are submitted electronically here.
Between Limit and Possibility: Bricolage, Construction, and Restoration in 1990s Art from Cuba"

-Blanca Serrano Ortiz de Solórzano, PhD Alumna, 2017

Read more from recent alumna

Blanca Serrano Ortiz de Solórzano

My dissertation, entitled "Between Limit and Possibility: Bricolage, Construction, and Restoration in 1990s Art from Cuba," examines how the limited art supplies, the changing cityscape of Havana, and the emerging local art market, significantly informed the materiality, the style, and the subject matter of Cuban art during the nation's economic crisis, which followed the dissolution of the Soviet Union in 1991 and lasted for almost a decade. In this context, also known as the Special Period in Time of Peace, many artists turned to craft—understood not only as handicraft and skill, but also as cunning—as a formal and conceptual language with which to best reflect on the development of the visual arts at the heart of the revolutionary project.