|
Art History
Conservation
Archaeology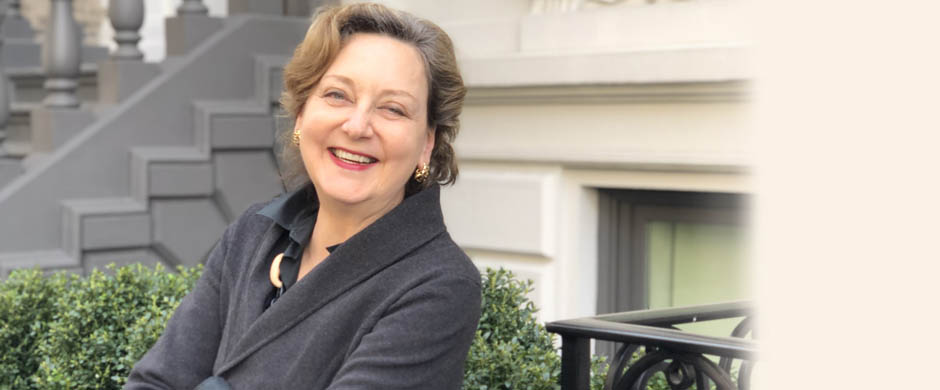 Contact
Margaret Holben Ellis
Eugene Thaw Professor Emerita of Paper Conservation; Conservation Consultant, Villa La Pietra
M.A. in Art History and Advanced Certificate in Conservation, Institute of Fine Arts, NYU
Although now retired, I am fortunate to continue teaching both conservation and art history students and enjoy the vibrant Institute community. My tenure with the Institute has been a long one: in 1987 I was appointed the Sherman Fairchild Chair of the Conservation Center, coming from the Metropolitan Museum of Art department of paper conservation. In 1998, I was honored to be invited to plan the facilities and programs of the Thaw Conservation Center at the Morgan Library & Museum, where I served as the Center's first Director until 2017. I am currently the President of the American Institute for Conservation (AIC), a Fellow and past Council member of the International Institute for Conservation of Historic and Artistic Works (IIC), and a certified Conservator/Restorer of the Institute of Conservation (ICON). I have published and lectured on artists ranging from Raphael, Dürer, and Titian to Pollock, Samaras, Lichtenstein, and Dubuffet. My research on artists' materials and techniques is also broad and encompasses Day-Glo colors, Magic Markers, and Crayola crayons. New materials and new techniques in the conservation of works on paper still present challenges to be eagerly pursued.
Sample courses
The Conservation Treatment of Prints and Drawings
The Technical Connoisseurship of Works of Art on Paper
Selected publications
"Computational Watermark Enhancement in Leonardo's Codex Leicester," with William A. Sethares and C. Richard Johnson, Jr., Journal of the American Institute for Conservation, March 2020.
Read "Computational Watermark Enhancement in Leonardo's Codex Leicester" online
"Computational Connoisseurship: Enhanced Examination Using Automated Image Analysis," with C. Richard Johnson, Jr., Visual Resources Special Issue on Digital Art History, Vol. 35, #1-2, March-June 2019, pp. 125-140.
"Drawing for Printing: An Expanded Fabrication Narrative for Dürer's Adam and Eve of 1504," with Marjorie B. Cohn, Master Drawings, Vol. LV, #4, 2017, pp. 435-452.
"The Application of Automated Chain Line Pattern (CLiP) Matching to Identify Paper Mouldmate Candidates in Rembrandt's Prints," with C.R. Johnson, Jr, W.A. Sethares, S. Haqqi, R. Snyder, E. Hinterding, I. Leeuwen, A. Wallert, D. Christoforou, J. van der Lubbe, N. Orenstein, A. Campbell, and G. Dietz, in New Directions in the Study of Rembrandt and His Circle. Amsterdam:University of Amsterdam Press, 2017, pp. 319-334.
The Care of Prints and Drawings (Revised Edition), Lanham, MD: Rowman Littlefield, 2017.
"Myth and Manipulation: Deconstructing and Reconstructing Dubuffet's Imprints and their Assemblages," with Lindsey Tyne, Dubuffet Drawings, The Morgan Library & Museum, 2016, pp. 70-83.
"Perilous Message, Precarious Medium: The Pastel Drawings of Lucas Samaras," with Lindsey Tyne, Dreams in Dust: The Pastels of Lucas Samaras, The Morgan Library & Museum, 2016, pp. 25-31.
Readings in Conservation: Historical Perspectives in the Conservation of Works of Art on Paper, The J. Paul Getty Trust, 2014.
"Roy Lichtenstein's 'Mechanical Drawings' in the Age of Mechanical Reproduction," with Lindsey Tyne, Roy Lichtenstein: The Black-and-White Drawings, The Morgan Library & Museum, 2010, pp. 52-63.
Selected honors
Professional and academic awards have included the Caroline and Sheldon Keck Award (2003) for a sustained record of excellence in conservation education, the Rutherford John Gettens Merit Award (1997) in recognition of outstanding service to the profession both conferred by the AIC, a Fellowship from the American Academy in Rome (1994), the first Rome Prize (1994) to be awarded to a conservator, and a scholars residency at the Getty Conservation Institute in 2015.
leocode.org is a working compendium of watermarks in the Codex Arundel, Codex Leicester, and other papers of Leonardo da Vinci and is intended to be a research tool for art historians, conservators, and paper/book historians.
Contact the Institute
Building Hours
Contact Information
If you wish to receive information on our upcoming events, please subscribe to our mailing list.