|
In The Forefront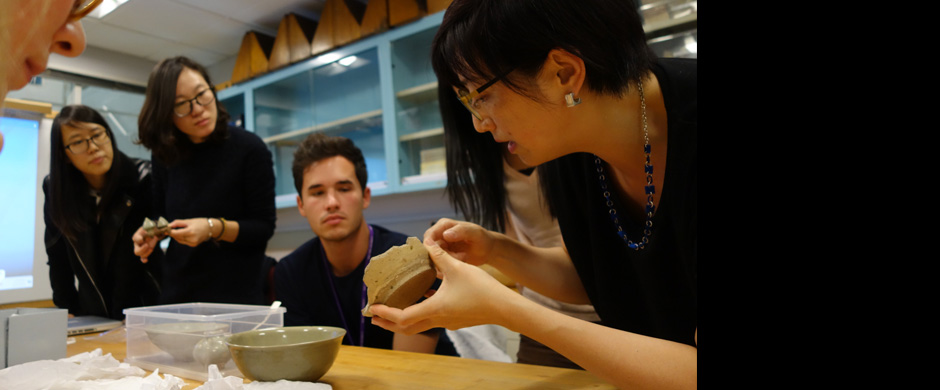 Special Projects
Lapis: The Journal of the Institute of Fine Arts
Lapis: The Journal of the Institute of Fine Arts is a peer-reviewed, open-access journal on art history, architecture, and art conservation published by the Institute of Fine Arts at New York University.
Read the latest issue
Amerasia: An Inquiry into Early Modern Imaginative Geography
In 1545, the German mathematician and cartographer Caspar Vopel (1511-1561) designed a famous and influential map of the world, A New Complete and Universal Description of the Whole World, that depicts Asia and America overlapping on the same landmass.
Using an interactive, high-definition interface, this website explores the map's content. Blue pins indicate translated cartouches, pink pins offer short entries on sites with particular Amerasian significance, and yellow pins offer extended essays on Amerasian themes.
Launch Amerasia
NYU Curatorial Collaborative
A student-led initiative where IFA students organize exhibitions of artwork by students in the Steinhardt School's Department of Art and Art Professions.
Launch the NYU Curatorial Collaborative
Crossing Boundaries: Making World Art History
"Crossing Boundaries: Making World Art History" is the first of a series of workshops aimed at providing a space for creative thinking, where ideas and views can be shared and tested, and cross-institutional collaborations can be formed.
Read more

about "Crossing Boundaries"
The Mellon Research Initiative
The Mellon Research Initiative asked about the directions being taken in art history, archaeology, and conservation: about what resources those fields require to support graduate training and research; how those resources are most meaningfully allocated; and, crucially, how learning is best delivered in curriculum and training programs. The Institute of Fine Arts thanks the Mellon Foundation for supporting this review, which was undertaken by means of a series of workshops and conferences exploring pertinent topics, many of which are available to watch online.
Read the final report
The Institute | Research Labs
www.ifaresearch.org is where the Institute develops experimental web based projects.
Read more

about the IFA's research labs
Research Departments
Contact the Institute
Building Hours
Contact Information
If you wish to receive information on our upcoming events, please subscribe to our mailing list.