|
IN DISCUSSION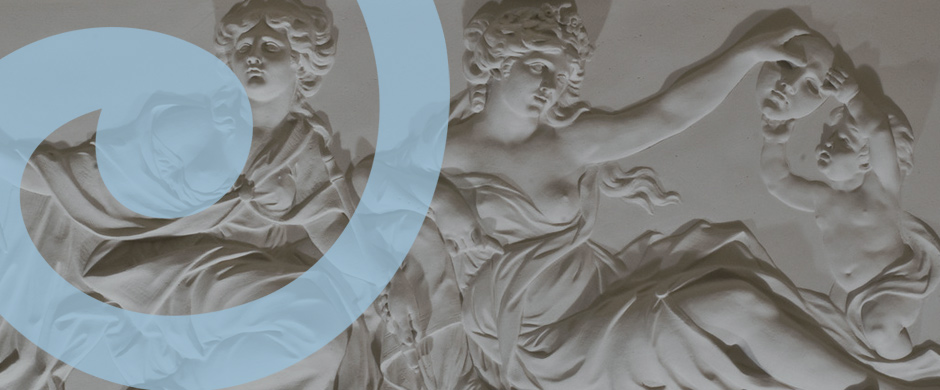 The Great Hall Exhibition Essays
By Debi Miller
An Exhibition of Design in Time and Space
As a student at the Institute of Fine Arts at NYU in New York, I am lucky to have the opportunity to view works of art daily at the Duke House where I attend classes. Not many people have the ability to study in an environment of luxury and history, where exciting and sometimes thought-provoking art installations change every six months. This Great Hall exhibition is wonderfully and thoughtfully curated by some of IFA's curatorial students and is the first public display of Elaine Lustig Cohen's sculptural reliefs and box-like sculptures. Graphic Objects: Elaine Lustig Cohen's Sculptural Works exhibition is curated by Kolleen Ku, Emily Shoyer, Francesca Ferrari, and Chao Chi Chiu.
As a pioneer graphic designer, artist, and archivist Elaine Firstenberg Lustig Cohen (1927 - 2016) is best known for her American modernist style of typographic design. She was influenced by European avant-garde and modernist movements, her art education in New Orleans and Los Angeles, as well as her experience during her first marriage to a modern designer, Alvin Lustig which set her on a successful creative path. During the 1950's and 60's, there were very few female American designers that ran their own studios. After the death of her husband, Elaine faced the challenge of running her husband's midtown Manhattan design practice. She would eventually specialize in book cover and jacket design, museum catalogs (such as the Jewish Museum where Masterpieces and Curiosities: Elaine Lustig Cohen is currently on exhibit), and building signage. After success in these ventures, Elaine began to develop her own modernist style.
Elaine remembered the impact of a collection of Kandinsky works in an installation at the Guggenheim Museum and how it motivated her passion for modern art. She worked alongside her husband as a researcher of materials for interior design projects, while she made collages for children's books. After Alvin's death, Elaine was given the commission of the Seagram Building signage. Additionally, she designed New York Times ads for the building and later produced a catalog for the rental spaces in the building. Alvin's best friend Arthur Cohen hired Elaine to design book jackets for Meridian Books. In 1956 they were married.
Being guided by her preference for clarity and simplicity in design, she directed these fundamental basics toward functional typography with asymmetry. The geometry of these elements was reminiscent of 20th-century avant-garde principles. Likewise, her dedication to this design montra was carried over from her knowledge and experience of painting and collage. The fruits of her success can be seen in her designs in Ex Libris, a rare-book dealership. These designs were relevant to historical design movements yielding European avant-garde documents filled with colorful vigor and excitement. Her designs exemplified minimalist and abstract expressionist styles, applicable to the works that were represented. Her work with constructed geometric, colored shapes created from type, undoubtedly inspired her to create the abstract sculptural works on view.
The five works in the exhibition embody a bold formal language of geometric shapes and vibrant solid colors. Three relief sculptures are adhered to color-coordinated wooden bases and stand upright acting as a wall to hold the artist's creations. The colors chosen to offset these colorful geometric sculptures allow the sculptures to be successfully presented as immodest and asymmetrical structures of form. The 2 three-dimensional boxes sit upon white pedestals to reveal the thoughtful play of color and line. One box reveals the unevenness of its layers and equally adds to the complexity of space, the proximity of the top portion is closer to the viewer's gaze. Although the other box is even all around, the asymmetrical shapes add a similar illusion of space. These sculptural works are reminiscent of artists works incorporating post-painterly abstraction, hard-edge painting and color field painting. These styles were categorized as a more rigorous approach to abstraction creating open compositions through the asymmetrical shapes of sharp and clear edges of color. Taken to three-dimensions, the sculptures take on a life of their own. Each color and layer speaks to the colors that surround them in space. Elaine Lustig Cohen would be happy to know that her sculptural works have been shown to create a dialogue between art history scholars and students. These works embody over fifty years of design history and beauty and are a testament to the artist's life works.
Continue reading student essays