|
IN DISCUSSION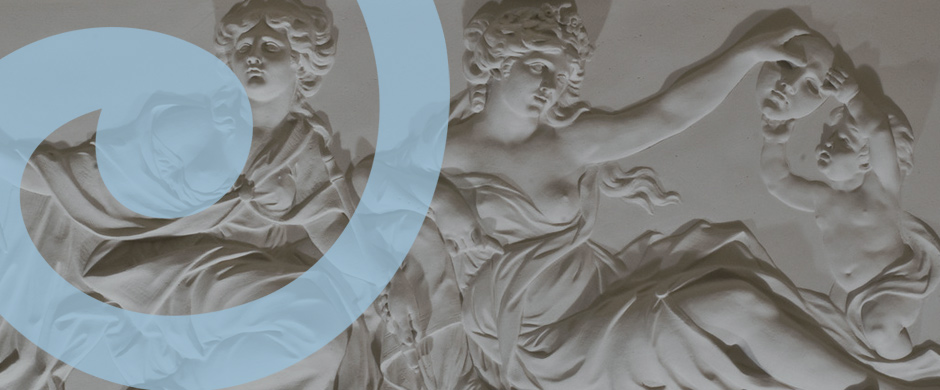 The Great Hall Exhibition Essays
By Kolleen Ku
Throughout the 1980s, the polymath graphic designer, artist, collector, and rare book dealer Elaine Lustig Cohen created a number of colorful box-like sculptures and three-dimensional reliefs. Unlike her graphic design commissions and later hard-edged paintings, the sculptures were rarely exhibited, and the reliefs had never been shown in public before now. Currently on view in Graphic Objects: Elaine Lustig Cohen's Sculptural Works as part of the IFA's Great Hall Exhibition Series, the artworks demonstrate how Lustig Cohen moved beyond the strictures of two-dimensional graphic design, and drew direct inspiration from European avant-gardes movements.
The playful, geometric qualities of Lustig Cohen's sculptural objects can be traced back to her work as a graphic designer, such as her book-cover designs for Meridian Books and the Jewish Museum's exhibition catalogs. Through the use of bold and colorful geometry, Lustig Cohen frequently played with spatial tensions and forces, interlocking and overlapping shapes, and the creation of illusionistic depth. Therefore, it is natural that the artist later gravitated towards exploring these formal concepts in three dimensions. While the reliefs can be viewed as a projection of her graphic designs into three-dimensional space, the sculptures instead have a flat, two-dimensional design transposed upon a conventional cuboid shape.
Beyond her pioneering work in graphic design, Lustig Cohen was also renowned for importing European modernism into an American context through her Upper East Side rare bookstore, Ex Libris. As the first bookshop in the United States dedicated to artists' books, manifestos, and ephemera from the European avant-garde, Ex Libris' collection spanned the movements of Italian Futurism, Russian Constructivism, German Expressionism, Dada, Surrealism, and more. Ex Libris' catalogs and booklists, which were beautifully designed by Lustig Cohen and recently acquired by the Museum of Modern Art, can themselves be seen as a crash-course in modernist aesthetics, as she appropriated the visual language and iconography of each subject at hand. This demonstrates both the breadth and depth of Lustig Cohen's familiarity with European modernist art history, which formed her primary source materials and inspiration.
Thus, Lustig Cohen's sculptural works can be seen as directly influenced by Russian Constructivism, in particular the spatial constructions of Vladimir Tatlin and Aleksandr Rodchenko. Lustig Cohen's reliefs, in particular, demonstrate similar characteristics of spatial dynamism, overlapping and projecting volumes, non-objectivity, and sense of faktura or truth to materials. The exposed grain and cracks of the wood, as well as the roughly-hewn, artisanal quality of the reliefs, reveal the artist's hand and the inherent materiality of the object. The box-like sculptures, although no longer functional as actual storage devices, also contain visible hinges and lids, hinting at the Constructivist merging of art with everyday utility.
Continue reading student essays