|
IN DISCUSSION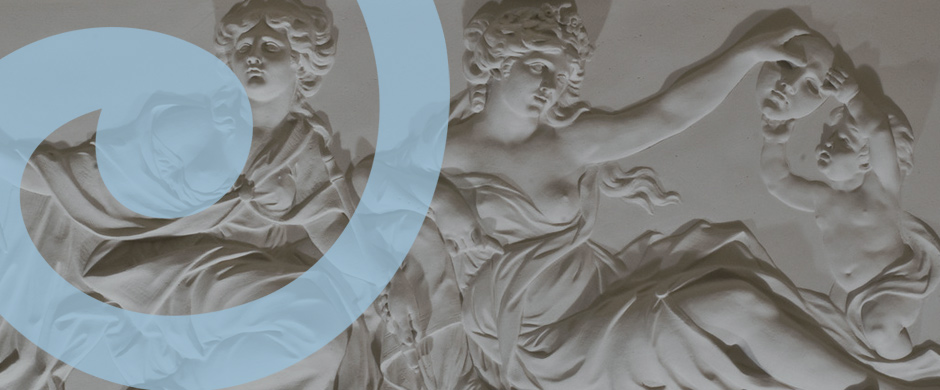 The Great Hall Exhibition Essays
Students from Professor Edward Sullivan's course "Curatorial Practice - Curatorial Study: A Crossdisciplinary Approach" wrote reviews of Elain Lustig Cohen's Sculptural Works
By Han Hongzheng
Elaine Lustig Cohen's Color Box (1981) introduces three-dimensionality to the flatness of graphic design. The combination of solid color blocks resembles Mondrian's signature composition. The juxtaposition of the clean geometric look of the installation and the palatial backdrop of the neoclassical interior of the Duke House surprisingly harmonizes. This peculiar but suitable contrast induces curiosity, as one night try to decipher the symbolic meaning of the presentation. After a long and careful observation, one might question whether the box is solid, or it is possible to be opened.
The color arrangement might seem intimidating when it is in a two-dimensional setting, however, when it is transformed into an object, a sense of inviting ensues. Another important element that worth mentioning is the fact that the artist doesn't limit her work to one geometric pattern. The choices of the pattern design are flexible and irregular creating a sense of playfulness. This child-like innocent quality echoes my childhood favorite activity which is playing LEGOs. Consequently, a sense of nostalgia occurs, which is odd, since normally abstract art doesn't really create emotional vibration for me.
The show is small, but its bold color scheme makes a big statement. The contrast against the more traditional interior of the Duke House makes it even more vibrant. Its overall an attractive, sleekly designed show that highlights a smaller part of the legendary designer's portfolio.
Continue reading student essays