|
Art History
Conservation
Archaeology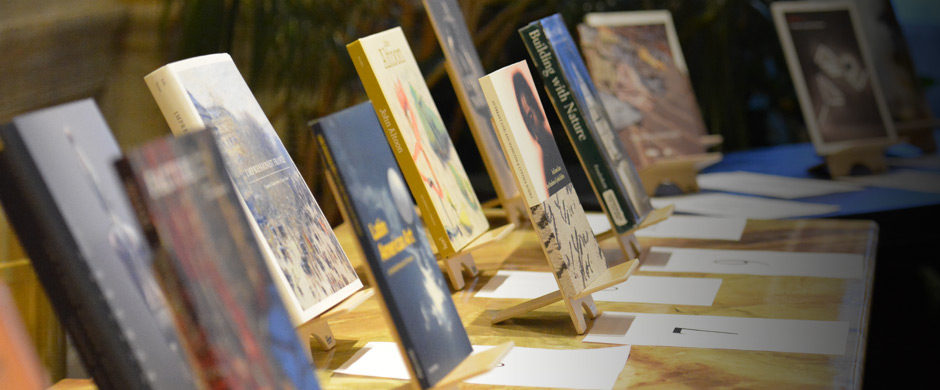 Recent Faculty Publications
| | |
| --- | --- |
| | The Chinese translation of Professor Thomas Crow's book The Rise of the Sixties: American and European Art in the Era of Dissent was published in June 2020 by Jiangsu Fenghuang Fine Arts Press in Shanghai. |
| | |
| --- | --- |
| | Michele D. Marincola and Lucretia Kargère. The Conservation of Medieval Polychrome Wood Sculpture: History, Theory, Practice. Getty Publications, 2020. |
| | |
| --- | --- |
| | Jean Louis-Cohen, Frank Gehry; Catalogue Raisonné of the Drawings; Volume One, 1954-1978. |
| | |
| --- | --- |
| | Dipti Khera, The Place of Many Moods: Udaipur's Painted Lands and India's Eighteenth Century. Princeton University Press, September, 2020. |
| | Exploration and Revelation: French Renaissance Studies in Honour of Colin Eisler, ed. Yassana Croizat-Glazier & Sarah Harris Weiss. Victoria College, University of Toronto, September, 2020 |
Full List of Recent Publications
Jean-Louis Cohen
Books
Building a New New World: Amerikanizm in Russian Architecture. London: Yale University Press, 2020.
Architecture et urbanisme dans la France de Vichy. Paris: College de France, 2020.
Frank Gehry; Catalogue Raisonné of the Drawings; Volume One, 1954-1978. Paris: Cahiers d'art, 2020.
Ein neues Mainz? Kontroversen um die Gestalt der Stadt nach 1945, with Hartmut Frank and Volker Ziegler. Berlin: De Gruyter, 2019.
Book chapters
"Kenneth Frampton's Elusive Constructivis," in Modern Architecture and the Lifeworld; Essays in Honor of Kenneth Frampton, 2020.
"L'invention dans le sang," in Massimo / Maxime Ketoff, Parcours entre architecture, art et technique avec Marie Petit, 2020.
"Les Champs de la modernité," in Champs-Élysées, histoire & perspectives, 2020.
"Le Corbusier et les Juifs : propos privés et retenue publique," and "Le Front Populaire de Le Corbusier," in Le Corbusier 1930-2020; polémiques, mémoire et histoire, 2020.
"L'Atelier Chantorel de Frantz Jourdain: l'architecte comme romancier et protagoniste," in L'architecte à la plume, 2019.
"Networks of Modern Beauty," in Shukhov, Formula of Architecture, 2019.
"Charlotte Perriand dans le champ de la politique," in Le Monde nouveau de Charlotte Perriand, 2019.
"Opus 2 : Robert Venturi's Metamorphosis of Duke House," in Complexity and Contradiction at Fifty: On Robert Venturi's "Gentle Manifesto", 2019.
"L'architecture des 'condensateurs sociaux,'" and "La participation de l'URSS à l'Exposition des arts décoratifs de Paris, 1925," in Rouge; art et utopie au pays des Soviets, 2019.
Thomas Crow
Book
The Hidden Mod in Modern Art: London 1958-1969. Yale University Press, forthcoming October 2020.
Essays/Articles
"Pure Beauty: On John Baldessari," Artforum (April 2020), 120-124.
"Conversation with Curator Massimiliano Gioni," Peter Saul: Crime and Punishment (New Museum, 2020).
"Afterlives of Heroism in the Art of Elizabeth Peyton," in Lucy Dahlsen ed., Elizabeth Peyton: Aires and Angels (London: National Portrait Gallery, 2019).
"Illuminations Past and Present in the Painting of Mark Rothko," in Jasper Sharp ed., Mark Rothko (Vienna: Kunsthistorisches Museum, 2019).
"Bearing Witness in the Art of the Vietnam Era," in Melissa Ho ed., Artists Respond: American Art and the Vietnam War, 1965-1975 (Smithsonian Museum of American Art, 2019).
"Jim Dine," in Darby English and Charlotte Barat eds., Among Others: Blackness at MoMA (Museum of Modern Art, 2019).
"Spirituality," in Nancy Spector ed., Guggenheim Museum A-Z (2019).
Review: Whitney Museum, "Warhol: From A to B and Back Again," CAA Reviews (2019).
"What? versus How Much? The Depth of Theology in art," Art and Christianity (Autumn 2019).
Philippe de Montebello
Interview, "Grand temoin," in The Art Newspaper, edition francaise, September 2019.
Contribution to Donatien Grau, "Potential Museums" published by Paradis Magaine, 2019.
Colin Eisler
Festschrift
Exploration and Revelation: French Renaissance Studies in Honour of Colin Eisler, ed. Yassana Croizat-Glazier & Sarah Harris Weiss. Victoria College, University of Toronto, September, 2020
Review
"Bringing Artists to Life," Wall Street Journal (December 13, 2019).
Margaret Holben Ellis
"The Computational Characterization of Leonardo's Papers," Mitteilungen des Kunsthistorischen Institut in Florenz, forthcoming.
"Computational Watermark Enhancement in Leonardo's Codex Leicester," with William A. Sethares and C. Richard Johnson, Jr., Journal of the American Institute for Conservation (March 2020); https://doi.org/10.1080/01971360.2019.1703483

"Going beyond the Bench: The Paper Conservator Today," Restaurator 40, nos. 3-4 (2019), 311-321.
"Unexpected FAME & unFORTUNE," Postprints Institute of Conservation, Book and Paper Group, 2nd Triennial Conference, 2020, https://icon.org.uk/unexpected-fame-conservation-approaches-to-the-preparatory-object
Finbarr Barry Flood
Books
Technologies de dévotion dans les Arts de l'Islam: pèlerins, reliques et copies. Paris: Hazan/Musée du Louvre, forthcoming.
There Where You Are Not: Selected Writings of Kamal Boullata, edited with an Introduction by Finbarr Barry Flood; "Introduction," 10-25 (Munich: Hirmer, forthcoming).
Essays/Articles
"Before the Mughals: Material Culture of Pre-Mughal North India," Muqarnas (36, 2019), 1-40.
"Signs of Silence: Epigraphic Erasure and the Image of the Word," in Christiane Gruber, ed., The Image Debate: Figural Representation in Islam and Across the World (London: Gingko Library, 2019), 46-71.
Jonathan Hay
"Guo Zhongshu's Archaeology of Writing," Journal of Chinese History 3 (2019), 233-324.
"Professor Bo Songnian's 'Wide-Angle' View of Chinese Art History" (in Chinese), Meishu guancha (Art Observation) (2019), 11.
Kathryn E. Howley
"The Materiality of Shabtis: Four Millennia of Miniatures," Cambridge Archaeological Journal 30, no.1, 123-40.
Robert Lubar Messeri
"Peinture-Poésie: Miró, Juno and the Catalan Literary Avant-Garde," in Rémi Labrusse and Robert Lubar Messeri, eds., Painting-Poetry/Peinture'Poésie, Miró Documents (Barcelona: Fundació Joan Miró, 2020), 85-97.
Clemente Marconi
Book
Caruso, Enrico and Clemente Marconi. Selinunte. Fotografie di Armando Rotoletti. Testi di Enrico Caruso e Clemente Marconi. Troina: Grafirer, 2019.
Essays/Articles
Ward, Andrew, and Clemente Marconi. "War and the Life of a Sacred Structure: Weapons from the NYU-UniMi Excavations in the Main Urban Sanctuary of Selinunte," in The Fight for Greek Sicily: Society, Politics, and Landscape, ed. M. Jonasch (Oxford and Philadelphia: Oxbow, 2019), 18-46.
Clemente Marconi, David Scahill, and Massimo Limoncelli. "New Architectural Work on the Akropolis of Selinous, Sicily: Towards a Digital Platform for Cultural Heritage," in New Directions and Paradigms for the Study of Greek Architecture: Interdisciplinary Dialogues in the Field, eds. P. Sapirstein and D. Scahill (Leiden and Boston: Brill, 2019), 289-304.

"The New Investigations of the Institute of Fine Arts–NYU in the Main Urban Sanctuary of Selinunte," in The Akragas Dialogue: New Investigations on Sanctuaries in Sicily, eds. M. De Cesare, C. Portale, and N. Sojc (Berlin: De Gruyter, 2019).
"Prefazione," in Immagini di Gela. Le necropoli e il profilo culturale della polis tardo-arcaica. I materiali della collezione e del predio Lauricella, Alessandro Pace, IX-X. Sesto Fiorentino: All'Insegna del Giglio, 2019.
"The Raw and the Cooked: Scenes of Animal Fights on Archaic Greek Sacred Architecture." Res: Anthropology and Aesthetics 71–72 (spring/autumn 2019), 209–228.
"New Evidence for Early Greek Settlement on the Acropolis of Selinunte," in Listening to the Stones: Essays on Architecture and Function in Ancient Greek Sanctuaries in Honour of Richard Alan Tomlinson, eds. Elena C. Partida and Barbara Schmidt-Dounas (Gloucester: Archaeopress, 2019), 252-261.
"Prolegomena to the Study of Sculpture in Sicily in the Archaic and Classical Periods." In Handbook of Greek Sculpture, ed. Olga Palagia (Berlin: De Gruyter, 2019), 429-472.
"Centuripe," in The Encyclopedia of Greek Comedy, ed. A. Sommerstein, 1 (Hoboken, NJ: Wyley-Blackwell, 2019), 165-166.
Michele Marincola
Book
Michele D. Marincola and Lucretia Kargère. The Conservation of Medieval Polychrome Wood Sculpture: History, Theory, Practice. Getty Publications, 2020.
Essays/Articles
"The Cloisters' Romanesque Crucifix from Northern Spain: A Reconstruction and Interpretation," in: eds. Lutz, G. and Fozi, S,. Christ on the Cross and the Emergence of Medieval Monumental Sculpture (Brepols/Harvey Miller, 2020), 264-81.
Robert Maxwell
"Modern Origins of Romanesque Sculpture," revised version of 2008 article, in C. Rudolph, ed., A Companion to Medieval Art, 2nd ed. ( London, 2019) .
Book Review: "M. Duquong, The Lithic Garden: Nature and the Transformation of the Medieval Church, Oxford, 2018," Church History 88, no. 2 (2019), 497-499.
Alexander Nagel
Books
Renaissance Metapainting, (edited with Péter Bokody). Brepols, 2020. Essays by Klaus Krüger, Robert Brennan, Péter Bokody, Erik Eising, Wolfgang Kemp, Nicholas Herman, Anna Degler, Beate Fricke, Alexander Nagel: "Structures of Archaism in Leonardo, Fra Bartolommeo, and Raphael," Shira Brisman, and André Chastel.
Bending Concepts: The Held Essays on Visual Art, edited with Jonathan T.D. Neil. Rail Editions, 2019. Essays by Walter Benn Michaels, Claire Bishop, Talib Agape Fuegoverde, David Levi Strauss, Simon Critchley, T.J. Demos, Ariella Azoulay, Judith Rodenbeck, Katy Siegel, Martha Schwendener, Alva Noë, Blake Gopnik, David Geers, Alexander Nagel, David Robbins, Siona Wilson, Luis Camnitzer, Michael O'Hare, Alexander Dumbadze, Terry Smith, Alexi Worth, Gaby Collins-Fernandez, Katie Anania, Marika Takanishi Knowles, Sheila Heti, and Karen Archey.
Essays/Articles
"Art in Time," in The Aura in the Age of Digital Materiality: Rethinking Preservation in the Shadow of an Uncertain Future, eds. Adam Lowe, Elizabeth Mitchell, Nicolas Béliard, Giulia Fornaciari, Tess Tomassini, Blanca Nieto and Guendalina Damone (Milan: Silvana, 2020), 295-307.
"Fugitive Mirror: Art Neither Dead Nor Alive," in Dead or Alive! Tracing the Animation of Matter in Art and Visual Culture, eds. Gunhild Borggreen Maria Fabricius Hansen and Rosanna Tindbæk (Aarhus: Aarhus University Press, 2020), 21-64.
"Introduction," in Leo Steinberg, Michelangelo's Paintings: Selected Essays, ed. Sheila Schwartz (Chicago and London: Chicago University Press, 2019), vii-x.
"The Stripping of Art," "Abstraction and Sublimation," and "There is No Such Thing as the Global," in Louvre Abu Dhabi: A World Vision of Art, part 1, Time, History, Memory, ed. Jean-François Charnier (Paris: Skira, 2019), 165-81.
Research portal: Amerasia: An Inquiry into Early Modern Imaginative Geography (edited with Elizabeth Horodowich)
http://ifaresearch.org/amerasia/
Christine Poggi
"La couleur de mes rêves: Joan Miró's Peinture-Poesie and the Art of False Resemblances," in Painting-Poetry, Peinture-Poésie, Miró Documents, ed. Robert Lubar Messeri and Rémi Labrousse (Barcelona: Fundació Joan Miró, 2020), 33-51.
"Giacomo Balla's Vortex: The Volatile Politics of an Abstract Form," RES: Journal of Anthropology and Aesthetics 71-72 (spring/autumn 2019), 192-208.
Hannelore Roemich
H. Roemich, K. Wittstadt, G. Maas-Diegeler, "Accelerated weathering and long-term experiments – conclusions for preventive conservation of glass objects," In Proceedings of the International Symposium on Glass Degradation in Atmospheric Conditions, Ed. Isabelle Biron, Fanny Alloteau, Odile Majérus, Patrice Lehuédé and Daniel Caurant (Paris: Hermann Editions, 2020), 23-33.
F. Baldry and H. Roemich, "Preventive Conservation at Villa La Pietra: Management, Collaboration, Education," in Preventive Conservation in Historic Houses and Palace Museums: Assessment Methodologies and Applications (Milan: SilvanaEditoriale, 2020), 242-244.
Hsueh-man Shen
"You Heishi-hao chenchuan chushui wenwu kan Tang-mo Wudai shiqi de haishang maoyi "由黑石號沈船出水文物看唐末五代時期的海上貿易" [The Belitung Shipwreck and the Indian Ocean Trade -- Problems, Approaches, and Perspectives], in 黑石號出水文物 Heishi-hao chushui wenwu [The Cargo of the Belitung Shipwreck], edited by Shanghai Museum (Beijing: Beijing daxue chubanshe, forthcoming in 2020). In Chinese.
"Ryō to Hoku-Sō jidai no kyō-tō" 遼と北宋時代の経塔" [Scripture Deposits in Northern Song and Liao Pagodas], in Ajia Bukkyō bijutsu ronshū: Hoku-Sō, Ryō, Seika hen アジア佛教美術論集: 北宋/遼/西夏篇, co-edited by Tsukamoto Maromitsu and Itakura Masaaki (Tokyo: Chuokoron bijutsu. forthcoming in 2020). Japanese translation of "Liao yu Bei Song shelita nei cangjing zhi yanjiu" 遼與北宋舍利塔內藏經之研究,Taida Journal of Art History 12 (2002): 169-212.
"Shengsi yu niepan – Tang Song zhiji fojiao yu shisu muzang de jiaocuo lingyu" 生死與涅槃-唐宋之際佛教與世俗墓葬的交錯領域 [Where Secular Death and Buddhist Nirvana Intersect: Secular and Religious Burials during the Tang-Song Transition], Research of Chinese Fine Arts 30 (2019): 9-29. In Chinese.
Robert Slifkin
Book
The New Monuments and the End of Man: U.S. Sculpture Between War and Peace, 1945-1975. Princeton: Princeton University Press, 2019.
Essays/Articles
"Theater of Operations: The Gulf Wars 1991-2011, MoMA PS1," Burlington Magazine 162 (February 2020), 161-163.
"Afterwards," in Joan Mitchell: I Carry My Landscapes Around with Me (New York: David Zwirner, 2020), 15-21.
"Plantation Owner and His Field Hands, Mississippi Delta," in Sarah Hermanson Meister, ed. Dorothea Lange: Words and Pictures (New York: Museum of Modern Art, 2020), 84-85.
"Bruce Nauman Going Solo," in Bruce Nauman, October Files, ed. Taylor Walsh (Cambridge: MIT Press, 2019), 159-174.
"In the Ring," in Prédicaments: Brain Burke: A Retrospective (Charlottetown, PEI: Confederation Centre Art Gallery, 2019), 41-54.

"On Dennis Oppenheim's Marionette Theater," Journal of Art Historiography 21 (December 2019), 1-14.
"Lee Friedlander, Madison, Wisconsin, 1966," in Darby English and Charlotte Barat, eds., Among Others: Blackness at MoMA (New York: Museum of Modern Art, 2019), 206-207.
"Illuminated Profanity," in Jeff Mermelstein, Arena (Oakland, CA: TBW Books, 2019), np. Review of Darby English, 1971: A Year in the Life of Color, Art Bulletin (September 2019), 179-181.
Edward J. Sullivan
"Trace and Testimony: The Drawings of Marcelo Bonevardi" exhibition catalogue, Marcelo Bonevardi: Magic Made Manifest (Miami, Lowe Art Museum, U. of Miami, 2019), 6-9.
"New MoMA Offers Pleasures & Possibilities for Learning More," Art News (online and hard copy) (December, 2019).
Book review: "Alexander von Humboldt and the United States: Art, Nature and Culture," by Eleanor Jones Harvey, The Burlington Magazine, (September 2020).
Exhibition review: "Vida Americana: Mexican Muralists Remake American Art 1925-1945," Whitney Museum of American Art, Apollo (May 2020).
Associate Faculty
John Hopkins
Book
Principal editor, with Sarah Costello and Paul Davis, Object Biographies: Collaborative Approaches to Ancient Mediterranean Art. The Menil Collection and Yale University Press, 2020.
Essays/Articles
"Introduction: The Long Lives of Ancient Objects"; and "Decapitated: Reassembling and Reassessing the Lives of Two Sculpted Heads," in John Hopkins, Sarah Costello and Paul Davis, Object Biographies: Collaborative Approaches to Ancient Mediterranean Art (The Menil Collection and Yale University Press, 2020).
"Decoding the Regia" Journal of Roman Archaeology 32, no. 2 (2019), 546-555.
"Roman Republican Architecture," in Oxford Bibliographies in Architecture, Planning, and Preservation, ed. Kevin Murphy (Oxford University Press). 130-work critical bibliography. doi:10.1093/obo/9780190922467-0026 (2019).
Book Review of Building Mid-Republican Rome: Labor, Architecture, and the Urban Economy, by Seth Bernard. Oxford University Press. American Journal of Archaeology (2019).
Dipti Khera
Book
The Place of Many Moods: Udaipur's Painted Lands and India's Eighteenth Century. Princeton University Press, September, 2020.
Essays/Articles
"Lakes Within Lake-Palaces: A Material History of Pleasure in Eighteenth-Century India," in Liquescent: Spatializing Water in Global South Asia, 1500-2000, edited by Sugata Ray and Venugopal Maddipati (New Delhi: Routledge, 2019), 60-92.
Carol Krinsky
Essays/Articles
"A New Orthodox Synagogue in Manhattan: Decision Making and Design, Arts 8, 113 (September 2019);
https://doi.org/10.3390/arts8030113
Meredith S. Martin
Book
Meltdown! Picturing the World's First Bubble Economy, co-authored with Nina L. Dubin and Madeleine C. Viljoen, exh. cat. (The New York Public Library/Brepols/Harvey Miller: 2020).
Articles
"Enslaved Muslims at the Sun King's Court," (co-authored with Gillian Weiss), in The Versailles Effect: Objects, Lives, and Afterlives of the Domain, ed. Mark Ledbury and Robert Wellington (New York: Bloomsbury, 2020).
"Swiss Porcelain and Slavery in the Global Eighteenth Century," in Une Suisse exotique. Une histoire globale des Lumières/Exotic Switzerland. A Global History of the Enlightenment, ed. N. Etienne, C. Brizon, C. Lee and E. Wismer (Zurich: Diaphanes, 2020).
"Fortune and Folly: A Pandemic Reminiscence," co-authored with Nina Dubin and Madeleine Viljoen, Eighteenth-Century Studies, special issue on the South Sea Bubble, Fall 2020.
"The Art of Plague and Panic: Marseille, 1720" (co-authored with Gillian Weiss), Platform (April 2020): https://www.platformspace.net/home/the-art-of-plague-and-panic-marseille-1720
"A Tale of Two Guns: Mediterranean Servitude and Maritime Weaponry in Louis XIV's France," (co-authored with Gillian Weiss), in The Art of Travel: The Mobility of People and Things in the Early Modern Mediterranean, ed. Elisabeth Fraser (Routledge, 2019), 27-48.
"Monstrous Assemblage: Ribart's Elephant Monument to Louis XV," Journal18, Spring 2019
"On the Margins: Meredith Martin on Jean-Jacques Lequeu," Artforum 58 (February 2020), 51-52.
Edited journal issue with Nina Dubin: 1720, special issue of Journal18 (Fall 2020).
Prita Meier
"Beyond Multiple Modernities: East African Port Cities as the Space Between" Nka: Journal of Contemporary African Art 28 (2020): 116-125.
With Kenny Cupers, "The Trans-African Highway: Infrastructure Between Statehood and Selfhood" Journal of the Society of Architectural Historians 79, no. 1 (March 2020): 61-81.
"The Surface of Things: A History of Photography from the Swahili Coast," Art Bulletin 101, no. 1 (2019): 48–69.
Kenneth Silver
Books and Exhibition Catalogues
Author and ed., Summer with the Averys (Milton/Sally/March), exh. cat., Bruce Museum (Greenwich, Connecticut), 2019.
"Homo Erectus and His Discontents," essay in exh. cat., Jarrett Earnest, ed., The Young and Evil (Zwirner Books/Simon & Schuster, January 2020), 53-63.
Kathryn A. Smith
"Moralizing the Mass in the Butler Hours," Manuscript Studies 4, no. 2 (2019): 187-230.
Contact the Institute
Building Hours
Contact Information
If you wish to receive information on our upcoming events, please subscribe to our mailing list.