|
Art History
Conservation
Archaeology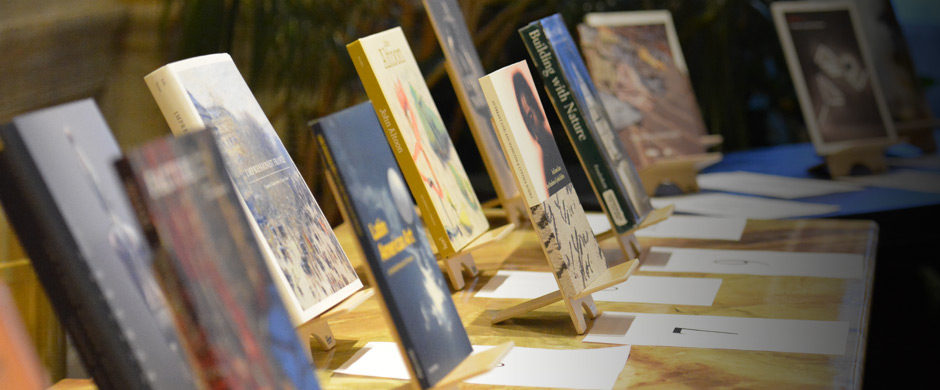 Recent Faculty Publications
| | |
| --- | --- |
| | The Chinese translation of Professor Thomas Crow's book The Rise of the Sixties: American and European Art in the Era of Dissent was published in June 2020 by Jiangsu Fenghuang Fine Arts Press in Shanghai. |
| | |
| --- | --- |
| | Michele D. Marincola and Lucretia Kargère. The Conservation of Medieval Polychrome Wood Sculpture: History, Theory, Practice. Getty Publications, 2020. |
| | |
| --- | --- |
| | Jean Louis-Cohen, Frank Gehry; Catalogue Raisonné of the Drawings; Volume One, 1954-1978. |
| | |
| --- | --- |
| | Dipti Khera, The Place of Many Moods: Udaipur's Painted Lands and India's Eighteenth Century. Princeton University Press, September, 2020. |
| | Exploration and Revelation: French Renaissance Studies in Honour of Colin Eisler, ed. Yassana Croizat-Glazier & Sarah Harris Weiss. Victoria College, University of Toronto, September, 2020 |
Full List of Recent Publications
Jean-Louis Cohen
Books
Des Fortifs au Périf. Paris: Éditions du Pavillon de l'Arsenal, 2021. With André Lortie.
Building a New New World: Amerikanizm in Russian Architecture. London: Yale University Press, 2020.
Architecture et urbanisme dans la France de Vichy. Paris: College de France, 2020.
Frank Gehry; Catalogue Raisonné of the Drawings; Volume One, 1954-1978. Paris: Cahiers d'art, 2020.
Ein neues Mainz? Kontroversen um die Gestalt der Stadt nach 1945, with Hartmut Frank and Volker Ziegler. Berlin: De Gruyter, 2019.
Essays in Edited Volumes and Catalogues
"Tri knigi, kotorye potriasli arkhitekturny mir." In Zapadnoe isskustvo XX vek; shestidesiatye gody. Ed. Alexei Bartochevich and Tatiana Gnedovskaya (Moscow: BuksMart, 2021), 526-533.
"Vers une architecture transnationale: circulations, transferts, interferences." In Ici par ailleurs; l'international en question. Ed. Benjamin Chavardès and Cécile Régnault (Paris: Éditions du Patrimoine, 2021), 20-37.
"La colline et la pente." Matières premières, Les papiers Damisch. Institut mémoire de l'édition contemporaine, 2020.
"André Lurçat, agent français des Néerlandais." In Dutch Connections: Essays on International Relationships in Architectural History in Honour of Herman Van Bergeijk. Ed. Sjoerd van Faassen, Carola Hein and Phoebus Panigyrakis (Delft: TU Delft OPEN, 2020), 59-70.
"Les écrits du passeur solitaire." In De l'architecture à la ville ; une anthologie des écrits de Bernard Huet. Ed. Juliette Pommier (Paris: Arguments, 2020), 13-23.
"Aleksandr Deineka; We Will Turn Moscow into a Model Socialist City of the Proletarian State, 1931." In Engineer, Agitator, Constructor; the Artist Reinvented: The Merrill C. Berman Collection at MoMa. Ed. Jodi Hauptman and Adrian Sudhalter (New York: Museum of Modern Art, 2020), 132-135.
"Henri Lefebvre and Anatole Kopp, or the the Russian Sources of the 'Urban Revolution.'" In Book for Mary: Sixty on Seventy. Ed. Irena Lehkoživová and Joan Ockman (Brno: Quatro Print, 2020), 118-127.
"Les envois de Rome au début du XXe siècle et l'invention de l'urbanisme en France." In Figurations de la Cité. Ed. Jean-Pierre Péneau and Paul Quintrand (Paris: Académie d'architecture, 2020), 11-21.
"Kenneth Frampton's Elusive Constructivism." In Modern Architecture and the Lifeworld; Essays in Honor of Kenneth Frampton. Ed. Karla Cavarra Britton and Robert McCarter (London: Thames & Hudson, 2020), 106-119.
"L'invention dans le sang." In Massimo / Maxime Ketoff; parcours entre architecture, art et technique avec Marie Petit. Ed. Marie Petit and Francesco Moschini (Rome: Gangemi, 2020), 26-35.
"Les Champs de la modernité." In Champs-Élysées, histoire & perspectives (Paris: Pavillon de l'Arsenal, 2020), 84-95.
"Le Corbusier et les Juifs: propos privés et retenue publique," and "Le Front Populaire de Le Corbusier." In Le Corbusier 1930-2020; polémiques, mémoire et histoire. Ed. Rémi Baudouï (Paris: Tallandier, 2020), 83-97 and 27-39.
"L'École des Beaux-Arts, de Paris à Marseille et à la Prusse orientale." In Architecture et urbanisme dans la France de Vichy. Ed. Jean-Louis Cohen (Paris: Collège de France, 2020), 165-182.
Thomas Crow
Book
The Hidden Mod in Modern Art: London 1958-1969. Yale University Press, 2020.
Essays/Articles
"The Hidden Mod in the New Art History," Res: Anthropology and Aesthetics no. 73-74 (2021), 276-294.
"Confessional Complications in Maritime Trade," in Lauren R. Cannady and Jennifer Ferng, eds., Crafting Enlightenment: Artisanal Histories and Transnational Networks (Oxford: Voltaire Foundation, 2021), 241-243.
"Cults or Subcultures? Reckoning with Collective Creation in the English Pop World," in Mona Hadler and Kalliopi Minioudaki eds., Pop Art and Beyond: Gender, Race and Class in the Global Sixties (London: Bloomsbury, forthcoming 2021).
"Pure Beauty: On John Baldessari," Artforum (April 2020), 120-124.
"Conversation with Curator Massimiliano Gioni," Peter Saul: Crime and Punishment (New Museum, 2020).
Colin Eisler
Festschrift
Exploration and Revelation: French Renaissance Studies in Honour of Colin Eisler, ed. Yassana Croizat-Glazier & Sarah Harris Weiss. Victoria College, University of Toronto, September, 2020.
Margaret Holben Ellis
"The Computational Characterization of Leonardo's Papers," Mitteilungen des Kunsthistorischen Institut in Florenz, forthcoming.
Finbarr Barry Flood
Books
Technologies de dévotion dans les Arts de l'Islam: pèlerins, reliques et copies. Paris: Hazan/Musée du Louvre, forthcoming.
There Where You Are Not: Selected Writings of Kamal Boullata, edited with an Introduction by Finbarr Barry Flood; "Introduction," 10-25 (Munich: Hirmer, forthcoming).
Kathryn E. Howley
"Worshipping Amun in Nubia: new work at the Temple of Taharqo at Sanam," Egyptian Archaeology 58 (2021), 24-29.
New Discoveries at Sanam Temple and its Surroundings: Sanam Temple Project, 2019-20," Sudan & Nubia 24 (2021), 119-132.
"Kushites in Egypt, 664 BCE–24 CE: Egypt and Kush in the Borderlands of Lower Nubia," in Oxford Handbook of Ancient Nubia (eds. Geoff Emberling and Bruce Williams). Oxford University Press, 2021, 491-510.
Howley K. E., MacLeod and Creasman. "Artistic and Textual Analyses of the Third Intermediate Period Coffins at the Denver Museum of Nature and Science," The Egyptian Mummies and Coffins of the Denver Museum of Nature & Science: History, Technical Analysis and Conservation (eds. Michele Koons & Caroline Arbuckle). University Press of Colorado, 2021.
Robert Lubar Messeri
"Peinture-Poésie: Miró, Juno and the Catalan Literary Avant-Garde," in Rémi Labrusse and Robert Lubar Messeri, eds., Painting-Poetry/Peinture'Poésie, Miró Documents (Barcelona: Fundació Joan Miró, 2020), 85-97.
Clemente Marconi
Book
2021. Bosher, Kathryn G., Greek Theater in Ancient Sicily, edited by Edith Hall and Clemente Marconi. Cambridge and New York: Cambridge University Press.
2020. "An Unfinished Marble Statuette from Selinunte." In ΣΠΟΝΔΗ. Αφιέρωμα στη μνήμη του Γιώργου Δεσπίνη, eds. A. Delivorrias et al., 81–87. Athens: Benaki Museum.
2020. Marconi, Clemente, Adriano Orsingher, and Babette Bechtold. "Selinunte's Pre-409 BC Phoenician and Punic Connections: A Ceramic Perspective from the Main Urban Sanctuary." Römische Mitteilungen 126: 235–310.
2020. "Un incendio nel Tempio R di Selinunte in età tardo arcaica." In Studi in onore di Stefano Vassallo, eds. M. Chiovaro and R. Sapia, 31–35. Palermo: Regione Siciliana.
2020. "La risposta di un archeologo al manifesto La storia cambi passo di Carlo Ruta." In Dibattito sulla storia: Il manifesto di Carlo Ruta e la discussione in Europa e oltre, ed. G. Corradini, 35–40. Ragusa: Edizioni di storia e studi sociali.
2020. "Architecture of Sicily and Magna Graecia." In Oxford Bibliographies, Architecture Planning and Preservation, ed. Kevin D. Murphy. New York: Oxford University Press, 11.24.2020. www.oxfordbibliographies.com.
Michele Marincola
Book
Michele D. Marincola and Lucretia Kargère. The Conservation of Medieval Polychrome Wood Sculpture: History, Theory, Practice. Getty Publications, 2020.
Essays/Articles
"The Cloisters' Romanesque Crucifix from Northern Spain: A Reconstruction and Interpretation," in: eds. Lutz, G. and Fozi, S,. Christ on the Cross and the Emergence of Medieval Monumental Sculpture (Brepols/Harvey Miller, 2020), 264-81.
Robert Maxwell
"La crédulité, le doute et la pratique artistique au XII siècle." Cahiers de civilisation médiévale 252, no. 4 (2020), 233-266.
Alexander Nagel
"Art in Time," in The Aura in the Age of Digital Materiality: Rethinking Preservation in the Shadow of an Uncertain Future, eds. Adam Lowe, Elizabeth Mitchell, Nicolas Béliard, Giulia Fornaciari, Tess Tomassini, Blanca Nieto and Guendalina Damone (Milan: Silvana, 2020), 295-307.
"Fugitive Mirror: Art Neither Dead Nor Alive," in Dead or Alive! Tracing the Animation of Matter in Art and Visual Culture, eds. Gunhild Borggreen Maria Fabricius Hansen and Rosanna Tindbæk (Aarhus: Aarhus University Press, 2020), 21-64.
Ravenna in the Imagination of Renaissance Art (edited with Giancarla Periti), Brepols, 2020. Essays by Alexander Nagel, Giancarla Periti, Sarah McHam, Nicholas Herman, Linda A. Koch, Debra Pincus, Silvia Foschi, and Claudio Franzoni.
"Introduction: Ravenna Made Visible," in Ravenna in the Imagination of Renaissance Art, eds. Alexander Nagel with Giancarla Periti (Turnhout: Brepols, 2020), 3-28. (Co-author: Giancarla Periti).
"Raphael, Riccio, and Romanino in a Letter by Gregorio Cortese, Cassinese Monk and Man of Letters," in The Networks of Cassinese Arts in Renaissance Italy, eds. Alessandro Nova and Giancarla Periti (Milan: Officina Libraria, 2020).
"Shared Ground (Marie Denise Villers' portrait of Marie Joséphine Charlotte du Val d'Ognes at the Metropolitan Museum)," in 4Columns, June, 2020.
"Hell Is for White People: A painting from 1515 turns a mirror on its viewers," Cabinet Magazine, June 10, 2020.
"Raphael 2020," Air Mail, March 7, 2020.
Research portal: Amerasia: An Inquiry into Early Modern Imaginative Geography (edited with Elizabeth Horodowich)
http://ifaresearch.org/amerasia/
Christine Poggi
"La couleur de mes rêves: Joan Miró's Peinture-Poesie and the Art of False Resemblances," in Painting-Poetry, Peinture-Poésie, Miró Documents, ed. Robert Lubar Messeri and Rémi Labrousse (Barcelona: Fundació Joan Miró, 2020), 33-51.
Hannelore Roemich
H. Roemich, K. Wittstadt, G. Maas-Diegeler, "Accelerated weathering and long-term experiments – conclusions for preventive conservation of glass objects," In Proceedings of the International Symposium on Glass Degradation in Atmospheric Conditions, Ed. Isabelle Biron, Fanny Alloteau, Odile Majérus, Patrice Lehuédé and Daniel Caurant (Paris: Hermann Editions, 2020), 23-33.
F. Baldry and H. Roemich, "Preventive Conservation at Villa La Pietra: Management, Collaboration, Education," in Preventive Conservation in Historic Houses and Palace Museums: Assessment Methodologies and Applications (Milan: SilvanaEditoriale, 2020), 242-244.
Hsueh-man Shen
"You Heishi-hao chenchuan chushui wenwu kan Tang-mo Wudai shiqi de haishang maoyi "由黑石號沈船出水文物看唐末五代時期的海上貿易" [The Belitung Shipwreck and the Indian Ocean Trade -- Problems, Approaches, and Perspectives], in 黑石號出水文物 Heishi-hao chushui wenwu [The Cargo of the Belitung Shipwreck], edited by Shanghai Museum (Beijing: Beijing daxue chubanshe, 2020). In Chinese.
"Ryō to Hoku-Sō jidai no kyō-tō" 遼と北宋時代の経塔" [Scripture Deposits in Northern Song and Liao Pagodas], in Ajia Bukkyō bijutsu ronshū: Hoku-Sō, Ryō, Seika hen アジア佛教美術論集: 北宋/遼/西夏篇, co-edited by Tsukamoto Maromitsu and Itakura Masaaki (Tokyo: Chuokoron bijutsu. 2020). Japanese translation of "Liao yu Bei Song shelita nei cangjing zhi yanjiu" 遼與北宋舍利塔內藏經之研究,Taida Journal of Art History 12 (2002): 169-212.
Robert Slifkin
Books
The Present Prospects of Social Art History (co-edited with Anthony Grudin) (London: Bloomsbury, 2021).
The New Monuments and the End of Man: U.S. Sculpture Between War and Peace, 1945-1975. Princeton: Princeton University Press, 2019.
Articles and chapters in books
"Donald Judd's Credibility Gap," in Annie Ochmanek and Alex Kitnick, eds., Donald Judd, October Files (Cambridge: MIT Press, 2021).
"Abject Art History," in Robert Slifkin and Anthony Grudin, eds., The Present Prospects of Social Art History (London: Bloomsbury, 2021).
Essays/Articles
"Justine Kurland: SCUMB Manifesto," The Brooklyn Rail (April 2021), 22.
"Ugly Feelings: On Philip Guston and White Privilege," Artforum (January/February 2021), 112-117.
"Ari Marcopoulos: Fast Breaks," The Brooklyn Rail (September 2020), 27.
"Theater of Operations: The Gulf Wars 1991-2011, MoMA PS1," Burlington Magazine 162 (February 2020), 161-163.
"Afterwards," in Joan Mitchell: I Carry My Landscapes Around with Me (New York: David Zwirner, 2020), 15-21.
"Plantation Owner and His Field Hands, Mississippi Delta," in Sarah Hermanson Meister, ed. Dorothea Lange: Words and Pictures (New York: Museum of Modern Art, 2020), 84-85.
Edward J. Sullivan
Articles and book chapters
"Francisco Oller and France: New Observations," submitted, forthcoming (September 2021) in Essays on the Art of the Long Nineteenth Century in Honor of Susan Grace Galassi, a special issue of Nineteenth Century Studies (eds. Joanna Sheers Seidenstein, Eloise Owens and Margot Bernstein).
"Marjua Mallo transatlántica: Mujeres artistas en las vanguardias del continente Americano," in Antonio Gómez Conde, Guillermo de Osma and Juan Pérez de Ayala (eds.), Maruja Mallo. Catálogo razonado de óleos (Madrid: Centro Nacional de Arte Reina Sofía and Fundación Azcona, 2021), 435-449.
"Re-thinking Roberto Burle Marx" in online journal PLATFORM, CUNY: The Bernard and Anne Spitzer School of Architecture, February 2021.
"Les Choses Américaines: Histoires réelles, métaphorique et anachroniques de traumatisme, colonialism, d'esclavage et de terreur sociale à travers les âges et les geographies de l'hemisphere" published in online journal Arts et Sociétés du Séminaire (Paris: Sciences Po, March 2021).
"Xawery Wolski: Intimate Conversations with Nature," in Xawery Wolski (Milan: Skira, 2020), 15-27.
Selected book and exhibition reviews
Book review: "Alexander von Humboldt and the United States: Art, Nature and Culture," by Eleanor Jones Harvey, The Burlington Magazine, (September 2020).
Exhibition review: "Vida Americana: Mexican Muralists Remake American Art 1925-1945," Whitney Museum of American Art, Apollo (May 2020).
Associate Faculty
John Hopkins
Book
Principal editor, with Sarah Costello and Paul Davis, Object Biographies: Collaborative Approaches to Ancient Mediterranean Art. The Menil Collection and Yale University Press, 2020.
Essays/Articles
"Introduction: The Long Lives of Ancient Objects"; and "Decapitated: Reassembling and Reassessing the Lives of Two Sculpted Heads," in John Hopkins, Sarah Costello and Paul Davis, Object Biographies: Collaborative Approaches to Ancient Mediterranean Art (The Menil Collection and Yale University Press, 2020).
Dipti Khera
Book
The Place of Many Moods: Udaipur's Painted Lands and India's Eighteenth Century. Princeton University Press, September, 2020.
Published Companion Website: theplaceofmanymoods.org
Meredith S. Martin
Book
Meltdown! Picturing the World's First Bubble Economy, co-authored with Nina L. Dubin and Madeleine C. Viljoen, exh. cat. (The New York Public Library/Brepols/Harvey Miller: 2020).
Articles
"Enslaved Muslims at the Sun King's Court," (co-authored with Gillian Weiss), in The Versailles Effect: Objects, Lives, and Afterlives of the Domain, ed. Mark Ledbury and Robert Wellington (New York: Bloomsbury, 2020).
"Swiss Porcelain and Slavery in the Global Eighteenth Century," in Une Suisse exotique. Une histoire globale des Lumières/Exotic Switzerland. A Global History of the Enlightenment, ed. N. Etienne, C. Brizon, C. Lee and E. Wismer (Zurich: Diaphanes, 2020).
"Fortune and Folly: A Pandemic Reminiscence," co-authored with Nina Dubin and Madeleine Viljoen, Eighteenth-Century Studies, special issue on the South Sea Bubble, Fall 2020.
"The Art of Plague and Panic: Marseille, 1720" (co-authored with Gillian Weiss), Platform (April 2020): https://www.platformspace.net/home/the-art-of-plague-and-panic-marseille-1720
"On the Margins: Meredith Martin on Jean-Jacques Lequeu," Artforum 58 (February 2020), 51-52.
Edited journal issue with Nina Dubin: 1720, special issue of Journal18 (Fall 2020).
Michele Matteini
Published essays

"Written on a Body Leaf," RES: Anthropology and Aesthetics, "Fashioned from Holy Matter" (accepted, expected publication date May 2021).
"Patterns of Patronage in Qing Beijing: Decentering Chinese Art History in the Long Eighteenth Century." Association of Asian Studies Conference, March 23 (Panel Organizer and Discussant).

"Western Painting Inside Out: Pak Chi-won and the Connoisseurship of Western Painting in Eighteenth-century East Asia." American Society for Eighteenth-Century Studies (ASECS), April 2021 (Presenter).
"The Brush and the Needle: Juhkyang's Painting and Courtesans' Material Culture in Late Chosŏn Dynasty" in Kuniko Tanaka, ed. Bellezza in Fiore: Colori e Parole nell'Estetica Asiatica. Milan: Asiatica Ambrosiana, vol. 9, Biblioteca Ambrosiana, 2020, pp. 155-169.
"Painting in Total Clarity: On Hongli and His Paintings" and "The Texture of Samsara: Painting and Un-enlightenment in Eighteenth-century China." Phoenix Art Museum (February).

"Pierre Bourdieu and Chinese Studies" Roundtable Discussion, Association for Asian Studies Conference, March 2020 [canceled].

"On the Longevity of Things: Repurposing, Recycling, Remaking in Late Imperial China" Special Roundtable, China Project Workshop [October 2020].
Prita Meier
"Beyond Multiple Modernities: East African Port Cities as the Space Between" Nka: Journal of Contemporary African Art 28 (2020): 116-125.
With Kenny Cupers, "The Trans-African Highway: Infrastructure Between Statehood and Selfhood" Journal of the Society of Architectural Historians 79, no. 1 (March 2020): 61-81.
Kenneth Silver
Books and Exhibition Catalogues
"Homo Erectus and His Discontents," essay in exh. cat., Jarrett Earnest, ed., The Young and Evil (Zwirner Books/Simon & Schuster, January 2020), 53-63.
Kathryn A. Smith
"Found in Translation: Images Visionary and Visceral in the Welles-Ros Bible," Gesta 59, no. 2 (Fall 2020): 91–130.
"'A Lanterne of Lyght to the People': English Narrative Alabaster Images of John the Baptist in their Visual, Religious, and Social Contexts," Studies in Iconography 42 (2021): 53–94.
"Responsive Books in Some Fourteenth-Century English Illustrated Manuscripts," The Medieval Book as Object, Idea and Symbol, Proceedings of the 2019 Harlaxton Symposium, ed. Julian Luxford, Harlaxton Medieval Studies, XXXI (Donington, UK: Shaun Tyas, 2021): 105–28 + plates.
Contact the Institute
Building Hours
Contact Information
If you wish to receive information on our upcoming events, please subscribe to our mailing list.