|
IN DISCUSSION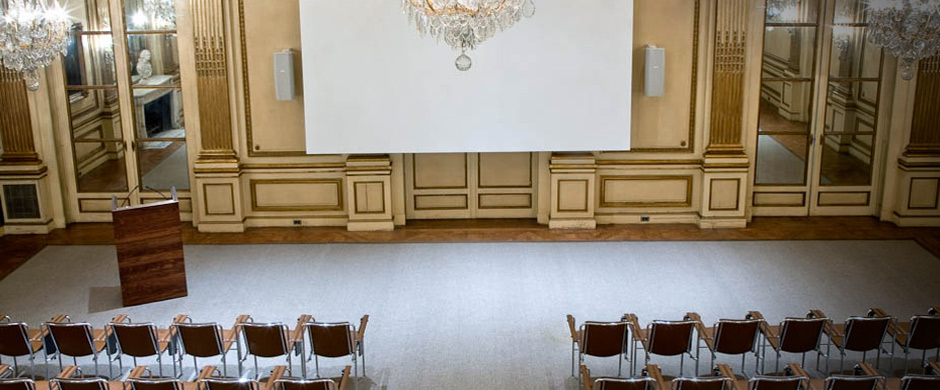 Publishing Art History Digitally: The Present and Future
Institute of Fine Arts
1 East 78th Street
New York, New York
Lecture Hall October 14, 4 – 8 PM
Watch

Publishing Art History Digitally

online
This event brought together art historians and publishing experts to share their views on the future of publishing digital art history. Combining a lecture and two roundtables, this symposium was of interest to all those involved in, or wishing to embark on, digital publishing, as well as to those who are looking for solutions to publishing digital humanities research in compact online formats.
Organized by Nineteenth-Century Art Worldwide, the event was funded by the Samuel H. Kress Foundation and the NYU Center for the Humanities and is free of charge. It was followed up by a hands-on professional development workshop at the College Art Association annual meeting in February, open to all CAA registrants at no extra cost.
Program
4:00 PM
Opening Remarks: Jonathan Hay, Ailsa Mellon Bruce Professor of Fine Arts, Institute of Fine Arts

4:10 PM
Keynote address: "Breaking Almost Everything: The Current Practice and Future Potential of Digital Publishing," by Greg Albers, Digital Publications Manager, Getty Publications
From clay tablet to scroll to codex, the history of publishing can be seen through the lens of technology disruption, followed by hand wringing, experimenting from the fringes, revelation, and finally, integration. Each new iteration of this cycle involved breaking the parameters of what came before: physically and conceptually. These early days of digital publishing are no different. We have already seen promising signs of experimentation as authors and publishers put to use powerful new tools to create and disseminate their work. But to bridge the gap from rule-breaking one-off projects to a sound and lasting publishing methodology, we must expand the conversation and collectively work to better understand and control the tools and materials we are working with, namely code. More than developing facility with specific languages though, we must work toward a deeper understanding of the fundamental qualities of code. Doing so will give us the framework and vocabulary necessary to break more rules better. The only risk is in going so far in rethinking our assumptions about a publication that the end result isn't recognizable as a publication at all. So, just as critical as understanding what code is and what it can be, we must understand the fundamental qualities of what makes a book a book or a journal a journal. As we continue to experiment, we need to be sure to break the right things.

5 - 6 PM
Roundtable Discussion #1: Writing, Creating, Editing

Celeste Tường Vy Sharpe, Christopher Howard, Anne Helmreich, moderated by Emily Pugh, Digital Humanities Specialist, Getty Research Institute
The first roundtable brings together authors who have produced digital publications in a variety of forms and formats, from essays and posts on social media to a digital dissertation. The discussion will focus on three ways in which digital publishing is influencing the creation of art history scholarship. "Changing Process, Evolving Art Histories?" will address how new digital publication might be influencing the ways we think about and produce art history. "Emerging Formats, Shifting Roles" will examine how workflows associated with digital publication have had the effect of creating new roles and responsibilities for art historians, and/or have required art historians to work with colleagues from other disciplines in new ways. We will also broach the topic "New Skills" by considering the implications of digital publication for the training of art historians.
Panelists
Anne Helmreich, Dean, College of Fine Arts, Texas Christian University
Anne Helmreich's

bio
Anne Helmreich is an art historian specializing in 19th-century art who is widely recognized as a leading voice for the digital humanities in art history. Her co-authored article "Local/Global: Mapping 19th Century London's Art Market," written with Pamela Fletcher, recently won the 2015 prize for Online Publication from the Association of Research Institutes in Art History. Most recently, she was Senior Program Officer at the Getty Foundation. Her work has been supported by grants from the Getty Research Institute, the National Endowment for the Humanities, the Clark Library, the Yale Center for British Art, and the Paul Mellon Centre for British Art. She earned her Ph.D. in Art History from Northwestern University, her M.A. in Art History from the University of Pittsburgh, and her B.A in History from Dickinson College.
Christopher Howard, Managing Editor, College Art Association
Christopher Howard's

bio
Christopher Howard is managing editor at the College Art Association and served as editor of caa.reviews, CAA's born-digital journal of book and exhibition reviews, from 2001 to 2005. He has edited essays for exhibition catalogues published by the Museum of Modern Art of Fort Worth and the Museum at FIT, and his writing has been published by Artforum, Modern Painters, Art Papers, the L Magazine, the Brooklyn Rail, Burnaway, and the Art Book, among others. In 2011 he founded In Terms Of, a single-authored blog that publishes criticism on lectures, panels, symposia, conversations, and other live speaking engagements. (In Terms Of received a 2014 award from the Arts Writers Grant Program, sponsored by Creative Capital and the Andy Warhol Foundation for the Visual Arts.) Howard is writing a book-length essay on Terry Fugate-Wilcox and the Jean Freeman Gallery. He earned a B.A. in interdisciplinary studies from the University of Florida and an M.A. in art history from Hunter College, City University of New York.
Celeste Tường Vy Sharpe, Academic Technologist for Instructional Technology, Carleton College
Celeste Tường Vy Sharpe's

bio
Celeste Tường Vy Sharpe is a Ph.D. Candidate in the History and Art History Department at George Mason University. Her born-digital dissertation, "They Need You! Disability, Visual Culture, and the Poster Child, 1945-1980" argues that the March of Dimes and Muscular Dystrophy Association's poster child campaigns increased the visibility and understanding of physical disability in new ways by depicting disabled American children within their families and communities as full, if physically limited, citizens of the nation. Currently, Sharpe is the Academic Technologist for Instructional Technology at Carleton College, where she works on digital projects with faculty and staff across campus to infuse technology into the curriculum. Previously, she spent several years as a research assistant at the Roy Rosenzweig Center for History and New Media. Her projects there included co-teaching an asynchronous graduate level digital history course and teaching online professional development courses for K-12 educators.
6 - 7 PM

Roundtable Discussion #2: Publishing
Colby Chamberlain, Meredith Martin, Sarah Victoria Turner, Martina Droth, and Betty Leigh Hutcheson, moderated by Greg Albers
The second roundtable brings together editors from some of the most widely-respected online journals of art history: British Art Studies, Journal18, Triple Canopy, and the journals of the College Art Association. Discussion will center around three central themes. First, in "Balancing Print Tradition and Digital Possibility," panelists will discuss the launching of their journals, the unique push/pull of their work and that of traditional print publications, and the possibilities and pitfalls of both formats. Next, in considering "Reader Interaction and Interacting with the Reader," discussion will focus on how users interact with the sites through design and navigation, and likewise how the sites may or may not interact with users, through commenting, social media, and other two-way dialogue. Finally, in the third section, "Evaluation and Change," the roundtable will focus on analytics, mindful evolution, and what lies ahead.
Moderator
Greg Albers, Digital Publications Manager, Getty Publications
Greg Albers'

bio
As Digital Publications Manager, Greg Albers (@geealbers) oversees the J. Paul Getty Trust's multi-faceted electronic publishing efforts. He has spoken and taught extensively about digital publishing in the visual arts for the National Museum Publishing Seminar, the Art Libraries Society of North America, BookNet Canada (at ebookcraft), and other organizations. He currently serves on the Board of Directors for the Museum Computer Network. Prior to starting at the Getty, Albers was Publications Manager at the Isabella Stewart Gardner Museum, the founder and publisher of the independent digital press, Hol Art Books, and the creator of The People's E-Book, a free online e-book creation tool. A longtime contributing member to the former Beyond the Printed Page community blog, this past year he launched an international interest group for art and museum digital publishing (//digpublishing.github.io).
Panelists
Colby Chamberlain, Contributing Editor, Triple Canopy
Colby Chamberlain's

bio
Colby Chamberlain is a Lecturer at Columbia University and a founding editor of Triple Canopy. His scholarship and criticism focuses on intersections of art and other fields of professional practice, in particular the law. His book project, Fluxus Administration, draws on recent media theory to argue that the artist George Maciunas combined experimental aesthetics with bureaucratic procedures, leading to a consequential realignment between the neo-avant-garde and a range of postwar institutions. The recipient of a Jacob K. Javits Fellowship, a Helena Rubinstein Fellowship at the Whitney Independent Study Program, and the College Art Association Art Journal Award, he contributes to publications including Art in America, Artforum, Cabinet, and Parkett.
Martina Droth, Deputy Director of Research and Curator of Sculpture, Yale Center for British Art; Editor, British Art Studies
Martina Droth's

bio
Martina Droth's work as an art historian and curator focuses on sculpture and questions about interdisciplinary approaches to practice, materials, and modes of display, with a particular emphasis on British sculpture of the nineteenth and twentieth centuries. Recent curatorial projects include the exhibition Sculpture Victorious: Art in an Age of Invention, 1837-1901 (Yale Center for British Art 2014, Tate Britain 2015). Prior to joining the Center, she worked at the Henry Moore Institute, Leeds, where she curated exhibitions, developed a wide range of scholarly programs, and was co-editor, with Penelope Curtis, of Subject/Object: New Studies in Sculpture, a series of volumes co-published with Ashgate. In summer 2016 Droth co-edited, with Michael Hatt, a special issue of Nineteenth-Century Art Worldwide dedicated to Hiram Powers's Greek Slave.
Betty Leigh Hutcheson, Director of Publications, College Art Association
Betty Leigh Hutcheson's

bio
Betty Leigh Hutcheson is director of publications at the College Art Association. She oversees production of CAA's three journals, caa.reviews, Art Journal, and The Art Bulletin, and the website Art Journal Open. She also works on CAA initiatives related to publications, most recently with a task force to develop guidelines for assessing digital art and architectural history scholarship for tenure and promotion (funded by the Andrew W. Mellon Foundation) and, with Juliet Bellow, editor designate of caa.reviews, on a multimedia review project using the Scalar platform. Hutcheson manages an ongoing redesign project for the print quarterly The Art Bulletin (funded by the Samuel H. Kress Foundation). She holds an MFA from Milton Avery School of the Arts, Bard College. Before her tenure at CAA she worked as a freelance editor and photographer.
Meredith Martin, Associate Professor of Art History, New York University; Editor, Journal18
Meredith Martin's

bio
Meredith Martin is an art historian specializing in eighteenth- and nineteenth-century European art. She is the author of Dairy Queens: The Politics of Pastoral Architecture from Catherine de' Medici to Marie-Antoinette (Harvard University Press, 2011), and a co-editor of Objects in Motion in the Early Modern World (special issue of Art History, 2015) and Architectural Space in Eighteenth-Century Europe: Constructing Identities and Interiors (Ashgate, 2010). Martin is currently working on two projects: a study of diplomatic and artistic relations between France and Thailand from the seventeenth to nineteenth centuries, and a co-authored book (with Gillian Weiss) entitled The Sun King at Sea: Maritime Art and Slavery during the Reign of Louis XIV, for which she and Weiss have been awarded an ACLS Collaborative Fellowship. In 2015, with Noémie Etienne and Hannah Williams, Martin launched Journal18, an online, open access, peer-reviewed journal devoted to the art and culture of the long eighteenth century from around the globe.
Sarah Victoria Turner, Deputy Director for Research, Paul Mellon Centre; Editor, British Art Studies
Sarah Victoria Turner's

bio
As Deputy Director for Research at the Paul Mellon Centre, London, Sarah Victoria Turner runs the Centre's research program, collaborates on research projects with colleagues at the Yale Center for British Art, teaches at the Centre's Yale-in-London program, and oversees the implementation of new digital projects, such as the online journal British Art Studies. She is also Visiting Senior Lecturer at the Courtauld Institute of Art in London. Before joining the Paul Mellon Centre, Turner was a lecturer in the History of Art Department at the University of York, and developed an online version of a William Etty exhibition in collaboration with York Museums Trust and the University of York's Digital Library Team. She holds a Ph.D. from the Courtauld Institute of Art, an M.A. from the University of Leeds, and a B.A. from the University of Cambridge.
7 PM
Reception
---
"Organized by Elizabeth Buhe, Petra Chu, and Emily Pugh."