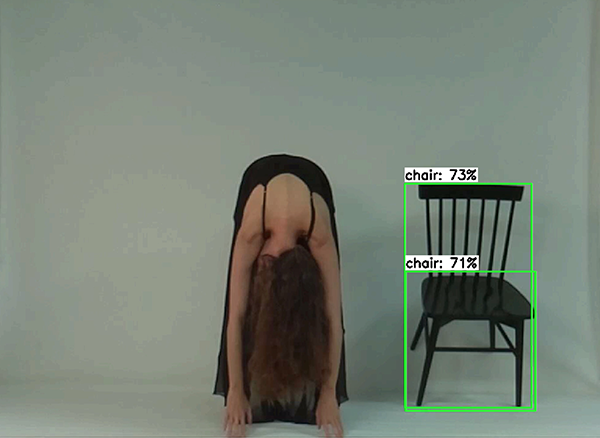 Avital Meshi: Subverting the Algorithmic Gaze
About the Exhibition
Technology is everywhere – and so is the data it captures. Today, we rely extensively on technology, especially in the wake of a pandemic that has caused many people to connect primarily via virtual platforms. However, our smart devices – which we treat as extensions of ourselves and entrust to carry and store our most sensitive information – also gather data that government agencies and commercial entities can purchase, monitor, and evaluate without our knowledge. Technology has introduced not only new means of social, economic, and political interaction, but also pernicious modes of surveillance that raise an ever-evolving set of moral questions about its relationship to race, gender, age, privacy, and interpersonal and human-machine relationships.
Avital Meshi explores such human-machine relationships in her performative practice. This online solo exhibition presents four of Meshi's recent projects that invite audience members to think critically about their relationship with technology and how it can play a role in constructing identity. In her most recent work, The New Vitruvian (2022), Meshi, armed only with a chair, challenges the accuracy of artificial intelligence (AI) algorithms. The algorithm struggles to identify Meshi as she moves with the chair. It identifies her as a person and then misidentifies her as a horse, a kite, a refrigerator, and a chair, among other inanimate objects. In ZEN A.I. (2021), a collaborative project with transdisciplinary performer Treyden Chiaravalloti, Meshi transforms the ritual of meditation – a private reprieve from the outside world – into a thought-provoking act of endurance. This unsettling meditation is led by an AI algorithm that instructs her "mindfulness" practice while another AI algorithm monitors the artist and her surroundings. In Techno-Schizo (2020), Meshi employs her body to reveal how humans can resist flawed and discriminatory algorithms. Her performance visualizes the impact and potential dangers of AI systems that government and commercial agencies secretly operate for surveillance and marketing purposes. Meshi's actions imply that people can reclaim their agency and maintain complex identities in the face of the overly simplified and flawed labeling system imposed by AI algorithms.
The artist and curators invite audience members to join the performance by participating in an interactive session of AI Human Training Center (2020-ongoing), allowing participants to engage with the same algorithms Meshi uses in her work. Visitors are also welcome to sign in and leave a comment in the guestbook.
This exhibition was curated by Goldie Gross, Alejandra López-Oliveros, and Janelle Miniter. Jason Varone designed the website and Professors Edward J. Sullivan and Christine Poggi provided faculty support. This exhibition was made possible through the generous support of Valeria Napoleone XX.
Upcoming Public Programs
April 25: Performing with AI: Avital Meshi and the Subversion of Algorithmic Gaze - Conversation between the Arist and Richard Schechner Learn More/RSVP
May 9: Privacy, Security, and Race in AI - Panel discussion between Simone Browne, Kade Crockford, Heather Dewey-Hagborg, and Avital Meshi. This exemplary group of artists and scholars will discuss one of the most pressing and pervasive issues of our day: the proliferation of modes of surveillance and how they disproportionately harm marginalized communities.Learn More/RSVP