|
IN THE NEWS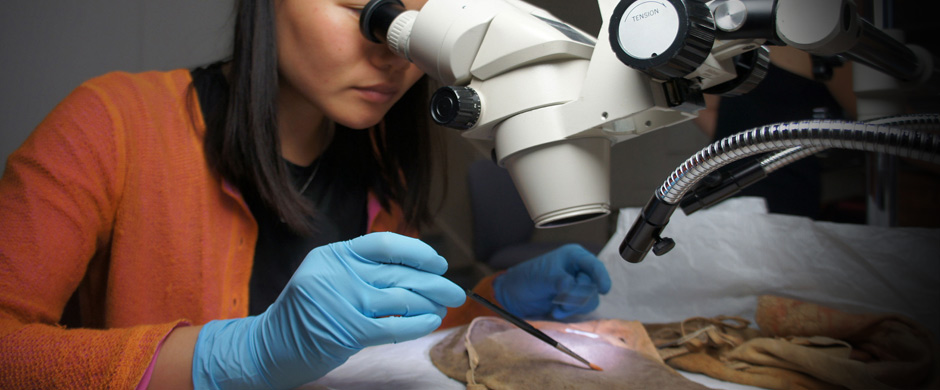 Stronger if Combined: Art History and Science
The Conservation Center Announces a New Dual Degree Program
July 21, 2015. The Institute of Fine Arts, NYU is pleased to announce that its Conservation Center is changing its accreditation with the New York State Board of Education from an Advanced Certificate in Conservation to a Master of Science in Conservation of Historic and Artistic Works. The change reflects the substantial role that science plays in the training and education of conservation students.
Created 55 years ago, the Institute's Conservation Center distinguished itself by requiring its students to earn both a Master of Arts degree in art history and an Advanced Certificate in conservation. As a dual degree-granting program, the Conservation Center is unique among the graduate conservation programs in North America.
Hannelore Roemich, Chairman and Professor of Conservation Science emphasized the importance of this change, stating, "During the past six decades our graduates have become leaders in the field. They are employed across the United States and internationally, in major and mid-sized museums, as well as smaller institutions, and in private practice. The new dual degree is a fitting acknowledgement of the strength of the program since its inception and will continue to provide the excellent launch for CC graduates into the profession."
Patricia Rubin, Judy and Michael Steinhardt Director, notes, "Upholding its tradition of excellence in education, the Conservation Center will continue to train today's conservators through our time-tested, but constantly evolving, course of studies. The Conservation Center plays a leading role in the field by offering our students the technical, scientific, ethical, and art historical expertise, as well as the collaborative skills, they will need to grapple with current and future challenges in conservation."
The MS and MA dual degree will be effective for the fall 2015 incoming class. Five students have passed the rigorous selection process and will be challenged with merging art history and science during the next four years of their study at the IFA.
The Institute of Fine Arts is an international leader in research and graduate teaching.  We are committed to global engagement and advancing the fields of art history, archaeology, and the theory and practice of conservation. New York City, with its incomparable resources and vitality, provides a backdrop and extended campus for our activities.  Our work takes place on-site and beyond our walls through fieldwork, off-site teaching, cultural advocacy, and curatorial and conservation collaborations.