|
In the Field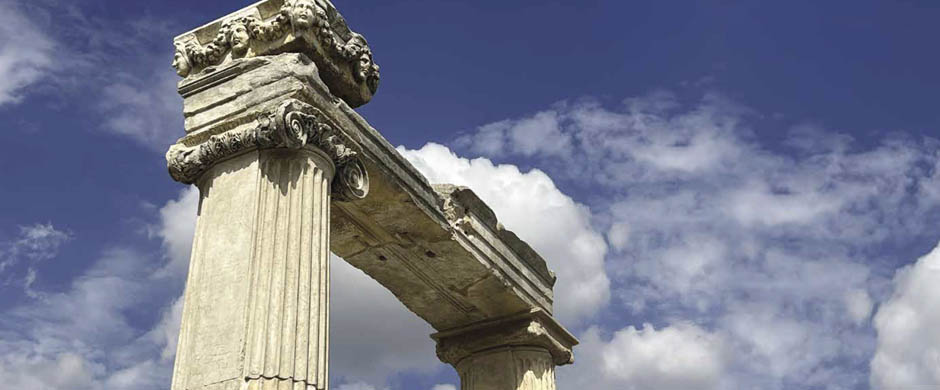 IFA Archaeology Journal
Selinunte 2020
This past summer, like most archaeological projects around the world, we were not able to carry out our regular fieldwork season on the acropolis of Selinunte, due to the pandemic. Calling off the season, the first such instance since we started our project in 2006, was disheartening. To compensate for that cancelation, we instead organized an online season, for the exact duration of the planned excavation season, from June 15th to July 10th. Our objectives were twofold: take advantage of the temporary suspension of our field operations to work on the excavation's records and publications, while expanding our knowledge of the monuments under investigation and related literature.
To that end, we developed a series of project teams and invited all of the graduate students admitted to the mission the previous Fall, each student assigned based on their main areas of interest and expertise as it related to our operation. We were initially unsure how many students would join a remote season, as well as the many experts who annually participate, but the general response was enthusiastic. While we all missed being in Selinunte this summer, it was very gratifying to see how much each project member valued the research itself, and the team's camaraderie.
Given differences in time zones and the occasional internet issue, a regular excavation schedule from 8:00 in the morning to 6:00 at night was practically impossible. Instead, two one-hour general meetings were held per week via Zoom, on Mondays and Wednesday, to discuss our progress on the projects, provide feedback, and celebrate the season's many breakthroughs. The project teams held meetings throughout the week, and there was quite a flow of communication among the participants, including by email and other media.
The project teams included graduate students, from the Institute of Fine Arts–NYU, the University of Milan, and other academic institutions:
Main Urban Sanctuary Database: Rebecca Salem and Giovanni Lovisetto.
Acropolis Database: Daniele Bursich.
Excavation Database: Kate Minniti, Dashiell Jordan, and Tara Trahey.
Objects database and object photos: Flavio Ferlito, Andrea Bertaiola, Carlotta Borella, Davide Giubileo, and Agnese Lojacono.
Inscriptions Database: Antonio Pernigotti.
Quantification: Peter Thompson.
All research projects created essential resources for future study, while making several major breakthroughs. Below are some highlights:
Main Urban Sanctuary Database
Recognizing the long excavation history in the Main Urban Sanctuary and the benefits of having an extensive and synthetic database are evident. This project team reviewed publications and documentation produced throughout the history of research of the Acropolis and made an exhaustive list of monuments in which the multiple identifications and labels for structures was compiled. As standardization of data organization and display is a crucial aspect of any database, time was dedicated to the formation of a uniform data sheet for each monument's information.
Excavation Database
After collating information from the mission's earliest excavation trenches associated with Temple B – including translating some excavation reports from Italian – this project team created a database infrastructure to centralize the excavation's now-expansive stratigraphic data. In particular, team members created 587 unique entries for every stratigraphic unit opened between 2007 and 2019 (Trenches A–S). Each entry includes general information (such as color, consistency, size, interpretation, and plans) and also importantly links to related data that is studied by our specialists (such as pottery, faunal materials, and special finds). Through this integration, the database will serve as a hub for the excavation's research and data collection for years to come.
Pottery Quantification
The pottery quantification project undertaken by Peter Thompson (working from his garden shed in Cambridge) began the comprehensive statistical analysis of all ceramic data collected by the IFA-NYU excavations since 2006. Several hundred documents and tables were systematically consolidated into a single database comprising nearly 200,000 sherds of pottery. It is a powerful resource which is easily and rapidly searchable, and which can be used to answer various questions about the nature and distribution of ceramic evidence across the site and through time. Next season, the aim for this project will be to collect and incorporate weight values for this important corpus of ceramic evidence, enabling more sophisticated reconstructions and statistical analyses of the pottery produced and used in ancient Selinus.
Our Supporters
Aphrodisias
Aphrodisias Sevenler
Derneği, Izmir
Augustus Foundation
Lucien Arkas
British Institute at Ankara
Estate of Katherine F. Brush,
in honor of Christopher Ratte
Craven Fund, Classics Faculty,
Oxford University
Mica and Ahmet Ertegun
Headley Trust
Friends of Aphrodisias, New York
Friends of Aphrodisias Trust,
London
Ömer Koç
Peter Ian Kuniholm
Leon Levy Foundation
Merops Foundation
Lys McLaughlin Pike
Janko Rasic Architects PLLC
Shuffrey Fund, Lincoln College,
Oxford
Murat Ülker and pladis
Geyre Vakfı, Istanbul
Malcolm Hewitt Wiener
Foundation, Inc.
Sanam
The Explorers Club
The Egypt Exploration Society
Samothrace
Mary Lee Baranger
Andria Derstine
ExxonMobil Foundation
Walter G. Lehmann
Lehmann Family Foundation
Loeb Classical Library Foundation
MacDonald Iliad Endowment,
Archaeological Institute of
America
National Endowment for the
Humanities
Nicholas J. Pisaris Foundation
Rush Rehm
James L. Wescoat, Sr
Selinunte
Mary Lee Baranger
Julie E. Herzig and
Robert J. Desnick
Margaret M. Miles
Victoria Newhouse
Samuel I. Newhouse
Foundation, Inc.
Judy and Michael Steinhardt
Alicia Volk and Norman H. Volk
Malcolm Hewitt Wiener
Foundation, Inc.
Institute of Fine Arts Archaeology Fund
Mary Lee Baranger
Pepi Brooks
Ethelyn Adina Gordon
Sharon R. Herson and
Daniel Fleckles
Marsa Laird
A. Floyd Lattin
Jaime L. Neary
Elizabeth A. Oustinoff
Sharon Dunlap Smith
Paul E. Stanwick
Archaeological Conservation Field School
J. M. Kaplan Fund, Inc.
This list includes contributions to the projects received from October 31, 2019 – October 31, 2020.
Contact the Institute
Building Hours
Contact Information
If you wish to receive information on our upcoming events, please subscribe to our mailing list.