|
In the Field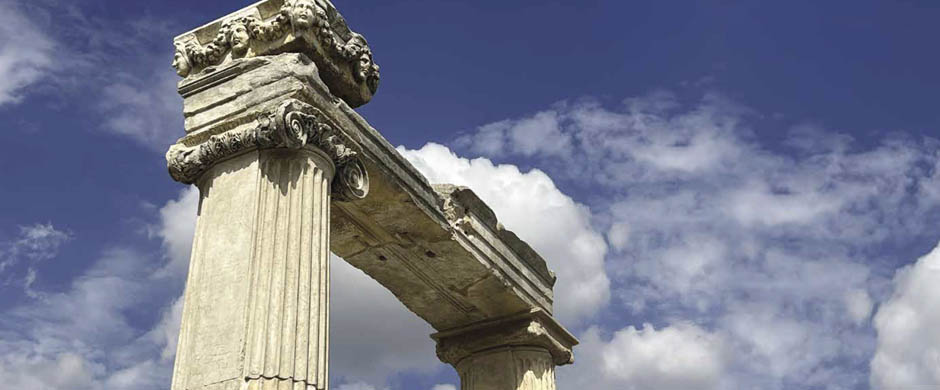 IFA Archaeology Journal
Samothrace 2020
It was, of course, a deep disappointment not to work in the Sanctuary of the Great Gods on Samothrace this year. Fortunately, the Greek government has allowed us to postpone our excavation permit. We will not lose a year of excavation and field research, which is a great relief.
We took advantage of the field hiatus to work together virtually from 15 June to 15 July. Over 30 team members—scattered across 10 time zones—met daily, using the Microsoft Teams platform. Owing to the enthusiasm and work ethic of our team, we were able to maintain our research momentum, train students for future fieldwork, and benefit from the participation of our many experts who would not have been able to join us full-time in the field.
As on site, we worked in teams centered on excavation, architecture, finds, and survey, collaborating frequently and holding weekly meetings to share each team's progress. An added highlight was the series of mini-lectures organized by Ashley Eckhardt, with experts, including IFA alums Ellen Archie, Laura Gadbery, Madeleine Glennon, Maggie Popkin, and Andrew Ward sharing their material with the students.
All of the groups prepared material for a preliminary report on fieldwork which will be submitted to Hesperia, as well as the publication of record for the monuments in the vicinity of the Nike Precinct, Samothrace 8,I. This area includes the Stoa, the largest building in the sanctuary, which was excavated by James R. McCredie in the 1960s and 70s. Led by Ashley Eckhardt, the finds team came to terms with the massive amount of material (nearly a quarter of all objects found in the Sanctuary!) by plotting the original trenches and position of objects. The architecture team, led by Sam Holzman, worked on the design of the Stoa's roof. Excavation, headed up by Andrew Ward, and survey, led by Michael Page, organized their data and planned for the 2021 field season.
The 2020 Samothrace virtual season coincided with the reopening of the Archaeological Museum of Samothrace's Hall A. Even though we could not be on the island to celebrate, we did produce a video to accompany the exhibits. It features our 3D reconstructions, which aid modern visitors in understanding the rich but largely disassembled remains in the adjacent sanctuary.
More on the virtual season and the reopening of the museum
Archaeological Museum of Samothrace Reopens Hall A
3D Model Video for Reopening of Archaeological Museum of Samothrace's Hall A
American Excavations Samothrace Adapts to 2020 Virtual Season
Donors
Loeb Classical Library Foundation
Nicholas Pisaris
James L. Wescoat
ExxonMobil Foundation
Our Supporters
Aphrodisias
Aphrodisias Sevenler
Derneği, Izmir
Augustus Foundation
Lucien Arkas
British Institute at Ankara
Estate of Katherine F. Brush,
in honor of Christopher Ratte
Craven Fund, Classics Faculty,
Oxford University
Mica and Ahmet Ertegun
Headley Trust
Friends of Aphrodisias, New York
Friends of Aphrodisias Trust,
London
Ömer Koç
Peter Ian Kuniholm
Leon Levy Foundation
Merops Foundation
Lys McLaughlin Pike
Janko Rasic Architects PLLC
Shuffrey Fund, Lincoln College,
Oxford
Murat Ülker and pladis
Geyre Vakfı, Istanbul
Malcolm Hewitt Wiener
Foundation, Inc.
Sanam
The Explorers Club
The Egypt Exploration Society
Samothrace
Mary Lee Baranger
Andria Derstine
ExxonMobil Foundation
Walter G. Lehmann
Lehmann Family Foundation
Loeb Classical Library Foundation
MacDonald Iliad Endowment,
Archaeological Institute of
America
National Endowment for the
Humanities
Nicholas J. Pisaris Foundation
Rush Rehm
James L. Wescoat, Sr
Selinunte
Mary Lee Baranger
Julie E. Herzig and
Robert J. Desnick
Margaret M. Miles
Victoria Newhouse
Samuel I. Newhouse
Foundation, Inc.
Judy and Michael Steinhardt
Alicia Volk and Norman H. Volk
Malcolm Hewitt Wiener
Foundation, Inc.
Institute of Fine Arts Archaeology Fund
Mary Lee Baranger
Pepi Brooks
Ethelyn Adina Gordon
Sharon R. Herson and
Daniel Fleckles
Marsa Laird
A. Floyd Lattin
Jaime L. Neary
Elizabeth A. Oustinoff
Sharon Dunlap Smith
Paul E. Stanwick
Archaeological Conservation Field School
J. M. Kaplan Fund, Inc.
This list includes contributions to the projects received from October 31, 2019 – October 31, 2020.
Contact the Institute
Building Hours
Contact Information
If you wish to receive information on our upcoming events, please subscribe to our mailing list.